Plastic Surgery Marketing Edge
A Lead-Generation Digital Marketing Service
PSPS Marketing Edge is designed to magnify the limited marketing dollars members have available to spend through regionally-targeted marketing tactics highlighting participating practices.
PSPS Marketing Edge leverages the existing mindshare generated by the recent ASPS national advertising campaign, the strong brand-recognition of ASPS, and the significant digital reach of both PlasticSurgery.org and the Find a Surgeon directory. This provides members the unique opportunity to achieve a compounding effect on the reach, frequency and penetration of their marketing efforts by pooling their individual marketing budgets together with other participating members in their area.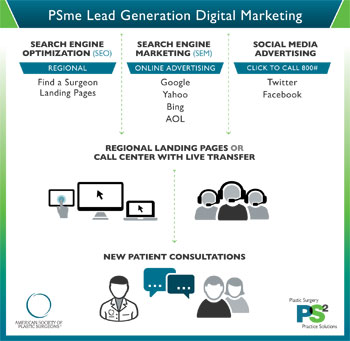 Through strategic digital marketing tactics, prospective patients will be driven to practices through both a call center and a region-specific version of the Find a Surgeon directory on which practices can be prominently featured.
Both the call center and website will forward qualified prospects to practices for consultation appointments.
A pilot-launch of PSPS Marketing Edge will begin in January 2015 for the Nashville and Tampa markets. Contact PSPS to get involved.