Plastic Surgery Marketing Edge
A Lead-Generation Digital Marketing Service
Plastic Surgery Marketing Edge will help you leverage the power of ASPS, an authoritative brand that people trust and recognize in an increasingly crowded digital marketplace. Using years of knowledge, Plastic Surgery Marketing Edge will geo-target regional listings to highly relevant local searches by utilizing many of the techniques that have already bolstered ASPS' organic and paid rankings on a national scale to a highly relevant audience through PlasticSurgery.org.
According to a 2013 Pew Research Center study, 72% of Internet users looked online for health information, while eight in 10 began their research on a search engine such as Google, Bing or Yahoo. Google is far and away the most popular search engine in the U.S., occupying nearly 70% of the search market. Plastic Surgery Marketing Edge will help get your practice in front of the eyes of patients near you by concentrating on organic and paid local search space.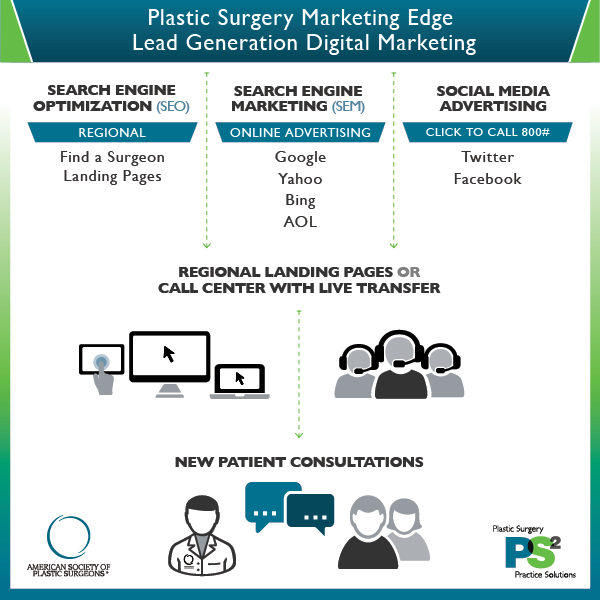 As a Plastic Surgery Marketing Edge subscriber, you will appear on our new regional Find a Surgeon pages. Your practice will be singled out to visitors as an ASPS "Featured Surgeon" front and center giving you a head start over other listings that require the visitor to do a search. Potential patients can click on your listing, which links to an e-inquiry form to provide their contact information and procedure interest to set-up an initial consultation. Plastic Surgery Marketing Edge will then manage all email inquiries from follow-up to appointment confirmation direct with your office. This strategic partnership will help optimize the entire marketing and patient acquisition process for participating members.
A pilot-launch of PSPS Marketing Edge is underway for the Nashville market. Contact PSPS to find out more.