Enhance Your Practice Podcast
Corporate Support
Summary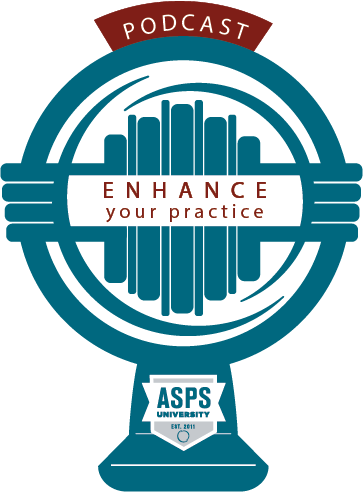 Join ASPS as we launch a new podcast series on practice management, to be available in both the Apple and Android podcast stores. More and more, we are absorbing information in small clips of audio. Whether driving in our cars or walking around the block, listening to podcasts is becoming an extremely popular pastime.
Note: Speakers, topics and release dates are subject to change
July 2020 – Pros and Pitfalls of Starting Your Own Practice
You made the decision to open your own practice, but have you considered all the details? Hear from the experts on issues like office flow, cybersecurity, aesthetic design of your office and more.
Episodes
Things You Should Know About Starting Your Own Practice... But Probably Don't – Dr. Smita Ramanadham
Designing Your Private Practice Dr. Parag Butala and Dr. Diana Yoon-Schwartz
Cybersecurity
Office Flow – Dr. Drew Rosenthal and Lindsay Pine
Telehealth – Dr. David Feldman
Group Practice: Being a Good Partner – Dr. Debra Johnson
Monitoring Your Practice – Dr. Josh Korman
September 2020 – Diversity
Why Diversity Matters
LGBTQ issues in Plastic Surgery
How to be an Ally- professionally and personally
Empowerment – Gender Diversity
Dealing with Discrimination
Gender Identity – Working with Gender Affirming Patients
November 2020 – Staff
Staffing is one of the biggest challenges surgeons face in setting up their practice. How do you know what staff you need and whether they'll be a good fit? Once you have the right people hired, how do you train them on what they need to know? Staff retention and turnover can cost a fortune- how can it be avoided. This season covers all of the ins-and-outs of staffing.
Also available: An interactive course with free resources such as training checklists and sample job descriptions.
Episodes
What Staff Do You Need? – Joanne Dennison, ASPSP President
How Do You Choose the Right Staff?
Retaining Staff! – Sandy Roos, Co-Founder of Practice Enhancement Specialists
Working With Nurse Practitioners and Physician Assistants
Outsourcing
January 2021 – Finances!
You've gotten started and have a plan for paying off your student debt... but what about your future income? Investments? Retirement?? This season has you covered on getting started and all the questions you may not even know to ask.
Episodes
How I Financed My Private Practice Without a Loan – Dr. John Apostolides
Things I Wish I'd Known Before Taking out a Personal Loan
Too Early to Start Planning for Retirement?
Corporate Support Opportunities
FULL EPISODE SPONSOR: $12,000
Opportunity to identify a topic to be incorporated with an existing season
Ability to develop, script, record, and edit the content for an Enhance Your Practice Podcast (maximum of 25 minutes)
Ability for sponsor to include promotional commercials in the 25-minute timeline
Content must be review and approval by ASPS Ed Net Chairs and/or Enhance Your Practice Podcast Chairs
ASPS will provide the introduction and wrap up to a "special edition" of Enhance your Practice Podcast recorded by the host(s)
PODCAST SPONSOR: $5,000
Exclusive sponsorship of the podcast with host recognition at start and end of podcast
Opportunity to provide speaker or case study for discussion to be integrated as a segment in the podcast (content/speaker must be relevant to podcast content)
Inclusion of one advertising placement
Advertising Opportunities
PRE-ROLL ADVERTISEMENT: $1,000
One (1) 15-second advertisement at the beginning of podcast for the host to discuss the sponsor's product
MID-ROLL ADVERTISEMENT: $1,500
One (1) 60-second advertisement with host discussing their experience with the sponsor's product
POST-ROLL ADVERTISEMENT: $750
One (1) 30-second advertisement at the end of the podcast with audio provided by the sponsor