Enhance Your Practice Podcast
Corporate Support
Summary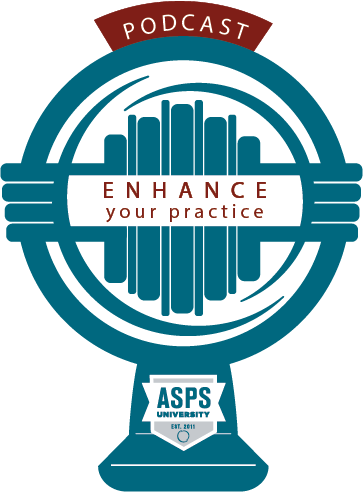 Join ASPS as we launch a new podcast series on practice management, to be available in both the Apple and Android podcast stores. More and more, we are absorbing information in small clips of audio. Whether driving in our cars or walking around the block, listening to podcasts is becoming an extremely popular pastime.
Note: Speakers, topics and release dates are subject to change
January 2020 – Next Steps
This season covers topics for surgeons just starting out in the field or those wrapping up their residencies. There are a lot of choices facing new plastic surgeons, aside from what type of clinical procedures they'd like to specialize in – where should I work; how do I know it'll be a good fit for me; what should you look for in an employer or practice, as well as in the employment contract. As new surgeons navigate the field, it can be very overwhelming without a lot of guidance or resources available. This season tries to provide some of those answers or at least, insight on choices others have made.
Episodes
What kind of practices are there and what should I be doing? – Dr. Mo Nahabedian
Do I become an employee or my own boss? Picking the right Group/Institution/Private Practice to join. – Dr. Warren Ellsworth and Dr. Aviva Preminger
Top 10 things to consider with an employment contract – Dr. Neal Reisman
How can I find a mentor? – Dr. Kavitha Ranganathan
March 2020 – Med Spas
As plastic surgeons venture into this additional channel of aesthetics, they often find themselves looking for support. There are many considerations one must make when adding a Med Spa to their practice – Where do you get started; what services should you offer; what kind of staff is required? This season provides tips and first-hand accounts of what it takes to open your very own Med Spa.
Episodes
Why I opened a med spa and why you should consider adding one to your practice – Dr. Heather Furnas
Opening multiple med spas – Dr. Karol Gutowski
Marketing your med spa – Dr. Dana Coberly
Male Aesthetics in your Practice – Dr. Douglas Steinbrech
April 2020 – Work/Life Balance
Burnout is a tremendous challenge facing surgeons today, especially those new to the field. Hear from your colleagues on dealing with work/life balance, building resilience and relationships. Women and surgeons of color face unique challenges in this field. Listen to their stories of breaking into a field that didn't always feel welcoming.
Episodes
Physician Wellness During the COVID-19 Crisis
Relationships in and out of the office – Dr. Michael Bentz and Dr. Ash Patel
Ergonomics – Dr. Scott Hollenbeck and Dr. Douglas Steinbrech
Women – Balancing residency with being a mom – Dr. Lily Mundy and Dr. Kavitha Ranganathan
Finding balance – Fatherhood and plastic surgery episode with special guest host Dr. Kavitha Ranganathan – Dr. Joseph Lopez and Dr. Christian Vercler
Raising a Successful Family – Dr. Heather Furnas and Dr. Paul Cederna
May 2020 – Let's Talk about Money
This season delves into one of the most stressful issues facing surgeons at any stage of practice finances. Hear from experts on the topics of saving for your kids' college, financial advisors, protecting your assets and managing debt.
Episodes
How do I deal with my debt? – Adrienne Upchurch, MBA, CFP, CLU
Protecting your assets! – Carole C. Foos, CPA
Choosing the right financial planner
Rebuilding After Catastrophe
July 2020 – Pros and Pitfalls of Starting Your Own Practice
You made the decision to open your own practice, but have you considered all the details? Hear from the experts on issues like office flow, cybersecurity, aesthetic design of your office and more.
Episodes
Things you should know about starting your own practice... but probably don't – Dr. Smita Ramanadham
Designing your private practice
Cybersecurity
Office Flow
Telehealth
September 2020 – Staff
Staffing is one of the biggest challenges surgeons face in setting up their practice. How do you know what staff you need and whether they'll be a good fit? Once you have the right people hired, how do you train them on what they need to know? Staff retention and turnover can cost a fortune- how can it be avoided. This season covers all of the ins-and-outs of staffing.
Also available: An interactive course with free resources such as training checklists and sample job descriptions.
Episodes
What staff do you need? – Joanne Dennison, ASPSP President
How do you choose the right staff?
Retaining staff! – Sandy Roos, Co-Founder of Practice Enhancement Specialists
Working with Nurse Practitioners and Physician Assistants
Outsourcing
November 2020 – Finances!
You've gotten started and have a plan for paying off your student debt... but what about your future income? Investments? Retirement?? This season has you covered on getting started and all the questions you may not even know to ask.
Episodes
How I financed my Private Practice without a loan – Dr. John Apostolides
Things I wish I'd known before taking out a personal loan
Too early to start planning for retirement?
Corporate Support Opportunities
PODCAST SPONSORSHIP: $5,000
Exclusive sponsorship of the podcast with host recognition at start and end of the podcast
Opportunity to provide speaker or case study for discussion to be integrated as a segment in the podcast (content/speaker must be relevant to podcast content)
Inclusion of one advertising placement
Advertising Opportunities
PRE-ROLL ADVERTISEMENT: $1,000
One (1) 15-second advertisement at the beginning of podcast for the host to discuss the sponsor's product
MID-ROLL ADVERTISEMENT: $1,500
One (1) 60-second advertisement with host discussing their experience with the sponsor's product
POST-ROLL ADVERTISEMENT: $750
One (1) 30-second advertisement at the end of the podcast with audio provided by the sponsor