'Limitless' series highlights women's journeys to the pinnacle of the specialty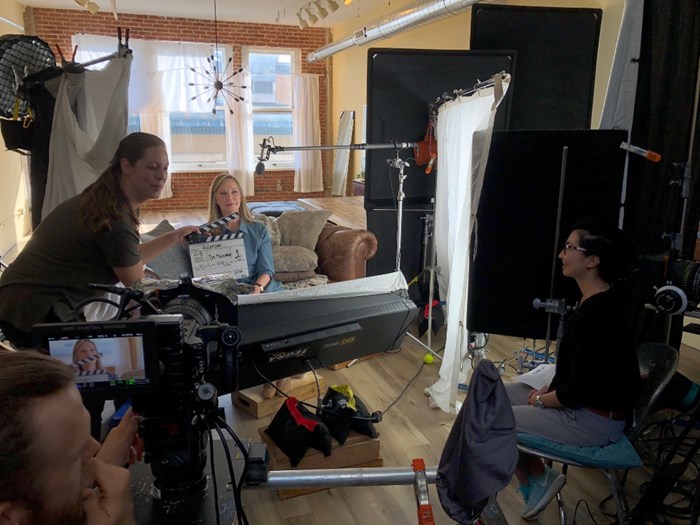 Shuting Zhong, MD, clearly remembers being in high school and thinking about a career in surgery when a post-doctorate researcher casually suggested a different path.
"It was a summer research program and one day in the lab, the researcher said, 'Women shouldn't be surgeons,'" Dr. Zhong recalls. "I was 16 years old when I first heard that. While I believe that it was not necessarily meant to be mean or condescending – I do believe it came from a place of being concerned for my wellbeing – it stuck with me."
Growing up in the relatively small community of Rockford, Ill., Dr. Zhong says she recalls feeling there was a distinct lack of female surgeons when she began attending medical school. "In the community hospitals [where I worked], the operating room scrubs were different colors for women and men. My male classmates wore the same scrubs as the male surgeons. But as a female medical student, I wore nursing scrubs because that was the only color available in the women's locker room."
"I remember asking some of the guys if I could borrow their scrubs, because while it might not seem like a big deal, the colors reflected what role you played," she says. "I would think back to that researcher in high school and wonder if he was right."
Nevertheless, Dr. Zhong continued her path and began wondering about the women before her who had not only built a career in plastic surgery but made their way to prominent leadership positions. Chancing upon the ASPS website, she recalls looking through the lists of past presidents and seeing the photographs of Drs. Mary McGrath, Roxanne Guy, Carolyn Kerrigan MHCDS, and Linda Phillips, and wanting to know their stories.
Today, Dr. Zhong is a plastic surgery resident at the University of North Carolina (UNC), and not only has she learned the unique journeys of these female leaders before her but made it her mission to demonstrate that women are not only capable surgeons but also leaders in the specialty. That mission has now taken shape in the form of Limitless, a web series featuring video interviews with past and present female society leaders that can help inspire the next generation of the specialty. Limitless can now be viewed in the Women Plastic Surgeons Forum at PlasticSurgery.org/WPS.
Support for the series is provided by Allergan. Carrie Strom, the company's senior vice president of Medical Aesthetics, told PSN that the organization is "committed to developing current and future female leaders in science, healthcare and medicine. We work with many inspiring surgeons and are proud to support the female surgeons in the field. Programs like Limitless help to highlight the talented women in our field which is so important for future generations. As the saying goes, 'If she can see her, she can be her.'"
The series launched with three videos, featuring Drs. Guy and Kerrigan, who served as 2007 ASPS President and 2007 PSF President, respectively, as well as 2017 ASPS President Debra Johnson, MD. Interviews with 2007-08 AAPS President Susan Mackinnon, MD, and 2019 PSF President Andrea Pusic, MD, MHS, will be published in the coming weeks.
Current PSF President C. Scott Hultman, MD, MBA, who is leading the organization in partnership with ASPS President Lynn Jeffers, MD, MBA, says he is excited for members to learn more about these pioneers.
"I think these videos provide not only inspiration to future generations of plastic surgeons, but a unique insight into the personalities of these women who helped shape plastic surgery," he says. "It's an honor to serve with Dr. Jeffers and I'm glad more people will have the chance to learn about the examples that these women set for all who follow in their footsteps."
"I have been especially fortunate to have had several women mentor me as I moved through my career in burns and plastic surgery," he adds. "I would like to thank Lena Napolitano, MD, who guided me during my basic science years when I studied lymphocyte dysfunction after thermal injury, as well as Dr. McGrath and Dr. Phillips, who taught me how to excel as a surgeon-educator."
In February, attendees of the WPS Retreat in Nashville were treated to a preview screening of the series, and WPS co-chair Dr. Victoria Vastine says the videos generated a strong response.
"It was not only impressive, but emotional," she notes. "On one hand, it emphasized how few female leaders we've had, but I was also moved by the women interviewed, and really, their humble nature. They personify what every woman surgeon wants to be – simply giving their all and serving as role models to all women who follow in their path."
Dr. Zhong says, for a long time it's been hard for women not to feel like just a number in the specialty. Although she notes that she's surrounded by many female residents at UNC, she knows there are still other programs where female residency might be low and that feelings of isolation can be profound.
"I think the message I'd like to get across is that it's extremely important that those women keep doing what they're doing, because if those one or two residents drop out, it's a loss for our specialty," she notes. "The more women that a program takes on, the more women the program will continue to recruit in the future."
Dr. Vastine says she hopes the takeaway from the series is not only that more women in the specialty feel comfortable in starting a journey toward a leadership role, but that some of the obstacles begin to erode going forward.
"We have an increasing number of women entering the specialty, but even at the training level, there are still some issues that remain," she notes. "The degree to which certain biases are still held can be surprisingly tenacious. Hopefully, as more women share their stories, we will create an easier path forward for the next generation to come."
The more encouragement it engenders in women in medical school, residency and even early practice, the better, Dr. Zhong says. Nevertheless, she also wants these videos to reach teenage girls today who are wondering what career path to take.
"I know there are different series that focus on women as entrepreneurs and CEOs, but it was important to me to highlight plastic surgeons and the women who became presidents of these organizations," she says. "It's the counter message to those young women out there who might be told the same thing I was when I was 16. Now you can see for yourself that there are women who not only became plastic surgeons but led a group of thousands of surgeons around the country and world."