In addition to being clinically competent, today's plastic surgeon must also understand fundamental principles required to manage the business side of the practice in a proactive manner. Regardless of the size of the practice, the physician must keep informed of the issues that continue to change the economics of health care that affect income. In this ever-changing environment, the Practice Management Resource Center is a place that provides plastic surgeons and their practice administrators vital information that will help manage and grow their practice. Whether you are just starting your practice or trying to take your practice to the next level, this resource center supports your needs every step of the way.
ASPS Practice Management is now available on the PSEN Online Learning website, and serves as a resource center for plastic surgeons and their office staff.
The PSEN is brought to you through a cooperative venture between the following societies:
American Society of Plastic Surgeons (ASPS)
American Association for Hand Surgery (AAHS)
American Council of Academic Plastic Surgeons (ACAPS)
American Society for Aesthetic Plastic Surgery (ASAPS)
American Society for Peripheral Nerve (ASPN)
American Society for Reconstructive Microsurgery (ASRM)
American Society of Maxillofacial Surgeons (ASMS)
Plastic Surgery Research Council (PSRC)
The PSEN is a free password-protected resource for members of the American Society of Plastic Surgeons, partner societies, and residents of participating residency programs. If you are not a member of a participating society, you may purchase an annual PSEN subscription to access surgical videos, lecture presentations, case reports, literature reviews, practice management resources and PSEN's community. You can purchase individual CME/MOC courses and Self-Assessment courses without a subscription.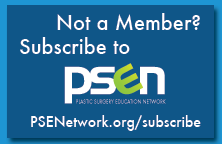 Need Assistance?
For help with your username and password or other account information or to purchase a subscription, please call ASPS Member Services M-F between 8:30 a.m. and 5 p.m. Central time at 1-800-766-4995.