Is plastic surgery an art or a science?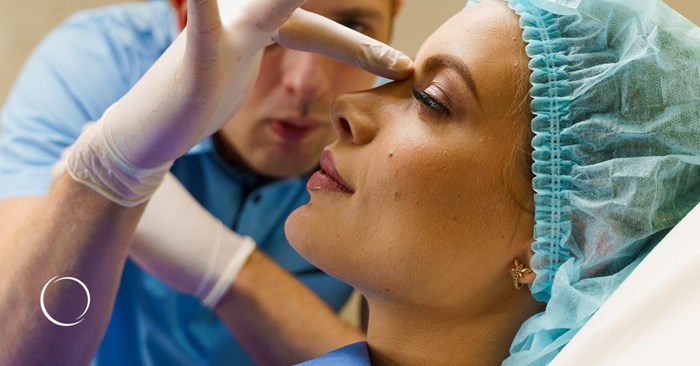 A surgeon works on a patient with the precision of a scientist, with every instrument carefully calibrated and movements calculated down to the millimeter. Yet, in the same breath, the doctor also sees the procedure with an artist's eye, discerning the subtleties of form and symmetry to make decisions that will transform not just tissue but lives.
We cannot help but ask – is plastic surgery an art or a science? We spoke with ASPS Member Surgeon Payam Jarrah-Nejad, MD, who answered this question and more.
Jarrah-Nejad, of Dr. J's Plastic Surgery, is renowned for his ability to shape the female form. Operating out of Beverly Hills – a recognized epicenter of plastic surgery in the United States – he attracts clients nationwide through his stunning transformations.
ASPS: Looking at your before and after pictures, it's apparent that you make women look incredibly feminine and curvy. How do you do it?
Dr. Jarrah-Nejad: Surgery is not just science, it's art too. Art has a big role in plastic surgery, and the surgeon's artistic vision significantly affects their results. Plastic surgeons can be the same as far as their board certifications, credentials and training. What makes a difference is the surgeon's vision of the feminine body – that affects the results. You have to take into account all the curves. You have to maximize your aesthetic results based on what you have, based on the skeletal anatomy and muscles. Academically, surgeons can be the same, but it's that artistic vision that makes one result different from another.
ASPS: What inspired your vision of the female body and influenced your aesthetic? What were you seeing in your life that made you think, "That's a beautiful body that I want to emulate in my surgery?"
Dr. Jarrah-Nejad: I paid attention to what made my patients happy. What was it about her surgery that she really liked? I noticed how the patient looked at herself, like, "Wow, I love my curves, I love what you gave me, I love how this transitions." I spent time with my patients and learned what made them happy, which taught me what I needed to do for my next patient.
ASPS: How would you describe the difference between an artist's medium and a plastic surgeon's?
Dr. Jarrah-Nejad: My canvas is never flat. As a plastic surgeon, it's always different. I have to know what I'm starting with, and I pay attention to my measurements preoperatively. No matter how many I've done, I take that one patient as my brand new project and pay attention to every detail just as I did in my first surgery – that keeps it exciting for me as a surgeon.
ASPS: Are your aesthetic and plastic surgery results aimed at what women think is attractive? Or do you strive to make men happy regarding what they perceive as beautiful?
Dr. Jarrah-Nejad: Women. I want the patient to be happy because it's not about what makes men happy. Women shouldn't be objects for men to praise or look at critically. My goal is for the woman to start and end her day happy and feel confident and for her inner beauty to show itself and match her outer beauty. So, my only goal is for the woman to like her results.
ASPS: Do some women come to your office with specific beauty criteria in mind that don't match yours?
Dr. Jarrah-Nejad: Yes, at the beginning of my career. Around 2009, huge breasts were trendy, and then huge butts became trendy. I never fell into that category. A good example is when I started doing butt lifts and fat transfers, some patients wanted exaggerated, huge butts, and I would tell them I wasn't the surgeon for them. I didn't operate on them.
I have my vision, and I want to make sure the results are sustainable and long-lasting and pass the test of time and that I'm doing something right for the patient – that I'm already proud of – when we come out of the operating room even before we remove the dressings.
ASPS: Is it fair to say that your artistic aesthetic has remained steady over your career? If so, why?
Dr. Jarrah-Nejad: You can't just follow trends as a surgeon because one day it's huge breasts, the next day it's going to be smaller breasts. As a patient, you've got to have something that always looks elegant and that you'll feel proud of when you see yourself – every day, for years, even when you're 80 or 90.
ASPS: Patients today get to know your artistic aesthetic through social media long before they come to see you in the office. What kind of patients do you get these days, and what are they looking for?
Dr. Jarrah-Nejad: The kind of patient I get nowadays has filtered a bit on its own. I usually get professionals who want to look not only feminine, sexy and attractive but also proportionate, elegant and classy. They can walk into the boardroom one day and the swimming pool the next.
ASPS: Does your artistic vision of your patients' results start in the operating room or before?
Dr. Jarrah-Nejad: I plan the surgery the night before. So, as I'm sleeping, I review it. It makes it much more efficient in the operating room. So, if I have to put some spins to my techniques or bring out some creativity, I go to sleep with it so it's still on my mind when I wake up. As I'm getting showered and ready in the morning, I can't wait to see the patient again.
ASPS: How did you get to where you are today?
Dr. Jarrah-Nejad: I put in years and years of my life. I sacrificed so many things to get to where I am. I spent so much time in libraries, operating rooms and hospitals. Now I get to release everything I've learned, bring it out into my hands and deliver my craft, and it just means the world to me.
ASPS: How long will you keep doing these plastic surgery operations?
Dr. Jarrah-Nejad: Some operations are a little more physically tasking. For example, I don't know how long I can do butts because liposuction is physically demanding. I probably will be able to do noses and breasts forever. I don't think I'm ever going to retire fully.
ASPS: What drives you to go to the operating room daily?
Dr. Jarrah-Nejad: I love my job. I wake excited to go to the operating room. I have so much gratitude for the patients who trust me and come to me. I don't take it for granted. It means the world to me and that trust the patient gives me makes me want to give them my all.
To find a qualified plastic surgeon for any cosmetic or reconstructive procedure, consult a member of the American Society of Plastic Surgeons. All ASPS members are board certified by the American Board of Plastic Surgery, have completed an accredited plastic surgery training program, practice in accredited facilities and follow strict standards of safety and ethics. Find an ASPS member in your area.