Patients of Courage
Triumph Over Adversity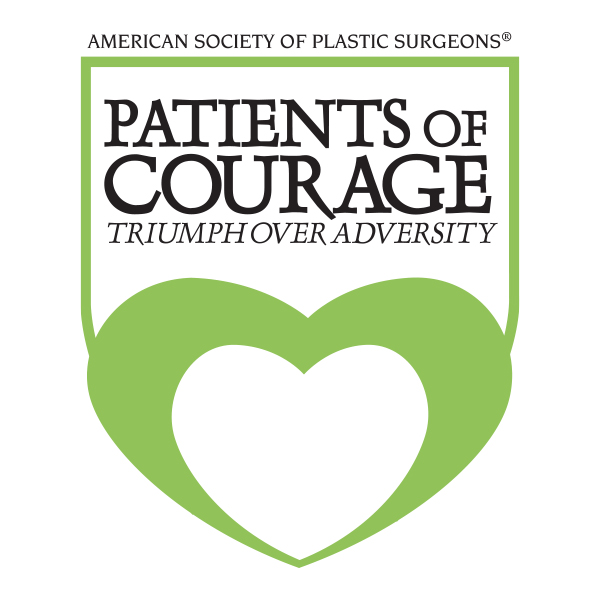 The Patients of Courage: Triumph Over Adversity program honors reconstructive plastic surgery patients whose lives were restored through reconstructive plastic surgery and whose charitable actions influence the lives around them.
ASPS members nominate patients who carry an optimistic outlook on life and positively affect people around them, despite the difficulties of their reconstructive procedures.
Several of these extraordinary reconstructive plastic surgery patients will be honored by ASPS at its annual scientific meeting this year in Austin.
How to Nominate Patients
Nominations for the 2023 Patients of Courage: Triumph Over Adversity program are due by 11:59 PM on May 1, 2023.
Please complete and submit the following forms to courage@plasticsurgery.org. If you have any questions, please call (847) 228-3342 or email courage@plasticsurgery.org.
ASPS members or their staff are asked to submit a nomination letter – no more than two pages in length – about each nominee. Patients must have been treated and currently reside in the United States, with the exception of U.S. military patients. Nominations will not be considered unless they include specific, mandatory information. Nominations must be sent via email and include the following information:
To submit the form, we need this:
The patient's name, age and contact information (address, phone and e-mail, for internal use only)
A short description of treatment (lengthy descriptions of surgical treatments are discouraged)
An explanation of how the patient successfully recovered
An explanation of how the patient turned his or her journey into a positive life-changing experience
A description of how the patient gives back to others in the community
One current photo of the patient clothed or one pair of before-and-after photos (a photo of the patient participating in his or her charitable work is preferred)
You will also need to consider the following needs:
Confirmation that the nominee will allow ASPS to visit and film a short video about how the patient overcame adversity
Signed patient authorization forms releasing the patient's information and photos to ASPS (links are at top of page)