American Society of Plastic Surgery's "By Design: Breast Reconstruction Surgery," Honored with Gold Telly in the 43rd Annual Telly Awards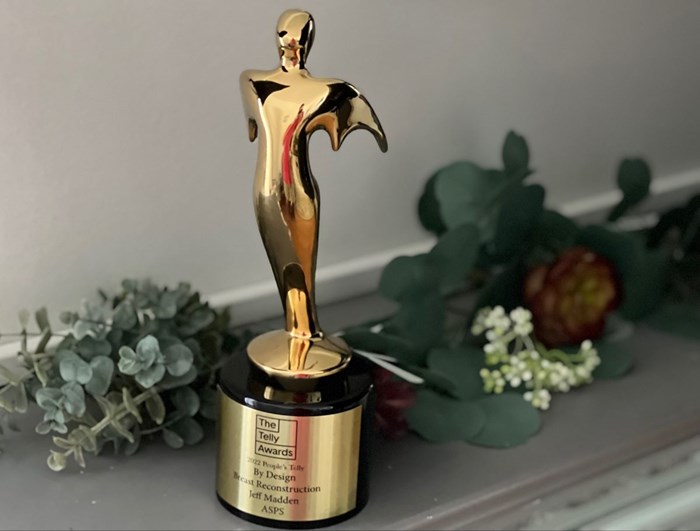 ARLINGTON HEIGHTS, IL – The American Society of Plastic Surgeons announced today its "By Design: Breast Reconstruction Surgery" production won a gold medal in the General Non-Broadcast sector in the 43rd Annual Telly Awards. The Telly Awards honors excellence in video and television across all screens and is judged by leaders from video platforms, television, streaming networks and production companies.
"The Innovators series is designed to showcase the many facets of our specialty by telling patient stories and showcasing the breadth of what plastic surgeons do," says Steven Williams, MD, ASPS/PSF Board Vice President of Membership. "For that work to be recognized by the Telly Awards is important not only in honoring the talented staff who produce these pieces, but it also further amplifies our message to educate the public on the importance of what plastic surgery is and the necessity for safe practices."
ASPS Media Producer, Jeff Madden served as director, editor and cinematographer for "By Design: Breast Reconstruction Surgery," which was produced as part of The Innovators web series at plasticsurgery.org/innovators.
"It's an honor to be recognized on behalf of ASPS by the Telly Awards – it's truly a team effort and the result of multiple video shoots in multiple cities, including New York Fashion Week, and many hours spent editing," says Madden, an ASPS staff member since 2011. "The breast cancer survivors who shared their breast reconstruction stories and the plastic surgeons who shared their knowledge and skill helped to create something that I hope is inspirational and that showcases to the world the important role that ASPS and our members play in changing people's lives for the better."
Last year, The Telly Awards attracted more than 12,000 entries from top video content producers including Netflix, HBO Latin America, Microsoft, RadicalMedia, Condé Nast, Adobe, Nickelodeon and Partizan.
The full list of the 43rd Annual Telly Awards winners can be found at www.tellyawards.com/winners.
About ASPS
The American Society of Plastic Surgeons (ASPS) is the largest organization of board-certified plastic surgeons in the world. Representing more than 11,000 physician members worldwide, the society is recognized as a leading authority and information source on cosmetic and reconstructive plastic surgery. ASPS comprises more than 92 percent of all board-certified plastic surgeons in the United States. Founded in 1931, the society represents physicians certified by The American Board of Plastic Surgery or The Royal College of Physicians and Surgeons of Canada.