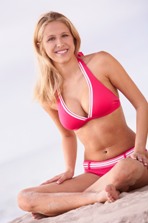 The results of breast augmentation are immediately visible. Over time, post-surgical swelling will subside and incision lines will fade. Satisfaction with your new image should continue to grow as you fully recover from surgery. In order to achieve optimal results, it is important that you follow your surgeon's post-operative instructions and return for follow-up visits.

It's important to know that breast implants are not designed to last a lifetime. Your implants may need to be replaced. You should plan for an annual examination by your plastic surgeon to evaluate your breast health and implant integrity.

Over time, your breasts can change due to aging, weight fluctuations, hormonal factors and gravity. If, after a period of years, you become dissatisfied with the appearance of your breasts, you may choose to undergo a breast lift or implant exchange to restore a more youthful contour.