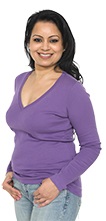 The results of breast reconstruction will be long-lasting, provided that you maintain a stable weight and general fitness. As your body ages, it is natural to lose some firmness, but most of your improvement should be relatively permanent.

Although good results are expected from your procedure, there is no guarantee. In some situations, it may not be possible to achieve optimal results with a single surgical procedure and another surgery may be necessary.

Over time, some breast sensation may return, and scar lines will improve, although they'll never disappear completely. There are trade-offs, but most women feel these are small compared to the large improvement in their quality of life and the ability to look and feel whole. Careful monitoring of breast health through self-exam, mammography and other diagnostic techniques is essential to your long-term health.

Healing will continue for several weeks as swelling decreases and breast shape and position improve. Continue to follow your plastic surgeon's instructions and attend follow-up visits as scheduled.