You will be given medication so that you will be comfortable during the surgical procedures. Your surgeon will suggest either intravenous sedation or general anesthesia. Brow lifts can be performed in different ways. Some surgeons prefer using an endoscope (a thin tube with a camera on the end) and special instruments placed through small incisions made within the hairline. This allows the tissue and muscle beneath the skin to be adjusted, correcting the source of visible creases and furrows in the forehead.


Endoscopic Incision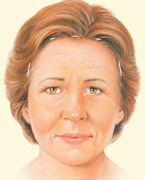 Coronal Incision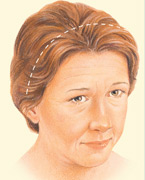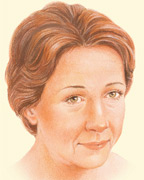 Some surgeons prefer to perform a browlift through what is called a "coronal incision" The coronal incision is created from ear to ear across the top of the head, within the hair-bearing skin.

The forehead skin is then lifted and any muscle adjustment can be made under direct visualization. The resulting scar from a coronal brow lift is well concealed within the hair.

For women with very high foreheads, an incision just at the anterior hairline may be recommended. In this way the brow can be lifted without altering the height of the front hairline. The resulting scar, while somewhat more visible, can often be hidden with bangs.

Results appear gradually as swelling and bruising subside to reveal smoother forehead skin and a more youthful, rested appearance.