A Message From The PSF President
Arun Gosain, MD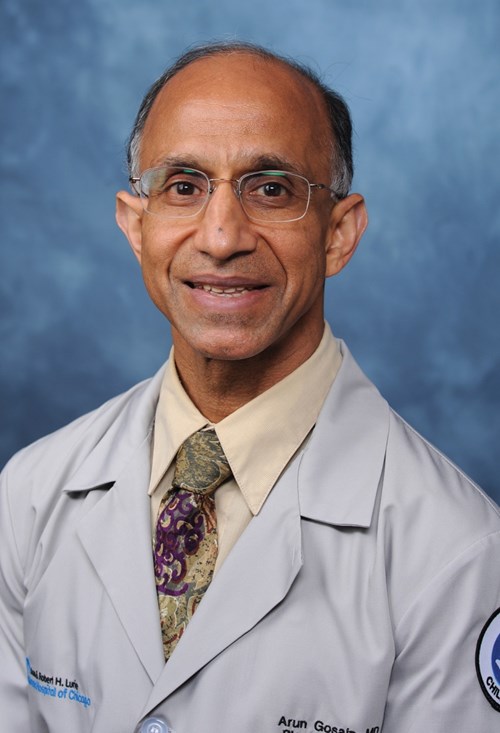 It is my privilege and honor to serve as the president of The Plastic Surgery Foundation. I could not be more excited about all of the great things The PSF has accomplished in the past and all of the amazing things we will accomplish in the coming years.
The world around us is changing and so is the specialty of plastic surgery. One of the things plastic surgeons do best is innovate to find new and novel approaches to solving difficult surgical challenges, and The PSF plays a large role in this by supporting research and international outreach.
This is what motivates and drives us at The PSF – to continue to foster innovation and improve the quality of life for our plastic surgery patients. Many gifted plastic surgeons have moved – and continue to push – our specialty forward. These are the creative and thoughtful surgeons who are constantly developing new techniques, biologic and synthetic materials, novel operations, and investigative experiments, to ultimately solve some of the previously unsolvable problems in our specialty. It is what defines our specialty and the principle that will ensure the health and vitality of our specialty in the future.
Some of the latest developments in our specialty include fat grafting, use of biologic tissue for reconstruction, lymphedema surgery and composite tissue transplantation (hand and face transplants) to understand how far we have come in such a short period.
The PSF takes great pride in supporting this exciting work through its funding in the basic science and clinical research arenas. Through a series of relatively small grants ($10,000-$50,000), the PSF has financially supported our member surgeons and trainees as they pursue new ideas, concepts, innovations and "blue sky" studies with the goal of producing data that can subsequently be used to secure larger extramural funding.
It is remarkable how much has been done with so little money and how many academic careers have been stimulated and supported by the generous funding of The PSF. A $10,000 PSF Pilot Research grant provided to a medical student, resident, fellow or junior faculty member can be the stimulus to help him or her become a major contributor to the field for years to come.
Many surgeons who can thank the PSF for supporting their basic science and clinical research efforts encouraging the development and growth of their academic careers. These PSF contributions not only represent the money necessary to support the research being performed, but these grants also provide recognition for the high quality of it. This recognition can be very important for trainees and young scientists, clearly establishing them as an academic plastic surgeon who is serious about research, serious about advancing our field through discovery, and serious about ensuring the success of our specialty for decades to come.
There is no question about it, the investments made by The PSF in basic science and clinical research have led to major changes in the way we practice surgery and the options available to us for treatment of the most complex reconstructive and aesthetic challenges.
A review of The PSF funded grants from the late 1980s and early 1990s reveal many studies which were speculative and preliminary at the time, but have subsequently been translated into dramatic advances in our field, including composite tissue transplantation, fat grafting, and mechano-transductive approaches for wound and bone healing (i.e. the vacuum-assisted closure device and distraction osteogenesis).
Even more impressive are the careers of the academicians who have been supported with funding from The PSF; they represent the prominent basic science and clinical researchers in our field, the educators of our trainees, and the leaders in our specialty. A review of The PSF funded grants recipients from 1990 and 1991 reads like a Who's Who in plastic surgery – including Susan Mackinnon, Lee Dellon, Larry Gottlieb, Bob Havlick, Paul Manson, John Persing, Bob Russell, Bob Walton, Bill Zamboni, Steve Cohen, Dan Delvecchio, Warren Garner, Carolyn Kerrigan, Bill Kuzon, Kant Lin, Stan Monstrey, Ray Morgan, Riley Rees, and Mike Bentz.
Not only have these surgeons helped to move the specialty forward through their research efforts, but they have continued to move the specialty forward through their leadership and guidance. Support for The PSF helped make this possible. Every dollar donated to The PSF is an investment in our future.
The PSF has also played a central role in numerous patient safety initiatives to ensure that we are always providing safe and effective care for our plastic surgery patients. We have recognized for many years that medical practice, patient care, and the development of technology is driven by "big data." With this guiding principle in mind, The PSF has spent a substantial amount of time and energy developing clinical registries to study clinical outcomes, device performance, and adverse events related to the clinical work we perform each day. This information is critically important to guiding future research and development; it also provides our member surgeons with clinical outcome data to drive their quality improvement initiatives.
Our very first registry, Tracking Operations and Outcomes for Plastic Surgeons (TOPS), has collected more than 1.4 million procedures performed by more than 1,500 plastic surgeons. TOPS has positioned our ASPS member surgeons as leaders in the field of quality improvement through evaluation of outcomes and assessment of clinical risk.
We have also combined efforts with the FDA and the implant manufacturers to develop the National Breast Implant Registry. The purpose of this registry is to track current utilization of breast implants, outcomes related to implants, and patient safety data to guide our implant utilization for years to come. We have been working closely with the FDA to monitor Breast Implant Associated Anaplastic Large Cell Lymphoma (BIA-ALCL) through our PROFILE Registry, which generates clinically useful data to ensure patient safety. The goals of The PSF and FDA are closely aligned with this high impact registry.
Our GRAFT Registry helps us study the safety and efficacy of fat grafting in the breast and in all areas of the body for both reconstructive and aesthetic purposes. It is our job to ensure that the safety and efficacy of these procedures are clearly articulated to the FDA.
The Plastic Surgery Foundation is committed to advancing the field of plastic surgery through innovation, discovery and advancement. We are committed to enhancing the care we provide for our patients. We are focused on supporting the careers of basic science and clinical researchers and nurturing the development of our future leaders in plastic surgery. This is all possible through corporate support and the generous contributions of our member surgeons. If you have supported The PSF in the past, thank you. If you have not, please consider supporting The PSF this year to help ensure the health and vitality of our specialty for years to come.
Sincerely,
Arun Gosain, MD
President
Plastic Surgery Foundation