Arturo Munoz Meza, MD
Arturo Munoz Meza, MD, is an international member of the American Society of Plastic Surgeons as well as a member of an international plastic surgery society, and has achieved the required training, ethical standards, and continuing medical education as required for membership in that international society. Dr. Munoz Meza has met all the requirements of ASPS international membership and can be contacted directly for information on achieving your plastic surgery goals.
About
Meet Dr. Arturo Munoz Meza
Dr. Arturo Muñoz Meza proposes a safe, natural and long-lasting results in every Plastic Aesthetic, Cosmetic and Reconstructive procedure based on a solid surgical background of 23 years experience in the field as a surgeon(4 years prior in General Surgery in a Trauma Center and General Hospital of Guatemala's Social Security Postgraduate Program) and of course having the privilege to emerge from one of the world's most complete and prestigious Plastic Surgery Training Programs: Guadalajara University at "Instituto Jalisciense de Cirugia Plastica y Reconstructiva Dr. Jose Guerrerosantos".

Accredited by some of the most important Plastic Surgery Societies in the world, Dr. Muñoz never forgets his primary vocation as a medical doctor: to take care of his patients.
Facilities
Dr. Arturo Muñoz Meza has privileged to do his office practice and Surgical Procedures in one of the best and prestigious Hospital chains in Mexico : Hospitales Angeles/Hospital Angeles Tijuana.
This Certified Hospital has state of the art facilities, operating rooms and recovery area. It also is one of the only all around the world who has the D' Vincy computerized robotical system and an ICU on duty 27/7/365 .
The main reason why Dr. Munoz selected performing his surgical practice is because of his interest in patient's safety first. Fortunately, over 21 years in practice we haven't had the need for an ICU case, but it is always better to have it and don't need it, and not in the inverse way.
Also, a good reason for using first level hospitals( like Hospital Del Prado too) is because most of his patients currently come from USA, CANADA , EUROPE and AUSTRALIA and this is a good way to show the world that GOOD PLASTIC SURGERY in Mexico is a reality, not an isolated lucky event.
As part of the services we include, we have TRANSPORTATION from San Diego International Airport by Staff Members, RECOVERY AREA 5 min. close to our facilities( GRAND CARE, special area in GRAN HOTEL DE TIJUANA(4,7 Star hotel).
The jewel of the crown comes along with his amazing and wonderful STAFF who often are called "The real Angels of the Hospital" as you will be able to be in contact with them anytime before and after procedure, specially during your recovery area.
Procedures
Procedures Performed
Buttock Lift with Augmentation
Lip Augmentation / Enhancement
Photo Gallery
Before and after patient photos from Dr. Arturo Munoz Meza. Use the menu to filter by procedure.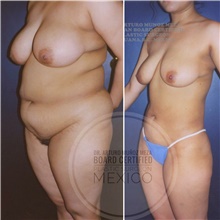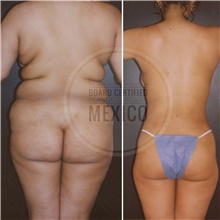 Body Contouring
Payment
Location