A breast reconstruction patient recounts the highs and lows of recovery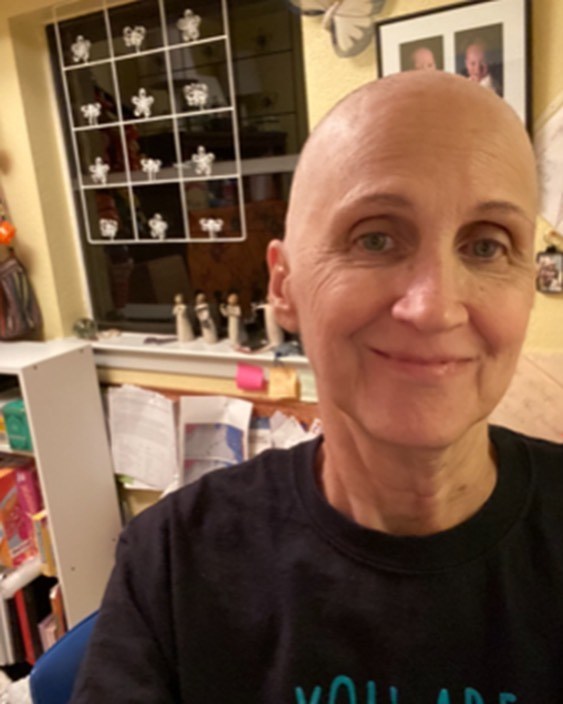 When Merry Maddox Rogers was first diagnosed with breast cancer 13 years ago, reconstruction was the last thing on her mind. "I didn't care," she recalls. "I was just thinking, 'get it out, get it out, get it out.'" Her surgeon warned her that many of the women he worked with who underwent a mastectomy or double mastectomy later came back feeling incomplete and wanting reconstruction, but she says that if anything, it felt vain to think about aesthetics when she was facing such a dire diagnosis.
After undergoing a lumpectomy, which effectively removed the cancer, Maddox Rogers returned to her life as a special needs teacher, wife and mother. She felt lucky to be alive, and five years after her initial diagnosis was pronounced cancer-free.
Eight years later, though, in August 2020, she felt something abnormal in one of her breasts. With her history of breast cancer in mind, Maddox Rogers knew she needed to see her doctor right away, but because the school district she taught in was switching to a different insurance provider for the upcoming schoolyear, she was forced to wait a month. After having a mammogram, her doctor suggested she once again return to her oncologist.
Maddox Rogers started two different kinds of chemotherapy last October, and by January, she was tasked with finding a surgeon to perform a mastectomy. "My oncologist really felt that the breast needed to be removed, and I said, 'okay, then we're taking them both,'" she explains. "I had a friend who died from breast cancer a few years earlier, and it could have been prevented with a double mastectomy. I sure didn't want to go through what she went through, and since I'd already had cancer once, I knew this was the right way to go."
Having had almost a decade since she'd last considered it, Maddox Rogers felt differently about reconstruction this time around, especially since she would be having both breasts removed. She found a plastic surgeon and started discussing the process with him. "I had chemo brain and was not processing a lot – which I'm still using as an excuse even a year later – so I really appreciated how well my plastic surgeon, Dr. Oscar Ochoa, listened and that he made me feel like I was the only one who mattered," she says.
Even so, the world of plastic surgery was still relatively foreign to Maddox Rogers, so she spent considerable time thinking about the size and shape she would want her breasts to be and ultimately decided she would not opt for implants.
When it came down to scheduling the procedure, the teacher was pleasantly surprised to hear that it could be done in tandem with her double mastectomy. "When they said they could do it all in one day, that was the end of that conversation for me," she remembers. "I thought it would need to be two separate surgeries, but why would you want to have that if you didn't have to?"
As the day of her operations approached, Maddox Rogers was feeling ready as can be, and felt she had a good understanding of what to expect. In fact, after so many months (and really, years) of thinking about this, she was looking forward to putting breast cancer behind her once and for all.
Her surgeries went smoothly, and she was delighted to wake up to relatively little pain. "It wasn't until they removed my drains about 10 days later that the pain really started," Maddox Rogers explains. "They came out really easily, but that night, I woke up in just excruciating pain."
After calling her surgeon, she learned that the shifting of the tissue after the drains are removed can lead to pain – but knowing the source didn't mitigate the pain in the slightest. For about three days, the pain was intense and kept her up night after night. Frightened by ongoing news of the opioid crisis, Maddox Rogers was hesitant to take any pain medication. She does, however, credit the single pill she took with putting an end to the pain, and at three weeks post-op, she felt like she could finally breathe again.
During the first few weeks, the teacher was more or less on bedrest. "We brought a bed downstairs into a den that had windows and a bathroom, and that was all I needed," she recalls. But because her school was doing remote learning in the midst of the pandemic, Maddox Rogers was able to return to teaching not long after.
In the months since, her recovery has gone very well, and she feels fortunate to be both cancer-free and to have had reconstructive surgery; but the emotional roller coaster hasn't ended just yet, and there's been one change in particular that she's struggled to wrap her head around. "My surgeon used skin from my belly to cover the area where my nipples were," she says. "And even though we'd discussed it previously, when I saw my breasts like that, it was a shock to me. I really wasn't prepared for it, and I just remember thinking that I wasn't ready for anyone else to see that."
It was with this in mind that Maddox Rogers broached the topic of another procedure with her surgeon during one of her checkups this summer. "I always thought there was no way I'd have another surgery, but I started considering it, and he said that he could reconstruct a nipple and tattoo the area," she notes. "With this, he could also fix some of the disparities between my breasts and make them more symmetrical and smoother." And while the teacher has yet to pull the trigger on this additional operation, she's happy to have the option.
Last month, Maddox Rogers returned to her San Antonio classroom, where in-person teaching has resumed, and she has no regrets about undergoing reconstructive surgery. The whole process, however, has given her a newfound understanding of the importance of destigmatizing breast cancer and the reconstruction that can accompany it.
"I was so lucky to have people around me who had gone through this, but I don't know what I would have done had I not had them," she explains. "So, I hope that I can be a resource for other women going through it."
To find a qualified plastic surgeon for any cosmetic or reconstructive procedure, consult a member of the American Society of Plastic Surgeons. All ASPS members are board certified by the American Board of Plastic Surgery, have completed an accredited plastic surgery training program, practice in accredited facilities and follow strict standards of safety and ethics. Find an ASPS member in your area.