Photographer turns camera on herself to normalize breast cancer bodies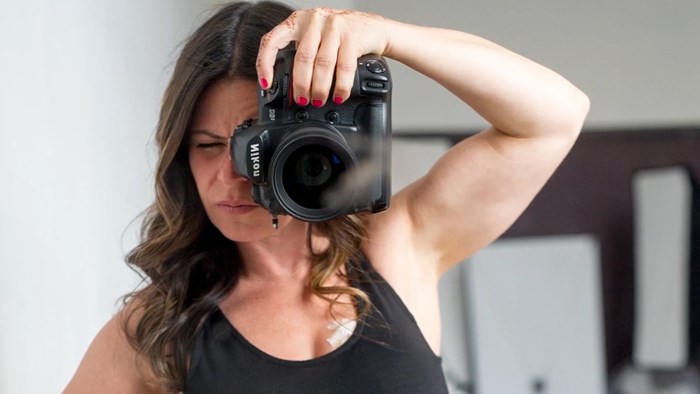 Boudoir photographer Jennifer Rozenbaum was on top of the world at age 41. She was well-known within the world of portrait photography, had a large social media following and had given a TEDx talk about boudoir photography, encouraging women to be shamelessly feminine.
"I was in the best shape of my life and taking care of myself and feeling good," said Rozenbaum. "Really embracing my 40s."
Rozenbaum had captured many bare breasts in her line of work but was usually behind the camera. Then one day, she decided to turn the camera on herself and take a topless selfie, and when she did, she made a stunning discovery.
Looking at the pictures of her breasts, Rozenbaum noticed a shadow that looked out of place. She made time in her busy schedule to visit a doctor because she was concerned.
"He said, 'I'm telling you right now you have cancer,'" said Rozenbaum.
Rozenbaum, who lives in New York City, said she had exercised, eaten right and done everything she was supposed to do to stay healthy. Plus, she was relatively young.
"I was shocked," said Rozenbaum.
The diagnosis was invasive stage 2B breast cancer, and although the tumor was large, it had not spread to her lymph nodes. Suddenly the boudoir photographer who had made her career snapping pictures of breasts, faced a double mastectomy.
Enlisting the help of a plastic surgeon
Some women choose not to have breast reconstruction after mastectomy. While a flat closure is a valid option that resonates with many women, Rozenbaum eventually opted for implants with nipple tattoos. She said during that difficult time, more than anything, she wanted relatable pictures for reference.
"It was really hard to find anything. I was looking for before and after pictures, and there wasn't much out there. A lot of before and after pictures were scary, very medical," said Rozenbaum. "They were not lifestyle pictures. And it was frightening. I had no idea what I was getting into."
Rozenbaum navigated the world of breast cancer, mastectomy and reconstruction without the intimate, lifestyle-type photographs of fellow breast cancer survivors she had sought. Now 47 years old – and several years into breast cancer survivorship – she's committed to using photography to help other women have the resources she didn't have.
"She's done so much, and she's been so selfless in sharing herself, sharing her journey, trying to normalize breast cancer bodies in the photography that she does," said plastic surgeon Ron Israeli, MD, who performed Rozenbaum's breast reconstruction.
Health insurance covers breast reconstruction
Rozenbaum's surgery came at a time when breast reconstruction was more widely available to women than it had been just a couple of decades before. In 1998, the Women's Healthcare Rights Act became a law that mandated insurance companies to cover breast reconstruction for any woman facing mastectomy. Subsequently, as the number of women opting for breast reconstruction expanded, so did surgical techniques.
"It's the golden age of breast reconstruction," said Israeli. "The options available today are so much better than they were in the past. And for those of us that do choose to specialize in breast reconstruction, we are able to achieve results that were unimaginable when I was a resident in training."
Normalizing breast cancer bodies
Even with the increased options available today, many women go through a series of steps – including tissue expanders – before they reach their desired aesthetic outcome. Contrary to popular belief, Rozenbaum said breast reconstruction after a mastectomy is not a "one-and-done" procedure for many women.
In all their stages, this normalization of breast cancer bodies is part of what she tries to convey through her portrait photography. They're the type of pictures she wished she'd had in the early days of her breast cancer journey.
Rozenbaum shared her breast reconstruction journey mainly on Instagram, where she has more than 32,000 followers. She showed her bruises, scars and drainage tubes right after breast surgery and the photo she posted went "viral." Women responded with messages of thanks – which she continues to receive.
"I get messages every single day from people that say anything from, 'thank you for giving me hope' to 'thank you for allowing me to feel comfortable with advocating for myself,'" said Rozenbaum.
Supporting women diagnosed with breast cancer
In 2020, Rozenbaum wrote a book called, "What the F*ck Just Happened? A Survivors Guide to Life After Breast Cancer." In it, she walks women through how to finally feel normal after cancer, feel sexy and feminine again, stop living in fear of the cancer returning, get rid of the numbness and enjoy life. She said these issues are essential for survivors who don't always feel happy simply because the breast cancer is gone.
"I think we don't get over having a trauma like cancer or the surgeries or chemotherapy or all those things," said Rozenbaum. "We learn how to move on with it as a part of us."
Rozenbaum calls herself a "photogratherapist" because her sessions often transcend photography and cross into therapeutic photoshoots. She encourages women struggling with breast cancer and its aftermath to embrace shameless femininity. Baring their skin and inner beauty at the same time often results in portraits that capture a side of the subject they're proud of and might not have been able to show without Rozenbaum's support.
"I do it because I think if I can just help one person through the process, then it's worth it," said Rozenbaum.
In addition to her book, social media presence and photography, Rozenbaum continues to support women diagnosed with breast cancer through her "Shamelessly Feminine" podcast.
To find a qualified plastic surgeon for any cosmetic or reconstructive procedure, consult a member of the American Society of Plastic Surgeons. All ASPS members are board certified by the American Board of Plastic Surgery, have completed an accredited plastic surgery training program, practice in accredited facilities and follow strict standards of safety and ethics. Find an ASPS member in your area.