A veteran continues to give back after plastic surgery restores her breasts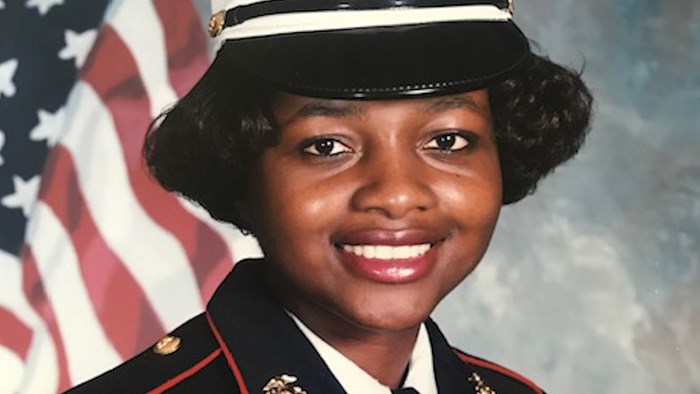 Dr. Rosie Ann Riley led a busy life in 2020 – the veteran had served her country in the Marine Corps and was a community volunteer. Illness was the last thing she expected to contend with, so she was angry when a mammogram a few weeks before Christmas revealed she had stage one breast cancer.
Riley said that as she thought more about her cancer diagnosis, her initial anger decreased and she came to terms with the idea that there are "no guarantees in life."
"This is your journey," said Riley. "Make the best of it."
Because she was in the early stage of breast cancer, the tumor was small and highly treatable.
Choosing surgery and breast reconstruction
Riley consulted with plastic surgeon Jared Davis, MD, and together, they made a plan to remove cancer and rebuild her breasts simultaneously. They agreed on nipple-sparing mastectomies and direct-to-implant breast reconstruction.
"I thought this was an ideal reconstructive modality for her because it would preserve form while allowing her early return to physical activity with fairly minimal downtime," said Davis, who nominated Riley as a 2022 Patient of Courage.
The Patients of Courage: Triumph Over Adversity program honors patients who undergo reconstructive plastic surgery, have their lives restored and participate in charitable actions to improve the lives of those around them.
"Her case stood out to me as a prime example of why we, as reconstructive surgeons, do what we do," said Davis. "Long before her diagnosis, she had served our country. And she continues to serve her community."
Serving her country
When Riley was a young woman, she decided to attend the University of Southern Mississippi in Hattiesburg, less than two hours away from where she grew up.
"Because I had no financial support, I decided to go into the military. Because I heard that if you went into the military, you could get the GI Bill," said Riley. "So, the Marine Corps had the best-looking uniforms. And I was like, 'You know what? I'm kind of tough, so I'll just go into the Marine Corps.' And I was like, 'I like those uniforms. Those men look good in those uniforms.'"
According to Riley, going into the Marine Corps was one of the best life decisions she has ever made. She said it taught her that she was indeed "tough" and could "handle whatever life threw her way."
After serving in the Marines, Riley applied and was accepted into the pharmacy program at the University of Tennessee.
Serving her community
Riley volunteers at the National Civil Rights Museum so she can participate in showcasing her African American history.
"She's been volunteering with us for a couple of years here at the capitol," said Mississippi Lt. Gov. Delbert Hosemann. "We really appreciate all her work. So, we're really proud of her. And we're blessed to have her as a member of our state of Mississippi family."
In addition to volunteering at the museum, Riley helps individuals in her community, like her 90-year-old neighbor in need.
"Miss Pinky Lee has known me all my life," said Riley. "She washes her clothes in a tin tub on a washboard."
But when arthritis in her hand meant the older woman could no longer carry the tub of water she heated on the stove, Riley stepped in to help through a volunteer connection.
"So, I said, 'You know what, I did some volunteer work for First Baptist Church in Madison.' They met Miss Pinky Lee, and they were like, 'Oh, we got to help her,'" said Riley.
According to Riley, the church group bought Lee a washer, dryer and hot water heater.
"Oh, she done helped me a lot," said Lee. "She's like a real daughter to me. A wonderful person to have in your life. And I love her."
Riley said her hope is that everyone stops to think about the many people around them who, like Lee, need help.
"There are so many people like this," said Riley. "We are all God's servants. That's our first job. And so that's what I would like to tell people. We need to love each other."
The heart of a volunteer
Riley has spent most of her life serving others and recently started a community garden where she gives away close to 1,000 pounds of vegetables annually to those in need.
"I just like helping people," said Riley. "And so, what God asked me to do is start the community garden and get his people healthy. The garden is about giving these vegetables, these organic vegetables to elderly people for free."
To find a qualified plastic surgeon for any cosmetic or reconstructive procedure, consult a member of the American Society of Plastic Surgeons. All ASPS members are board certified by the American Board of Plastic Surgery, have completed an accredited plastic surgery training program, practice in accredited facilities and follow strict standards of safety and ethics. Find an ASPS member in your area.