Plastic surgeon launches campaign for National Latino Physician Day amid Latino doctor shortages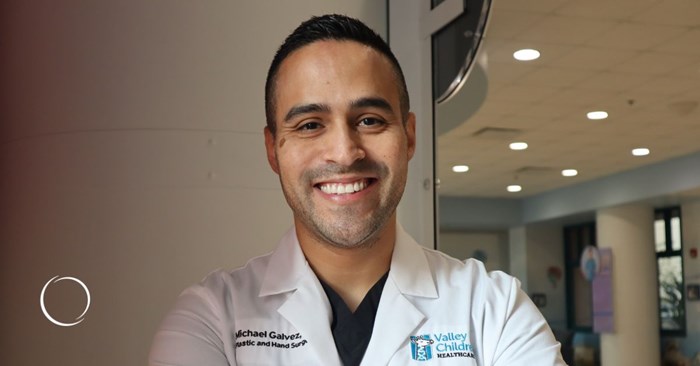 A shortage of Latino doctors is causing the medical profession to face an emergency of its own. Latinos are the largest minority group in the United States, representing 19% of the population. Despite this, less than seven percent of all U.S. physicians are Latino. This gap creates significant healthcare barriers, inequalities and poorer outcomes for Latino patients.
National Latino Physician Day, now celebrated annually on October 1, was developed to bring attention to these challenges so the medical community can incorporate systematic changes in medicine to include more Latino physicians in the workforce.
Michael Galvez, MD, FACS, a pediatric hand surgeon in California, began a national campaign last year to address the obstacles facing Latino and Latina doctors for the inaugural National Latino Physician Day to bring awareness to the issue. He hopes it will encourage the next generation of Latinos to pursue medicine.
"These pipeline problems are relevant to our field because we are suffering the downstream effects of not having a workforce that does not match the patient population," said Galvez.
Surgeon diversity is critical for a diverse patient population
Galvez believes plastic surgeons who resemble their patients are critical for the specialty.
"Especially in California, you can have a high percentage of Latinos, Asians, Blacks, such a wide range of diversity," said Galvez. "If you exclude one aspect of that, you're actually not taking care of your entire population. The reason we become physicians is to help patients. If we want to help the patients, we have to consider all of those patients as much as possible. Then, you start to take into consideration that an aesthetic outcome may not be ideal for a specific patient population. For example, the aesthetic considerations for rhinoplasty may be different."
Representation also leads to better overall health for patients.
"If the patient and the physician match as far as ethnicity, this concordance has been shown to help drive improved outcomes," said Galvez. "Patients are more likely to listen to a physician from the same background given improved communication, cultural sensitivity and higher patient satisfaction. They're more likely to be trusted by the patient, and that's really how you drive outcomes."
Latino doctors can help remove cultural and language barriers that come with serving certain patients. He calls the ability to speak Spanish a superpower for physicians because it allows them to relate to patients so important health information does not get lost in translation.
"It's not just the surgery you do," said Galvez. "The surgery that you do is one aspect, the technical aspect, but the outcome is determined by time, by patient compliance, by patient understanding. We have bad outcomes when precautions aren't taken. You have this ability to connect with patients, to drive home the message of how to take care of themselves after surgery, to explain the importance and risks, benefits and alternatives when you're discussing surgery."
Plastic surgery is in need of more Latino physicians
Galvez said with so few Latino physicians in plastic surgery, it can be hard for the next generation of doctors to find role models and mentors. He suggested that Latino medical students look outside of their division or department to find guidance.
"Find someone that understands their background," said Galvez. "Understands their values, whether it's family or culture and make those connections with someone else. That prevents burnout and allows someone to be more likely to succeed. We know minorities have a higher attrition rate. Now, why is that? It has nothing to do with the fact that we are not smart, capable or do not provide enough excellence. It has to do with support. That's where these systemic changes must be made to provide support for these students."
Galvez understands the challenges to medical care some Latinos face. His parents immigrated to the U.S. from Lima, Peru, before he was born. He grew up uninsured. He credits his interest in medicine to his grandfather, who was a pediatric surgeon in Peru but could not practice in the U.S. Still, his grandfather was able to provide medical care to his family, a privilege many others in the Latino community did not have. He said his experiences help him connect to patients of all backgrounds.
"My cultural experiences with my family at home, being able to speak Spanish, those have provided me a way and means to talk to patients from all walks of life, not only Latino," said Galvez. "I walk into a room and do my best to connect with the patient, the family, whether it's African American, White, Asian, anybody. So, they know that I'm going to do the best that I can to take care of them and treat them like family."
He asked current plastic surgeons to participate in helping break down barriers for Latino medical students not just on October 1 but throughout the year by setting aside dedicated time to mentor underserved students, including Latinos so they get the support to succeed in a complex and competitive specialty.
To find a qualified plastic surgeon for any cosmetic or reconstructive procedure, consult a member of the American Society of Plastic Surgeons. All ASPS members are board certified by the American Board of Plastic Surgery, have completed an accredited plastic surgery training program, practice in accredited facilities and follow strict standards of safety and ethics. Find an ASPS member in your area.