The magic of blepharoplasty and thread lifts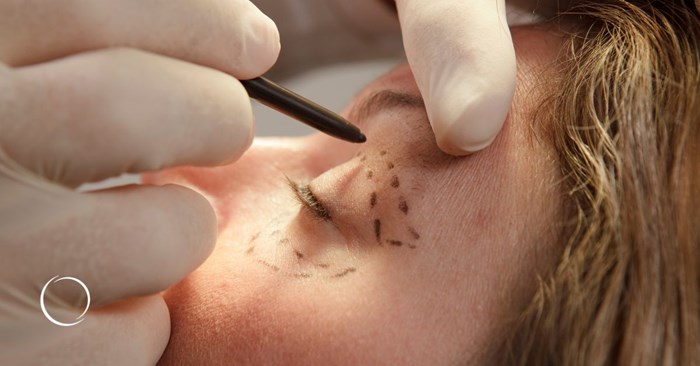 You probably first notice someone's eyes when you meet a new person. A breathtaking feature of the face, the eyes help us see the world around us more clearly and are often key in shaping the appearance of the face. Unfortunately, our eyes are often the first facial feature that shows signs of aging, from fine lines and wrinkles to drooping skin.
There are now more surgical and nonsurgical options than ever before to help those who are unhappy with their eyes achieve their desired results. The most popular procedure is known as blepharoplasty.
Blepharoplasty is a surgical rejuvenation procedure that focuses on the eye region and can involve removing excess skin or fat from the eyelids. This procedure can target the upper eyelids, lower eyelids or both, depending on the patient's goals.
From a nonsurgical perspective, thread lifts have seen a boom in the last decade or so, particularly among the younger generations. This procedure involves placing medical-grade threads under the skin to pull sagging skin into position, which lifts the eyelids and stimulates collagen production in the process. This popular procedure is temporary in nature but can last up to 18 months.
We reached out to ASPS Member Surgeons Amy Bandy, DO, FACS, and Sara Dickie, MD, to learn more about how blepharoplasty and thread lifts can transform the eyes. Keep reading to discover more about this field of plastic surgery, the procedures themselves, plus tips and tricks to maximize your results if you decide to take the plunge on undergoing one.
The rising popularity of blepharoplasty and eyelid surgery
Eye-centric procedures have always been popular. Yet, we have seen continued growth in blepharoplasty during the last few decades. Historically, this type of procedure is one of the most common and most discussed plastic surgery procedures available.
"The eyelids and the neck are the first things noticed in the mirror that make you look old," said Dickie. "Eyelid surgery has been a well-accepted and well-talked-about procedure."
The growth of eyelid surgery can be attributed to its popularity among younger age groups. No longer is blepharoplasty considered an anti-aging treatment, but rather, it is recognized as a preventive procedure.
"We're talking about beautifying and rejuvenation at a younger age," said Dickie. "We're more open to the idea of undergoing surgery just for you rather than for medical necessity."
This rise in popularity among younger age groups can be attributed to various factors.
"This popularity is very much thanks to social media and that younger people are more open and willing to talk about their procedures or what was once considered taboo," said Dickie.
The rise of social media has increased selfies, so people are seeing themselves more than ever before, leading to them focusing more attention on aspects of their appearance they'd like to change.
"I believe that this is due to more selfies, thus seeing the small imperfections at a younger age," said Bandy. "I also think that the younger generation doesn't seem to have the same reluctance to having surgery, or letting others know that they are having a procedure done and are more willing to share their experience and their before and after photos."
Nonsurgical alternatives to eyelid surgery
In addition to blepharoplasty, nonsurgical eyelid procedures are also gaining popularity.
Thread lifts are just scratching the surface of nonsurgical alternatives to blepharoplasty, with many being used as prejuvenation treatments before having blepharoplasty at an older age.
"There are more nonsurgical procedures available now than there were a decade ago," said Bandy. "Many people are willing to try the nonsurgical procedures prior to blepharoplasty, such as microneedling, dermal fillers and laser resurfacing."
Injectables such as Botox and dermal fillers can rejuvenate the eyelids and surrounding area in under an hour without the need for surgery.
"In my everyday practice, botulinum toxins like Botox, tear-trough fillers and brow fillers are the most commonly requested procedures," said Dickie.
Tips to maximize your results
As with any plastic surgery procedure, there are a few important things to look for to ensure that you have the best possible outcome..
Look for a board-certified plastic surgeon
Whenever you are considering a plastic surgery procedure, both surgical and noninvasive, it's of the utmost importance to make sure that you choose a board-certified surgeon.
"I can't stress how important enough it is to see a board-certified plastic surgeon," said Dickie.
Make sure you feel comfortable
Once you find your preferred board-certified surgeon, make sure that you meet with them to talk through the procedure and get to know them better. After all, you want to make sure that you connect with them before you take the plunge!
"Make sure that you feel comfortable with the suggested treatment options as well as comfortable with the surgeon and his or her experience in the procedure that you are considering," said Bandy.
Consider noninvasive options
For so many patients, the idea of having a traditional plastic surgery can be a bit daunting. Yet, with the rise in popularity of noninvasive options, you may find that you can achieve the results that you're after without needing surgery.
"Sometimes nonsurgical procedures deliver amazing results with minimal downtime, but sometimes it makes more sense to jump straight to surgery," said Bandy. "It all depends on you and what your goal is."
Keep in mind surgery might be your best option
It might be tempting to stick to the minimally invasive route, but it's important to remember that the only answer might be surgery. While minimally invasive procedures may work well for those who are younger or have less wear on their skin and as a short-term solution, sometimes surgery is the best option to get the results that you want.
"Surgery is the next step after minimally invasive stops working," said Dickie.
Follow your postop instructions to the letter
Following your surgery, it's easy to think that the most difficult step towards achieving your desired results is done. The truth is that how you recover post-operation can make all of the difference.
"After your procedure be sure to follow postop instructions and stay out of the sun so you have the best chance to achieve your optimal results," said Bandy.
By following your surgeon's instructions, you can set yourself up for a smoother recovery and faster path to your desired results!
Eyelid rejuvenation has more options than ever
In the last decade, we've seen a rise in popularity around blepharoplasty and other eyelid-centric procedures. This shift is particularly common among the younger generations, likely due to increased use of social media and better general acceptance of plastic surgery procedures.
Patients are able to achieve the aesthetic results they are after with minimal downtime with both surgical and noninvasive eyelid procedures.
To find a qualified plastic surgeon for any cosmetic or reconstructive procedure, consult a member of the American Society of Plastic Surgeons. All ASPS members are board certified by the American Board of Plastic Surgery, have completed an accredited plastic surgery training program, practice in accredited facilities and follow strict standards of safety and ethics. Find an ASPS member in your area.