C. Scott Hultman, MD, MBA, FACS, Elected President of The Plastic Surgery Foundation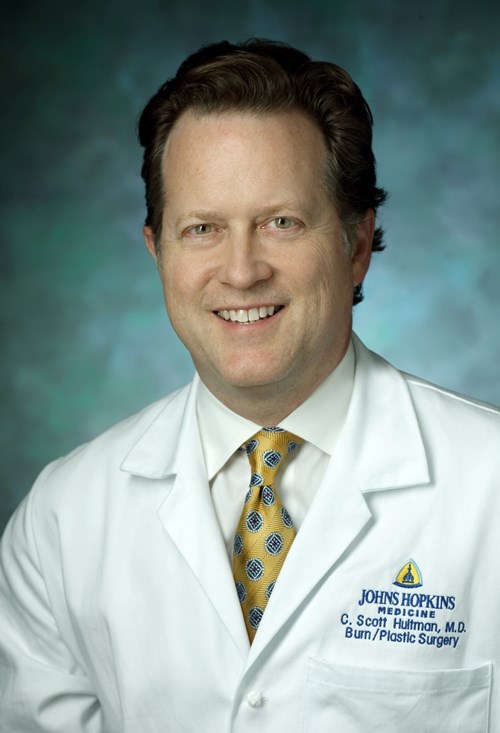 ARLINGTON HEIGHTS, IL – The Plastic Surgery Foundation (The PSF), which supports the research, academic, development and international activities of the American Society of Plastic Surgeons (ASPS), named C. Scott Hultman, MD, MBA, FACS, President of The Plastic Surgery Foundation. Dr. Hultman took office at Plastic Surgery The Meeting, the Society's annual scientific meeting, in San Diego and will serve for one year.
"I am deeply honored to have been chosen to serve as the president of The Plastic Surgery Foundation," noted Dr. Hultman. "With great enthusiasm, I look forward to leading The PSF during the coming year to advance research and innovation in plastic surgery, with a special emphasis on patient safety. I am especially excited to pursue development opportunities, as well as build bridges with our international colleagues."
Dr. Hultman is Professor of Plastic Surgery at the Johns Hopkins University, where he serves as Vice-Chair of Strategy and Director of the Johns Hopkins Bayview Burn Center. He is the former Ethel and James Valone Distinguished Professor of Surgery at the University of North Carolina, where he served as Chief and Program Director for Plastic Surgery, Vice Chair of Finance for the Department of Surgery, Chair of the Graduate Medical Education Committee and Chair of the Patient Complaints Monitoring Committee. Dr. Hultman led the intra-preneurial efforts to design, develop and manage the UNC Aesthetic and Laser Center, an office-based surgery center that focuses on reconstructive modalities for burn patients.
He obtained his undergraduate degree in psychology from Brown University and received his medical degree at the University of Pittsburgh, where he was mentored by William Futrell and Peter Johnson. Dr. Hultman then completed training in general surgery and surgical critical care at the University of North Carolina, under the tutelage of George Sheldon and Anthony Meyer, where he also pursued a two-year basic science fellowship in burn immunology. He completed his training in plastic surgery at Emory University, where John Bostwick and Josh Jurkiewicz shaped his identity as an innovator in plastic surgery. Dr. Hultman obtained an executive MBA from the UNC Kenan Flagler Business School, with a focus on health care economics and service operations.
A recognized expert in acute burn care, rehabilitation after burn injury and burn reconstruction, Dr. Hultman is an internationally-renowned educator, innovator and leader in reconstructive and aesthetic plastic surgery, specifically for burn patients. Throughout his career, Dr. Hultman has sought to improve the patient experience, which includes not only patient safety and improved clinical outcomes, but also improving patient access, patient throughput and patient satisfaction. His dual training in medicine and business has allowed him to focus on and transform systems of health care, especially in the academic setting. At Johns Hopkins, Dr. Hultman is studying the impact of substance abuse, homelessness and delays in care on outcomes in burn patients. Clinically, he is developing techniques in fat grafting, laser resurfacing and peripheral nerve surgery to improve reconstructive outcomes, with an emphasis on the alleviation of chronic neuropathic pain.
The author of more than 180 scientific articles, reviews and chapters, plus the editor of four medical textbooks, Dr. Hultman has mentored more than 50 surgeons during various stages of their academic careers. In 2016, he received the Distinguished Alumni Award from the UNC Kenan Flagler Business School, and he delivered the commencement address for the UNC Executive MBA class in 2017. Nationally, he is a recent past-president of the American Council of Academic Plastic Surgeons, and he currently serves on the ACGME Plastic Surgery RRC, where he has helped to develop novel competency-based training programs.
About ASPS
The American Society of Plastic Surgeons (ASPS) is the largest organization of board-certified plastic surgeons in the world. Representing more than 11,000 physician members worldwide, the society is recognized as a leading authority and information source on cosmetic and reconstructive plastic surgery. ASPS comprises more than 92 percent of all board-certified plastic surgeons in the United States. Founded in 1931, the society represents physicians certified by The American Board of Plastic Surgery or The Royal College of Physicians and Surgeons of Canada.
About The PSF
The Plastic Surgery Foundation (The PSF), founded in 1948, supports research, international volunteer programs and visiting professor programs. The foundation's mission is to improve the quality of life of patients through research and development. The PSF accomplishes its mission by providing invaluable support to the research of plastic surgery sciences through a variety of grant programs. The PSF works in concert with the American Society of Plastic Surgeons (ASPS).