MTI/ASPS Plastic Surgery Accelerator Propels Five Plastic Surgery Startups to Finals of Annual MedTech Competition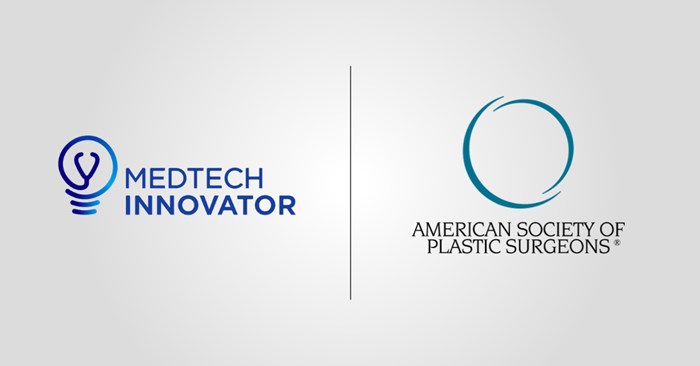 Five plastic surgery startups advanced through a rigorous selection process to represent the MTI/ASPS Plastic Surgery Accelerator track in the 2023 MedTech Innovator Accelerator program and competition. Each startup will take part in the comprehensive program, designed to help grow promising new companies focused on medical device, diagnostic and digital health technology.
The plastic surgery track startups selected to advance in this joint effort between the American Society of Plastic Surgeons (ASPS) and MedTech Innovator (MTI) include 4th Dimension EMR (San Diego, Calif.), Cellulora (Philadelphia), Fingy 3D (Morgantown, W.Va.), ImmersiveTouch (Chicago) and Newrotex (Oxford, U.K.). The five finalists join a field of 61 startups from around the world that will compete for a share of $800,000 in funding awards over the course of the four-month program.
"Plastic surgery thrives on innovation and attracts creative, entrepreneurial individuals who are constantly striving to improve outcomes and safety for patients," says ASPS President Gregory Greco, DO, FACS, Red Bank, N.J. "This program provides enormous value to ASPS members looking to bring their ideas to market – but it also advances the specialty and, most importantly, holds the potential to improve care worldwide."
More than 70 companies entered the MTI/ASPS Plastic Surgery Accelerator competition this year, and 12 advanced to the live-pitch judging phase, where the top five were selected to represent the plastic surgery track. The size of this year's ASPS cohort increased from last year's inaugural group of three finalist startups; this first plastic surgery track cohort was very successful, placing companies in all three finals of the MTI program's internal competitions.
ASPS participation in the MTI/ASPS Plastic Surgery Accelerator is made possible through the generous support of Motiva, the Society's 2023 Innovation Sponsor. Each of the five cohort participants from the MTI/ASPS Plastic Surgery Accelerator will be featured at Plastic Surgery The Meeting, Oct. 26-29 in Austin, Texas, and receive mentoring from ASPS surgeons and associated entrepreneurs. They will also participate in MedTech Innovator's corporate mentorship program, where they will be matched with senior industry leaders to receive ongoing in-depth, customized mentorship and support.
"We are proud of our stellar track record of identifying and perfecting the most innovative medtech startups in the world," says Paul Grand, CEO and founder of MedTech Innovator. "The 2023 MedTech Innovator Cohort once again includes passionate medtech entrepreneurs from around the globe. We look forward to working with our corporate partners and industry advisors over the course of the program, to help these startups advance their medical device, diagnostic and digital health innovations to improve patient care."
This year's event marks the second year of the ASPS/MTI partnership, but since the launch of MedTech Innovator in 2013, more than 500 companies completed the program, resulting in more than 200 FDA approvals and clearances, and $6.8 billion in funding.
The 2023 accelerator program launches June 14-15 at the MedTech Innovator Summit in Mountain View, Calif. Leadership teams from each of the 61 startups will attend networking events and workshops with MedTech Innovator partners, alumni and industry leaders.
The 2023 cohort will then be featured June 16 at the WSGR Medical Device Conference in San Francisco, where they will be showcased to investors and compete for the $25,000 Vision Award. The program culminates in The MedTech Conference powered by AdvaMed, Oct. 9-11, in Anaheim, Calif., where five companies will advance to the Grand Finals.
About ASPS
The American Society of Plastic Surgeons (ASPS) is the largest organization of board-certified plastic surgeons in the world. Representing more than 11,000 physician members worldwide, the society is recognized as a leading authority and information source on cosmetic and reconstructive plastic surgery. ASPS comprises more than 92 percent of all board-certified plastic surgeons in the United States. Founded in 1931, the society represents physicians certified by The American Board of Plastic Surgery or The Royal College of Physicians and Surgeons of Canada.
About MedTech Innovator
Based in Los Angeles, MedTech Innovator is the world's largest accelerator of medical technology companies and the premier nonprofit startup accelerator in the medical technology industry. Its mission is to improve the lives of patients by accelerating the growth of companies that are transforming the healthcare system. MedTech Innovator matches healthcare industry leaders with innovative early stage and emerging growth medtech companies for mentorship and support.
For more information about MedTech Innovator, visit https://medtechinnovator.org/ and follow @MedTechAwards on Twitter and MedTech Innovator on LinkedIn. To receive industry insights and highlights about MedTech Innovator's portfolio companies, subscribe to its monthly newsletter.