Everything you need to know about a daddy do-over
Say bye to the dad bod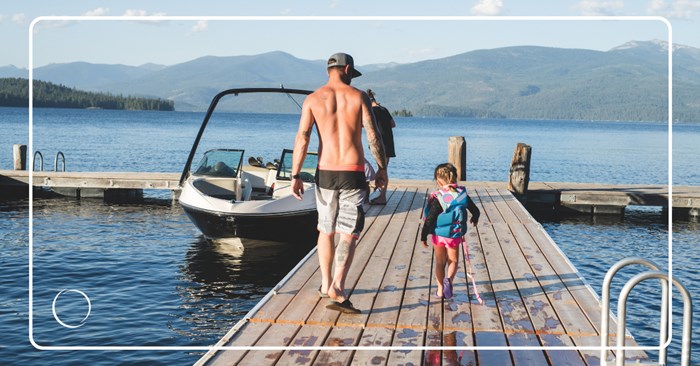 Nearly everyone with an interest in plastic surgery or aesthetic trends is familiar with the long-established and complex procedure, the mommy makeover. But a daddy do-over? Not so much – until, perhaps, now.
"A daddy do-over is the male equivalent of a mommy makeover," explains San Francisco-based plastic surgeon and American Society of Plastic Surgeons member, David Sieber, MD. "It's basically a combination of procedures aimed at getting rid of the 'dad bod.'"
Similar to a mommy makeover, a daddy do-over consists of a combination of cosmetic surgical procedures and treatments performed all combined into one surgery and one recovery period. And while some procedures are popular staples of a daddy do-over – liposuction, for instance – it's one of the most highly customizable surgeries within plastic surgery because patient goals and needs are incredibly varied. In other words, two daddy do-over surgeries could have two completely different sets of procedures, yet both could be referred to as a daddy do-over.
"Male plastic surgery is super popular and daddy do-overs are becoming more popular," says Washington D.C.-based plastic surgeon Troy Pittman, MD, who adds that his male patients run the surgical gamut, with some seeking a collection of surgeries to those who opt for noninvasive liposuction and injectables.
What is a daddy do-over?
"New dads may experience changes in diet, exercise and sleep after becoming a parent, which have a physical effect on their bodies," explains Boston-based plastic surgeon, Samuel Lin, MD. "Combined with the effects of aging, these changes may inspire new fathers to undergo a variety of cosmetic surgical procedures, collectively called the 'daddy do-over.'"
Yet, Dr. Sieber jokes that patients "don't even need to be a dad!" but rather, "it's a male-centric procedure aimed at getting their younger body back, so any man who has excess fat and doesn't like how they look would be a good candidate."
Fat reduction is a top request for daddy do-overs, but body procedures are not, by any stretch, the only tweak men are seeking.
What procedures are popular for a daddy do-over?
For Dr. Pittman, a traditional daddy do-over consists of a gynecomastia correction, which is the medical term to address and reduce man boobs. "But what's really growing in popularity is guys coming in wanting to have lipo of their abdomen and flanks, sometimes a little bit on their inner thigh and chest contouring is huge," he says, adding that he's seeing more requests for male tummy tucks as well.
"It's usually guys who've lost some weight and that little pouch of skin hangs over their swimsuit or underwear and they want to get rid of it," he says, noting that abdominal wall laxity isn't an issue here, as it is with women because of pregnancy. "It's really more about getting that loose skin from the lower abdomen."
For men who have lost volume as a result of aging, Dr. Sieber will often transfer fat to the chest, deltoids and buttocks for even more muscular definition.
At Dr. Lin's practice, neck lifts, facelifts and brow lifts can be added to the daddy do-over collection to address signs of facial aging. "In 2020, men received 13% of all cosmetic surgical procedures," he says. "The most popular cosmetic surgical procedures among men were nose reshaping, eyelid surgery, cheek implants, liposuction and ear surgery – all of these procedures are options to include as part of a daddy do-over."
How should a patient prepare for a daddy do-over surgery?
"A good candidate for a daddy do-over is a patient whose primary goals are an improvement in the contour of their physique," cautions Dr. Lin, who stresses that these surgeries are not weight loss or weight management procedures.
"Just like any surgery, it's important for patients to be at or near their ideal body weight," warns Dr. Sieber, who recommends avoiding any supplements or OTC medications, like Advil, which can promote bleeding (and trigger serious bruising) after surgery.
Perhaps the most essential pre-operative step a patient can take to ensure a successful outcome, according to Dr. Sieber, is to take the time to browse their surgeons before and after photos. "Make sure you find someone who does a lot of these types of procedures and look at their results," he says. "Each surgeon has a different aesthetic eye, so look and make sure you agree with their aesthetic."
What's the recovery and aftercare timeline?
Because a daddy do-over combines multiple surgical procedures into one, the recovery period will vary, depending upon several factors, including the number and severity of the procedures performed as well as the patient's age and overall health.
Because a daddy do-over is so highly customized and variable, there's some debate about the recovery timeline. Dr. Lin estimates six weeks total, although he believes a patient could be 'restaurant ready' as quickly as one to two weeks, while Dr. Sieber puts downtime closer to about one week, with the most significant discomfort on days five, six and seven.
"For whatever reason, I've found that male patients are better able to cope with the pain from lipo more than the female patients," he says, but because of the foam and compression garments he requires for his patients, "they won't be restaurant ready for about a month."
Both Drs. Pittman and Sieber rely on Vaser ultrasound technology when performing liposuction to melt the fat, especially for gynecomastia procedures. "We used to go right to direct excision of the gland from the chest before we had Vaser," explains Dr. Pittman. "But Vaser is very good at melting some of that fibro-fatty tissue, so we're not needing to make big incisions on the chest anymore." And smaller incisions generally translate to quicker recoveries.
For smaller-scale procedures, like submental liposuction of the neck, Dr. Pittman rarely, if ever, puts patients under. Instead, he gives them a cocktail of what he jokes is an "MKO tab," which is a mix of ketamine, versed and warfarin all in one tablet, and then "they just don't really care what's going on," he says. "We put tumescent in with lidocaine, then liposuction them; it takes about 30 minutes."
Often, he says, these patients will have submental lipo on a Friday and be back at work Monday, without even a hint that anything happened. "It couldn't be easier," he says. "And it's a no-brainer from a cost perspective if you compare it with three treatments of Kybella."
The takeaway
"I think more men are realizing that there are things that can be done to make them look and feel better," shares Dr. Sieber. "There for sure is still a stigma associated with having plastic surgery, but men are slowly coming around to the idea. The men I've treated have been super happy with their results and are glad they did something."
But as Dr. Pittman points out, his patients "aren't looking to become male fashion models at the age of 50," he jokes, before taking a more serious tone to say that "they just want their suits to fit a little bit better, they don't want love handles or a muffin top."
While facial filler has always been the low-hanging fruit of the aesthetics world, men are certainly not shy about jumping in with both feet. "I'm doing a ton of filler on guys to square off their jaw," says Dr. Pittman, adding that a little bit of filler can go a long way to masculinize facial features. "As guys lose support and maybe start getting a bit more skin excess or they gain some weight, their face gets rounder and it becomes more feminized," he explains. "So putting in a little filler, if there's any kind of weakness in the chin to help give them a little projection and a straighter jawline."
To find a qualified plastic surgeon for any cosmetic or reconstructive procedure, consult a member of the American Society of Plastic Surgeons. All ASPS members are board certified by the American Board of Plastic Surgery, have completed an accredited plastic surgery training program, practice in accredited facilities and follow strict standards of safety and ethics. Find an ASPS member in your area.