On the other side: ASPS President shares lessons learned during her breast cancer and reconstruction journey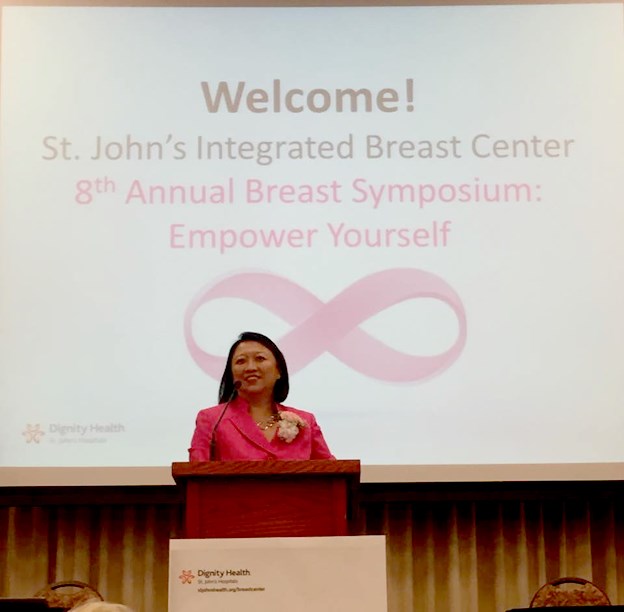 ASPS President Lynn Jeffers, MD, MBA, discovered she had breast cancer in 2018 after an MRI revealed a malignant lesion that her routine screening mammogram missed. She underwent a bilateral mastectomy and reconstruction with tissue expanders, and began chemotherapy and radiation while serving as president-elect, and subsequently, president of the Society.
Dr. Jeffers refused to let her cancer diagnosis slow her down. During her treatment, she traveled nationally and internationally to represent ASPS; organized two annual Breast Symposia on breast cancer treatment, reconstruction and survivorship; and completed her MBA at the University of Michigan Ross School of Business, graduating in the top 10 percent of the class.
In addition to leading ASPS, Dr. Jeffers is the chief medical officer at St. John's Pleasant Valley Hospital and the medical director of the hospital's Integrated Breast Center. She steered both the Society and the hospital through the COVID-19 crisis.
Dr. Jeffers focused her clinical practice on aesthetic and reconstructive breast surgery and continues to inspire others as a breast cancer survivor through her commitment to giving back to patients, the medical community and society at large. Dr. Jeffers took time to discuss the lessons she learned during her own breast reconstruction journey.
On building a support system
"I was undergoing treatment during my presidential year, and sometimes, I would attend meetings or travel for ASPS right after chemotherapy. I completed my final round of chemotherapy last October. It's been a long journey, and one I couldn't get through alone. COVID-19 has also kept me extremely busy – and sleep-deprived – as I'm navigating the Society, my hospital and our sister hospital (St. John's Regional Medical Center) through the crisis. Through my highs and lows, I've learned it's crucial to have a strong support system and to surround yourself with people who empower and encourage you. I'm thankful I've received continual support from my husband, family, colleagues and ASPS leadership and staff during every stage of my breast cancer and reconstruction journey."
On patient care
"I perform breast reconstruction often, so choosing my procedure wasn't a difficult decision for me. However, as a breast cancer patient, I experienced first-hand how much nonmedical factors can impact a patient's journey. I now have a better understanding of what they might be going through and the inner turmoil they experience. Ultimately, I had an advantage as a physician and plastic surgeon because I know the right questions to ask – but my diagnosis did bring to light how much harder it is for patients to go through this journey without a medical background. It's important for patients to know their physicians are working together as a team and advocating for them. I really appreciate everyone on my breast care team for being here for me. The team-based approach to breast cancer care and reconstruction is key."
On identifying your priorities
"It's normal to feel overwhelmed after receiving a cancer diagnosis. The days following your diagnosis are particularly challenging because you need to make decisions amid uncertainty, and you're not sure which way to go. Reconstruction is a personal choice, and patients choose to undergo the procedure for different reasons. You should have an in-depth discussion with your plastic surgeon to determine your goals and identify your priorities. Talking to other women who've undergone the procedure may also help. Breast reconstruction may not be the right choice for every woman, but it's important that all women are fully aware of their options, so they can confidently make informed choices and manage their expectations."
On understanding your options
"Breast reconstruction can be fulfilling from a patient perspective, and the decision to undergo reconstruction or not can be an empowering one. Everyone's cancer journey is different. There are many options for breast reconstruction and with the help of their plastic surgeons, women should determine what is right for them. ASPS is committed to patient education and informing women of their options postmastectomy. There is more information at plasticsurgery.org, and you can find an ASPS member board-certified plastic surgeon you can trust to guide you through your breast reconstruction journey."
To find a qualified plastic surgeon for any cosmetic or reconstructive procedure, consult a member of the American Society of Plastic Surgeons. All ASPS members are board certified by the American Board of Plastic Surgery, have completed an accredited plastic surgery training program, practice in accredited facilities and follow strict standards of safety and ethics. Find an ASPS member in your area.