The decision maker: A breast cancer diagnosis wrested control away from Pamela Bailey – but she took it back quickly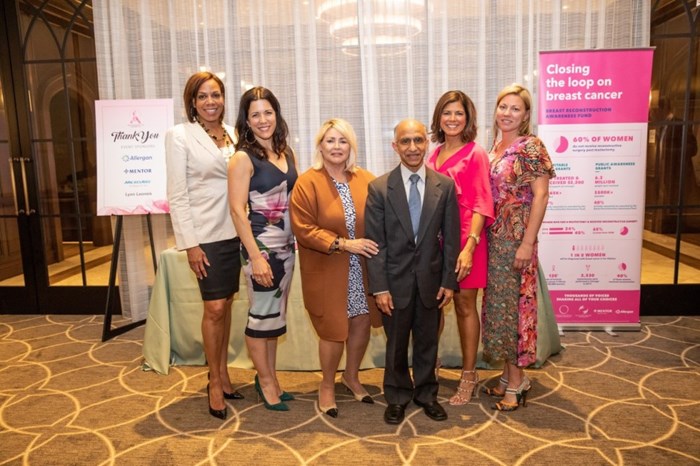 Throughout her life, Pam Bailey prided herself on her ability to take control. The daughter of parents who took part in various philanthropic efforts, she dedicated much of her time to continuing that cause, leading organizations that supported children's hospitals and took care of neglected and abused children.
"I'm a type-A personality," she says. "I like to take responsibility and I like to be the one making decisions."
So when a routine mammogram at age 60 (Pam notes she did not get regular mammograms and had never previously had any health concerns in her life) led to a breast cancer diagnosis in 2011, she was shocked. However, the cancer was deemed treatable with targeted radiation, so Pam went through the procedure and plowed ahead with her charitable work and planning her son's upcoming wedding.
"Most people didn't even know I'd gone through it," she concedes. "I'm a private person, but after that procedure you're going in every six months for another mammogram – and in December 2014, I went in and was called back into the radiation room. I knew something was up."
The cancer had shown up in two new sites on Pam's right breast. Although she had turned down a mastectomy after her initial diagnosis, this was now the only way to remove the cancer from her body.
"I'm still an optimist," she says. "Out of a sense of self-preservation, you say, 'OK, let's schedule the surgery.' But of course, I was quite nervous about it."
Pam wanted reconstruction and her surgeon, Nora Hanson, MD, immediately put her in touch with a plastic surgeon, Mohammed Alghoul, MD, Chicago, who handled breast reconstruction cases at the time. Following her mastectomy, Pam underwent a reconstruction process in which a tissue expander is used at first to accommodate an implant. The implant was placed in July 2015, and in April 2016, she underwent nipple reconstruction, which completed the process.
A new focus
The following year, Dr. Alghoul put Pam in touch with Arun Gosain, MD, who was The Plastic Surgery Foundation president at the time – and who wanted to establish a charitable effort to help raise breast reconstruction awareness.
"The PSF was nationally recognized for its contributions to research, education and international outreach in plastic surgery, but Pam and I realized there was an untapped potential for The Foundation to fill a need within its Chicago headquarters," Dr. Gosain says.
Upon reviewing breast reconstruction statistics in Chicago, Dr. Gosain says he found there were roughly 3,300 women who had undergone mastectomy in the greater Chicago area, but only 1,300 subsequently had breast reconstruction. Either because they were not aware that reconstruction was an option or because they felt guilty, stigmatized or other reasons, 2,000 women in the city did not pursue breast reconstruction. Furthermore, more than 280 of these women fell below the poverty level, making the concept of breast reconstruction unattainable given the added time away from work, childcare, transportation and other outpatient expenses not covered by Medicaid insurance plans.
"There were numerous local and national charities that focused on improving outcomes of breast cancer, but there was no such charity that focused on breast reconstruction to improve the quality of life for breast cancer victims," Dr. Gosain says. "Pam applied her skills in fundraising Chicago area, helping to initiate the first community-based fundraiser for breast reconstruction in the city.
"This resulted in a series of community-based fundraisers for The PSF, in which every dollar raised by The PSF would be reinvested into promoting awareness of breast reconstruction or providing charitable care for indigent women who couldn't afford to pay the expenses associated with outpatient visits entailed in breast reconstruction – expenses that are overlooked by Medicaid insurance plans."
The first event by the organization in 2018 was attended by 150 guests, including three famous Chicago names – Nora Daley (the daughter of former Chicago mayor Richard M. Daley), Zoraida Sambolin (an award-winning TV news anchor) and Cheryl Jackson (a journalist and former Illinois Senate candidate) – and raised more than $50,000 for The Foundation, and subsequent fundraising efforts would bring that total to more than $100,000.
"Pam did the brunt of the work, arranging the minute details to make a successful event – right down to the table decorations," Dr. Gosain notes.
Pam recognizes that not every woman will be as fortunate as she was following their own diagnoses, but she says a support system of friends and family and a focus on continuing your commitments are key to maintaining energy and positivity. Her focus is now on ensuring that women no longer look at breast reconstruction through a stigmatized light or consider it unattainable. She wants to help other women know it's a viable option.
"How many people think of plastic surgery as being a frivolous thing?" she asks. "When faced with something that changes your physical appearance, it's gratifying – and amazing – that you can be wheeled into a room to be worked on by someone with a God-given talent to reassemble you and make you feel positive about yourself again. That's underrated by a lot of people. There's no way I could possibly give my surgical team enough gratitude, because if it hadn't been for them, I would not be as happy, willing or productive as I am today."
Still positive, optimistic – and lest we forget, in control – Pam says she wants other women working through breast cancer treatment to know that she's on their team.
"Even though I'm a private person, I have found such a source of strength in making sure the information is available and trying to help other women who are going through these challenges," she says. "I'm not as afraid of cancer now. I don't like it, but I'm determined to remain positive and will not let something like that get me down. I know I can beat it if I get the right team involved."
To find a qualified plastic surgeon for any cosmetic or reconstructive procedure, consult a member of the American Society of Plastic Surgeons. All ASPS members are board certified by the American Board of Plastic Surgery, have completed an accredited plastic surgery training program, practice in accredited facilities and follow strict standards of safety and ethics. Find an ASPS member in your area.