Plastic surgery transforms a young burn victim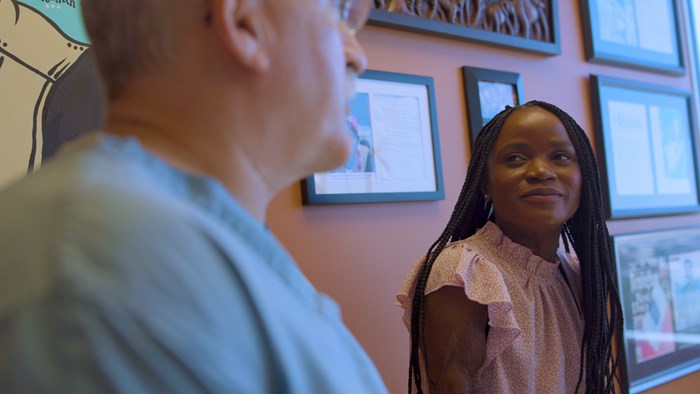 Shamira Reeves was a toddler in Africa when her tiny torso and arms were burned by boiling water that her stepmother poured on her, webbing her arms to her body and crippling her.
Reeves received inadequate burn treatment at a local hospital in Uganda, which led to severe scarring, disabling contractures and the loss of arm mobility. Reeves spent her subsequent childhood years in the slums of Uganda as an outcast. Injured and disfigured, she had, in many ways, given up.
"I generally didn't have any hope at all," said Reeves. "I didn't think that I'd grow up and I'd have a family that I love, that loved me."
An American couple in Uganda
But her young life transformed when Todd and Amiee Reeves left the comfort of their American home to travel to Uganda and adopt several children in need.
"And while we were there, we just asked, 'What was the next greatest need? Which child had the next greatest need?' And they told us about Shamira," said Amiee.
Shamira desperately needed medical attention that she couldn't get in her home country.
"About 65 percent of her body was burned," said Todd. "It was crippling her. Her arms were way up to her body. Someone had poured boiling water on her. Because Shamira was a little baby, was thirsty, and was asking for water. And it was a stepmom, who was obviously not happy that this child that was not hers, was asking for water."
The first step in Shamira's adoption was for Uganda to state that it had done everything it could do to help her and that the country was willing to let her come to America.
"And once they agreed, we actually just moved things really fast," said Todd.
The Reeves family adopted Shamira in 2012 and soon afterward contacted a plastic surgeon in Birmingham, Alabama, to help their new daughter.
Working with a plastic surgeon
"Todd Reeves called me up one day and heard about some things I'd done with some other patients, and asked if it was something I'd be considering or have interest in," said Michael Beckenstein, MD.
Todd told Beckenstein the story of the badly burned school-aged girl.
"And before I could say another word, he said, 'I will help you,"' said Todd.
Beckenstein credits Shamira for the bravery to undergo 26 extensive surgical procedures over a decade while adjusting to life in a new country.
"Her doing that, and then sharing my vision of me wanting to hit the grand slam home run, and she was with me on that. And I kept saying, "Anytime you want to stop, we can stop right here." She's like, 'Nope, let's keep going,'" said Beckenstein.
Plastic surgery improves her life
The plastic surgery procedures slowly transformed Shamira. They incorporated tissue expansion, flap advancement and scar contracture releases.
Shamira said that Beckenstein would check in on her after each surgery and tell her the area he had just worked on looked 'amazing' even though she didn't think so at the time.
"He started believing something that I couldn't see, because I was so focused on how people viewed what was good," said Shamira. "So, I had other people's ideas on how everybody should look, how everybody can act. And I forgot that we all don't have to be the same."
Investing in herself and others
Today, what stands out most about 22-year-old Shamira are not her scars, but her bright eyes and beautiful smile. She enjoys cooking and is enrolled in culinary school in Birmingham, Alabama.
In addition, she serves as an intern for the Sozo Children's Choir, a Christian organization made up of Ugandan orphans who tour the U.S. and lead worship at churches and other venues. She mentors the children while on tour and shares her story at events to raise awareness of the orphan's plight. Her efforts have helped raise money for a Sozo medical facility.
Her faith guides her
The young girl who was a toddler when her stepmother poured boiling water on her has come a long way since feeling hopeless as an outcast in Uganda.
"God put the right people in my life, for a lot of reasons," said Shamira. "And when I didn't believe it, he used them to believe it for me, so that I could eventually get there."
Now she posts public photos of her burns even though it's difficult for her to share this side of herself.
"I thought if there's someone out there who wants to be open to what God's been doing for them, and they can just feel the love. Because we all want to be loved and accepted," said Shamira. "So, if that means me being vulnerable and posting those photos, and sharing to anybody, whoever gets to see it, so be it."
To find a qualified plastic surgeon for any cosmetic or reconstructive procedure, consult a member of the American Society of Plastic Surgeons. All ASPS members are board certified by the American Board of Plastic Surgery, have completed an accredited plastic surgery training program, practice in accredited facilities and follow strict standards of safety and ethics. Find an ASPS member in your area.