Woman survives disfiguring accident, now inspires others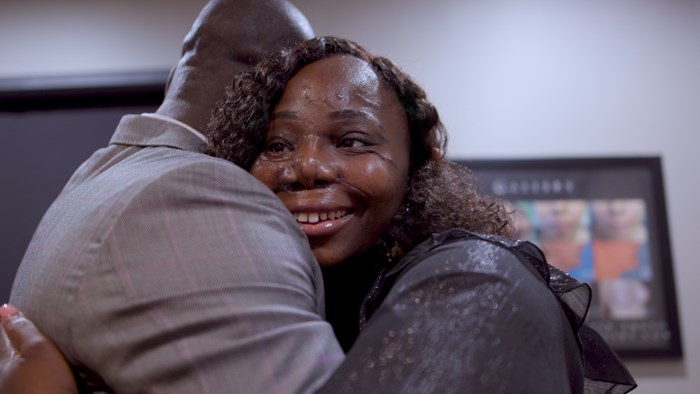 Onyinye Udebuani survived a car accident in 2018 that severely disfigured her face, changing not only her looks but the course of her life. She was a passenger in the collision that killed three others.
"I fell asleep, and the next thing I knew, I was on the floor," said Udebuani. "Then the people around, they told me that I was involved in a car crash. At the time, I didn't even know the severeness of the accident. When they took the pictures and asked me if I wanted to see the picture, I told them no. I was scared."
Assessing the damage
Due to the accident, Udebuani sustained multiple facial fractures and degloved facial soft tissue. Her injuries were so extreme that Michael Obeng, MD, FACS, an ASPS member out of Beverly Hills, performed numerous reconstructive procedures over three years to restore her face to its current function and form.
Procedures he performed included eyelid ectropion correction with palatal graft, skin graft, right cheek reconstruction, nasal reconstruction, multiple facial scar revisions and dental work.
"We debulked the whole face because the right side was so much bigger. There were some masses that we removed. The second surgery, we were able to go in, readjust the nose, put an implant, and then the third surgery we went back in and we have corrected the ectropion," said Obeng. "But this is an ongoing battle. Right now, we have to wait until everything heals, and the next phase is a laser resurfacing of the scars."
Going back to her spiritual roots
Udebuani, born and raised in Nigeria, said that in her tribe, in the old days, people had a name by which they were known.
"My grandfather took the name 'Ifechukwu,' it means, 'what God doesn't know.' Whatever happens to us is still part of the plan because what God doesn't know cannot happen," said Udebuani.
After the years spent in and out of surgery, she and Obeng have become close. According to Udebuani, Obeng has become like a father figure to her and even takes her to church on Sundays.
"She has become one of my many daughters, and she is humble, she has gratitude, and gratitude goes a long way. And her faith, her faith in the Lord has not wavered," said Obeng, who nominated her as a 2022 Patient of Courage.
The Patients of Courage: Triumph Over Adversity program honors charitable reconstructive plastic surgery patients who help others despite their own struggles.
"I'm here after a horrible accident," said Udebuani. "I'm living my life. I'm crushing my goals. And I'm going to live my life to the fullest, and nothing is going to stop me. So, if I can do this, anyone can."
Determined to rise against the odds
Udebuani chose to rise against all odds and continue to pursue her education after her accident. Despite her extreme facial disfigurement, she applied and was accepted into a master's program at a university in Nigeria, fulfilling a childhood dream to pursue an education that involved math.
"As a kid, I always loved mathematics," said Udebuani. "Math has always been my place of solace."
Becoming a data analyst
Today, Udebuani is a Google- and Udacity-certified data analyst. She uses her position to give back to her community by providing resources and mentorship to young people who want to break into a tech career like hers. She also shares her story with others, which helped her win a scholarship.
"The Udacity scholarship was a scholarship where they trained Blacks in technology. I shared my story with them, the accident and everything. A lot of people wrote to me after that day of how inspired they were," said Udebuani. "If you don't tell your story, how will people know? How will they get inspired? I always believe that nobody was just brought to the earth to fill the void. Everybody has a purpose, and I just like to inspire them to find their purpose and live their purpose."
Giving to those in need
Volunteer work is something that helps Udebuani give to those in need. She draws from her disfiguring accident to encourage patients facing similar struggles at R.E.S.T.O.R.E Worldwide Inc., which Obeng founded. It provides free reconstructive surgery to children and adults with disfiguring deformities.
"Onyinye is one of the ambassadors of R.E.S.T.O.R.E. She comes in and helps do clerical work, trying to put together a database, and also supporting patients and families who are going through a lot," said Obeng. "We all need people to talk to, and she is gifted."
To find a qualified plastic surgeon for any cosmetic or reconstructive procedure, consult a member of the American Society of Plastic Surgeons. All ASPS members are board certified by the American Board of Plastic Surgery, have completed an accredited plastic surgery training program, practice in accredited facilities and follow strict standards of safety and ethics. Find an ASPS member in your area.