Six things you need to know about recovering from a Brazilian butt lift
Surgeons say doing these things can make or break your BBL results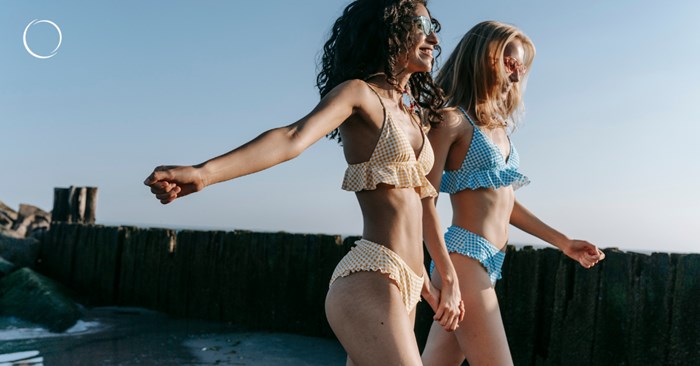 There's no shortage of curiosity or debate surrounding the Brazilian butt lift. This buzzworthy procedure, which transfers fat from one area of the body into the butt and hips for a more shapely hourglass silhouette, continues to shed its formerly infamous reputation, as education expands, spurring refined surgical techniques and fewer postop complications. In fact, it's safer than ever to perform and to receive a BBL, according to Oakland, California-based plastic surgeon and American Society of Plastic Surgeons member, Steven Williams, MD, who is a nationally recognized authority on the procedure.
"It's important to recognize that the initial reported dangers of BBL surgery have significantly reduced through surgeon education and training," says Dr. Williams. Compared to several years ago, the number of serious complications associated with this procedure have dramatically reduced. For the safest possible result, it's always important to consult a board-certified plastic surgeon."
While safer, the procedure also requires a very specific set of recovery dos and don'ts to support an optimal result, and what makes the recovery journey so notorious – and attracts so much curiosity and interest – is the patient's postop delicate dance of sitting, sleeping and just existing, without applying pressure to the sensitive area and subsequently, causing damage.
Every plastic surgery procedure comes with its own collection of recovery realities, and to satisfy our curiosity once and for all, we asked three board-certified plastic surgeons and ASPS members who perform BBLs regularly for their take on what exactly to expect once you've been lipo'ed and lifted.
Initial recovery lasts about five days
New York City-based plastic surgeon, Chris Funderburk, MD, who performs 100 to 150 BBL procedures each year, describes the recovery in three phases: Initial, resuming everyday life with restrictions and no restrictions.
"A lot of times during those first four to five days after surgery, the patient will just stay home," he says. "We encourage them to walk around their home or at most the little local neighborhood, but they just need to really relax and recover."
Compression garments are worn for at least one month
Many prospective patients don't realize a BBL procedure is actually a 2-in-1 surgery, starting with liposuction followed by fat grafting into the buttock area.
"The recovery is similar to other liposuction-type procedures," says Dr. Williams, who adds that many find the liposuctioned areas to be tender, but not overly sensitive. "Patients should expect to have a recovery period that consists of mild to moderate pain and most need some degree of pain medication for the first four to five days."
"I'm a very big fan of compression garments because they definitely help alleviate the swelling," says Dr. Funderburk. "I advise patients to wear them as much as possible, but basically 24/7, except for showering, the first month and at least 12 hours a day the second, usually they can at least do it at night."
Sitting is restricted
This crucial piece of the recovery puzzle affects every aspect of a patient's new postop life for several months, or else they're at risk for asymmetrical or quickly diminishing results.
"You're taking fat from an area of the body where it lives happily and has a nice blood supply, then you're taking it out and moving it somewhere new," explains Dr. Funderburk. "And then there's a period of time where that fat has to incorporate into the new area and obtain its own blood supply. During that period, the fat is very susceptible to pressure necrosis, or pressure that kills off the fat cells, so for the first six weeks, the patient has to be very careful about not putting undue or prolonged pressure on the buttocks."
This recovery guideline has the potential to make ordinary activities, like going to the bathroom, rather challenging.
"We tell patients something along the lines of, just go to the bathroom, it's fine," says Dr. Funderburk. "But try to keep it within the 10-minute window, which is about as long as you should be sitting at any given time for the first six weeks."
Of course, patients aren't expected to stand for six weeks, and there are clever workarounds. One of which is something Dr. Funderburk refers to as a "BBL pillow," which is a discreet, triangle-shaped pillow that will "offset the pressure onto their thighs" and is small enough to be carried to restaurants as patients begin to resume normal activities.
Patients return to work between days seven and 10, and if they're sitting at a desk all day, they need to be using the BBL pillow, or some type of cushioning and padding.
Sleeping requires a strategy
Rest is a critical aspect of any post-surgical recovery, and without it, you're more likely to feel groggy and prolong your recovery period overall. Patients are advised to sleep on their stomachs for the first night postop, and until given the clear from their surgeon.
And if you're a back sleeper exclusively? Surgeons have gotten creative with ways to keep BBL patients as comfortable as possible.
"For patients who absolutely cannot sleep on their tummies, we recommend a pool float that looks like an avocado," says Dr. Funderburk. "It has a hole for where the pit would be and a lot of patients find that nice to put on their bed, cover it with sheets and they have an opening for their buttocks."
Final results will evolve
"Most patients will see an immediate improvement in contour, both in the areas where liposuction was performed and the areas where fat was grafted," says Dr. Williams, who notes that there is a second phase of visible results.
"Most people refer to the second phase of recovery as one where the grafted fat is stable, but the final cosmetic results from the liposuction are still evolving," he explains. During this period, he says that the body is experiencing both tightening in the treated areas and swelling around the liposuction sites.
Around month three, the acute risk of losing fat from the buttock area subsides, says President of ASPS and Endowed Professor and Chair of Plastic Surgery at the University of Pittsburgh Medical Center, J. Peter Rubin, MD, and the region's size and shape will be a "pretty good indicator of what's going to stay there."
Dr. Williams notes that during months three to six, the shape "should further refine and the curve should become more apparent."
You may want a second BBL procedure
Even if a BBL patient did everything right, sometimes nature just takes its course.
"We know from a number of studies that the average fat take or the amount of the transferred fat that will survive is about 60%," says Dr. Funderburk. "And the remaining 40% is just naturally broken down and reabsorbed by the body, so while we want to do everything we can to maximize that fat take, we also intentionally overfill a bit to help compensate."
It's not uncommon for patients to return to their plastic surgeon for another BBL to smooth out any contour irregularities and asymmetry that may have formed during healing, while others return seeking a bigger butt, especially as the amount of fat that "takes" is highly variable and dependent upon a patient's compliance to the recovery guidelines.
To find a qualified plastic surgeon for any cosmetic or reconstructive procedure, consult a member of the American Society of Plastic Surgeons. All ASPS members are board certified by the American Board of Plastic Surgery, have completed an accredited plastic surgery training program, practice in accredited facilities and follow strict standards of safety and ethics. Find an ASPS member in your area.