Milan D. Jovanovic, MD, PhD
Dr. Milan Jovanovic, Md, PhD, is an ASPS Member plastic surgeon who is specifically trained in reconstructive and aesthetic surgery. He is a docent at the University of Belgrade Faculty of Medicine, where he provides basic education of fifth year's students, as well as postgraduate studies of doctors that are part of specialist studies in the field of plastic, reconstructive and cosmetic surgery.
About
Meet Dr. Milan Jovanovic
His basic characteristics are: knowledge, work, professionalism and exceptional manual ability. He dedicated his entire life to plastic surgery which is at the same time his profession and his passion. He is highly specialized for aesthetic surgery which at the same time represents one of the main fields of his profession.
Prof. Dr. Milan Jovanovic has over 20 years of surgical experience with an incredible number of accomplished surgeries. His main motto is that "none of his working days passes without surgery". He has performed surgeries on many important and famous people from this region, and his main reference is almost 100 percent of satisfied patients.
During the studies in the early 90s, his tutor Prof. Karapandzic aided him in gaining improved knowledge in the fields of plastic surgery. Later on, as a specialist, he continued to acquire and exchange knowledge and experience with the world's highest surgical experts in this field.
Your Consultation
-At
Clinic for plastic and aesthetic surgery
in Belgrade, the consultation process is an opportunity to connect with our patients and to get informed about their goals and health history. Having relations with our patients can help us get answers on what is troubling them and to what extent a surgery might improve their body. By the end of the consultation, we will determine with the patient whether a cosmetic procedure is right for them, and whether they feel comfortable and ready enough to make the final decision.
-Phone consultations are always welcome, as we want to ensure our patients are comfortable and confident about their decision. That being, you can also reach me personally on apps such as Whatsapp or Viber - it's up to you! +381 63 27 66 57
-For other
inquiries
you can reach us via the official contact page.
Facilities
Belgrade is one of the most famous cities in Europe with highly developed plastic and cosmetic surgery. Republic of Serbia and Belgrade have provided many world-renowned experts in the area of plastic and aesthetic surgery. Health institution General hospital Medical System Belgrade - MSB is an organization that combines the entire system of medical and dental specialties.
We are especially emphasizing our Clinic for plastic and aesthetic surgery managed by Dr. Milan Jovanovic. Clinic for plastic and aesthetic surgery (operating as a part of MSB health institution) is located in Maglajska 30 street, in one of the most beautiful parts of Belgrade known as Dedinje. As well as the most renowned world clinics for plastic and aesthetic surgeries, our hospital for plastic and aesthetic surgery has the latest medical and surgical equipment, and highly educated employees.
Best reference of every clinic for plastic and cosmetic surgery is the number of satisfied patients in which we take pride in.
Patient Testimonials
"Thanks to Dr. Milan Jovanovic - specialist in plastic surgery, my life was completely changed. He is absolutely outstanding and has no equivalence." – Zorka Mijatovic, patient's note in the 2004 print of Politika (Serbian daily newspaper)
"When being a patient with chronic illness I've had many opportunities to meet medical specialist. First of all, I would like to thank Dr. Milan Jovanovic's long-standing effort and all the members of the Clinic for plastic and aesthetic surgery in Belgrade (managed by Dr. Milan Jovanovic) that helped me went through the difficult period of my life. My health forecasts haven't seemed well at all. Dr. Milan Jovanovic and his team members have spent 5 months (including weekends) on taking care of me and other patients, so the treatment went completely successful. I may call this a miracle." – Verica Milic, patient's note in the 2001 print of Vecernje novosti (Serbian daily newspaper)
"Dr. Milan Jovanovic performed a tummy tuck on June 11, 2015. I came from the United States on the recommendation of a friend regarding Dr. Jovanovic. His competency was above 100 percent. I received complete and accurate information. Everything was done in a timeless matter. I found him to be compassionate and concerned for me, as well as my period of treatment from my first consultation through my full recovery. In the States a tummy tuck is an outpatient surgery. You get a surgery and go home immediately after the recovery. Dr. Jovanovic planned to keep me a three day stay in his clinic (where the surgery was performed) and after the recovery I stayed in a hospital for three more days. I was placed in front of the nursing station, which made me feel very safe. I have been a smoker for 10 years. After the recovery, I had a respiratory distress syndrome. I had the anesthesiologist and ICU nurse right next to me, until it was successfully resolved. When I left the clinic I had no drains attached. In the States, I would have gone home together with the drains. I had dressing changes by my doctor three times a week, until all my stitches were taken out. I would recommend Dr. Jovanovic with a 10 of 10 recommendations. I appreciate your work Dr. Jovanovic" – Laurene Faulkner, USA
Procedures
Procedures Performed
Buttock Lift with Augmentation
Chemical Peels, IPL, Fractional CO2 Laser Treatments
Deviated Septum Correction
Ear Reconstruction Surgery
Hand Surgery for Congenital Differences
Head and Neck Cancer Reconstruction
Head and Neck Skin Cancer Reconstruction
Lip Augmentation/Enhancement
Surgery for Genitourinary Diseases
TRAM Flap Breast Reconstruction
Photo Gallery
Before and after patient photos from Dr. Milan Jovanovic. Use the menu to filter by procedure.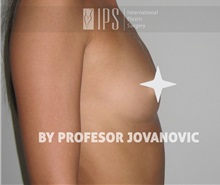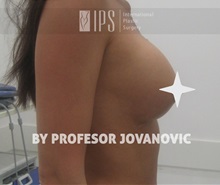 Breast Augmentation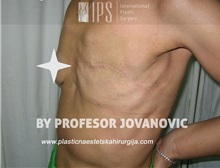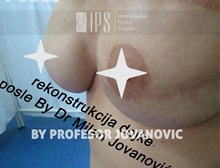 Breast Reconstruction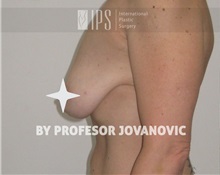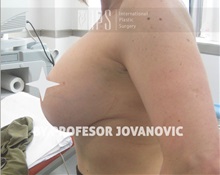 Breast Lift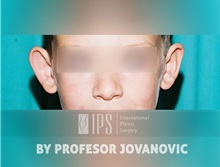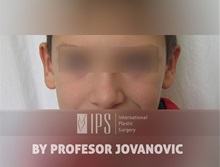 Ear Reconstruction Surgery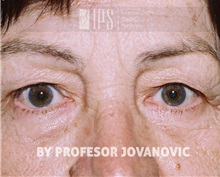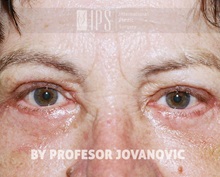 Eyelid Ptosis Repair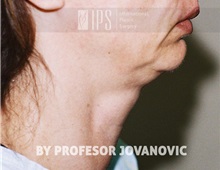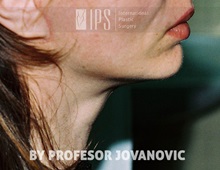 Facelift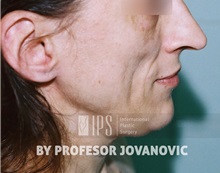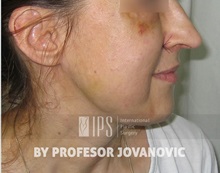 Facial Implants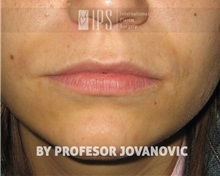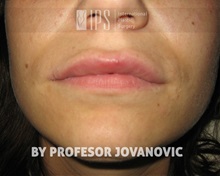 Lip Augmentation/Enhancement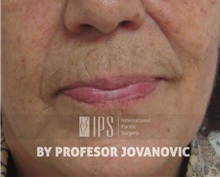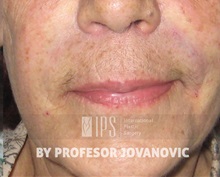 Dermal Fillers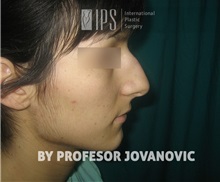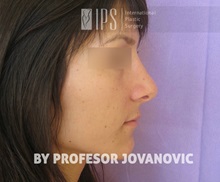 Rhinoplasty
Videos
Payment
Location
Our Location
Testimonials
Patient Testimonials
"Thanks to Dr. Milan Jovanovic - specialist in plastic surgery, my life was completely changed. He is absolutely outstanding and has no equivalence." – Zorka Mijatovic, patient's note in the 2004 print of Politika (Serbian daily newspaper)
"When being a patient with chronic illness I've had many opportunities to meet medical specialist. First of all, I would like to thank Dr. Milan Jovanovic's long-standing effort and all the members of the Clinic for plastic and aesthetic surgery in Belgrade (managed by Dr. Milan Jovanovic) that helped me went through the difficult period of my life. My health forecasts haven't seemed well at all. Dr. Milan Jovanovic and his team members have spent 5 months (including weekends) on taking care of me and other patients, so the treatment went completely successful. I may call this a miracle." – Verica Milic, patient's note in the 2001 print of Vecernje novosti (Serbian daily newspaper)
"Dr. Milan Jovanovic performed a tummy tuck on June 11, 2015. I came from the United States on the recommendation of a friend regarding Dr. Jovanovic. His competency was above 100 percent. I received complete and accurate information. Everything was done in a timeless matter. I found him to be compassionate and concerned for me, as well as my period of treatment from my first consultation through my full recovery. In the States a tummy tuck is an outpatient surgery. You get a surgery and go home immediately after the recovery. Dr. Jovanovic planned to keep me a three day stay in his clinic (where the surgery was performed) and after the recovery I stayed in a hospital for three more days. I was placed in front of the nursing station, which made me feel very safe. I have been a smoker for 10 years. After the recovery, I had a respiratory distress syndrome. I had the anesthesiologist and ICU nurse right next to me, until it was successfully resolved. When I left the clinic I had no drains attached. In the States, I would have gone home together with the drains. I had dressing changes by my doctor three times a week, until all my stitches were taken out. I would recommend Dr. Jovanovic with a 10 of 10 recommendations. I appreciate your work Dr. Jovanovic" – Laurene Faulkner, USA
"Prof. Dr. Jovanovic and his team made me feel very welcome. I had liposuction of fat and glandular tissue to correct gynecomastia, and I also had a few moles removed – all being under local anesthesia. It was not the most pleasant experience (just mildly uncomfortable – I suggest taking an oral sedative beforehand). However, the results are outstanding. I am very happy that I met Dr. Jovanovic and I am pleased to give him my highest recommendation. Thank you Dr. Jovanovic" – Michael, USA