Blepharoplasty patients are getting younger – here's why
Think you're too young for droopy eyelids? Think again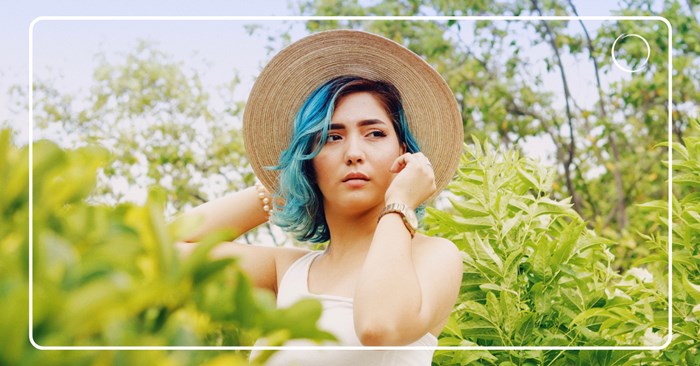 Eyelid surgery has continuously clocked in as a top-five mainstay of the most popular procedures in the country. In 2020, it was the second most performed procedure, according to data from the American Society of Plastic Surgeons, trailing slightly behind rhinoplasties.
Historically, this has been a procedure for the over-50 crowd, but the tides have slowly been changing. Many attribute this shift to COVID and the Zoom-effect, and while the pandemic may have quickened the pace, the trend was set in motion far before the world shut down.
"Even before COVID, I noticed patients seeking a blepharoplasty have skewed younger," says San Francisco-based plastic surgeon and American Society of Plastic Surgeons member, Carolyn Chang, MD, who adds that the cultural shifts that COVID brought along with it have highlighted the trend. "Now, with the advent of working from home virtually, there is overall a much larger volume of facial surgery because it is now easier to hide during the healing process and a heightened awareness of one's facial appearance."
New York City plastic surgeon, Darren Smith, MD, has also noticed an uptick in younger patients requesting an upper blepharoplasty. "I'm seeing some people asking about it as early as their early 20s," he says. "I'm not doing it, but people are coming and asking about it. I think it's really as simple as people are focusing on areas above and below their mask."
To be sure, this plastic surgery trend is one of the more striking shifts the industry has seen recently, and Drs. Chang and Smith discuss why younger plastic surgery patients may just be our new normal.
Growth of 'maintenance' procedures
"Patients are starting maintenance noninvasive procedures, such as lasers, Botox and fillers at a much younger age than ever before," says Dr. Chang. "With an increased awareness of the overall cosmetic industry and its offerings, patients are much more proactive and aggressive about maintaining a youthful appearance."
Fading stigmas
Slowly but surely, the plastic surgery stigma – for men and women alike – is being erased. "It is increasingly acceptable to seek out surgical solutions, in addition to noninvasive treatments, to enhance one's features," explains Dr. Chang. "I think that social media – in particular, Instagram and TikTok – and the popular press are also contributing to the desire for younger patients to seek out eyelid surgeries." She credits celebrities, including the Kardashians, for influencing the next generation of younger women to seek out a glamorous, well-defined eyelid shape.
Genetic predispositions
Hooded or heavy upper eyelids are a promised gift of aging, but Dr. Smith points out that environmental factors, like smoking, and good old genetics, can contribute to this appearance, not just time or gravity. "In these younger folks, you're almost never addressing fatty excess, you're really only going to be talking about skin excess," he explains. "What that will generally look like is some early hooding on the upper eyelid, so you may not see that much of the upper lid itself at all because you've got this hood of skin over it."
Slows down overall aging
"I always recommend that patients get cosmetic enhancements on their faces as soon as they have something that can be improved and they are ready mentally to undergo surgery," says Dr. Chang. "Doing procedures on the earlier side helps to prevent an aged look from occurring."
Patients who view procedures and treatments as preventative measures are more likely to jump in faster than those who wait. "An eyelid surgery is preventative in the sense that if they're seeing early laxity now in their younger years and addressing it, they're probably not going to have that concern come up as soon later on," says Dr. Smith.
In other words, if the issue is visibly present in your 20s and 30s and it's bothering you, it's not going to improve with time – the appearance will only become more prominent.
Acceptance of repeat procedures
If younger patients are bothered by the fact that they may need a second blepharoplasty down the road, you'd never know it, says Dr. Smith. "Blepharoplasties are long-lasting operations, but people shouldn't think that if they're doing it now, you're done," he says, adding that patients can expect a good 10 to 15 years before needing a second.
According to Dr. Chang, having a blepharoplasty performed earlier "will help slow down the look of aging in the eye area over the next decade or so," especially if noninvasive procedures are supplemented and appropriately timed.
The natural look is still in
Performing smaller procedures earlier allows for a patient to age more gradually, says Dr. Chang, and when they do spring for a surgery, it "keeps procedures under the radar."
For patients seeking an upper blepharoplasty, but aren't yet candidates for a formal surgery because they're just starting to see a small degree of hooding, Dr. Smith often suggests Accutite, an incision-less radiofrequency-based procedure that will yield many of the same benefits as a traditional blepharoplasty, but on a smaller scale. "It sets in motion a whole healing cascade that includes collagen and elastin production, so for the next three to six months, you're going to contract that soft tissue in the eyelid," he explains, which leads to a tighter upper eyelid over time. "Accutite is good for mild to moderate laxity; for anything more significant, you need to go for a real blepharoplasty."
And it's important for younger patients to remember that there's no such thing as a sure thing, especially in plastic surgery. "I do recommend that younger patients seek out the most minimal amount of surgery they need in order to achieve their desired result," says Dr. Chang, who adds that oftentimes an overly aggressive – and unnecessary – procedure can actually be detrimental and result in a "skeletonized look" around the eyes.
Makeup plays a role
That pad of sagging skin over the eyelid means that there's little room for trendy eye makeup, and even less for eyeliner or shadow, especially when paired with a thicker brow.
"When patients in their 20s and 30s are coming in, what they're often complaining about is that they don't have room to wear their makeup," says Dr. Smith. "But overall, I think there's a global trend toward younger-skewing patients for a lot of these aesthetic procedures."
Although the results of a blepharoplasty are far more discreet in a 25-year-old patient than a 55-year-old patient, they can still offer a huge payoff. "It can produce the look of a cleaner, wider, brighter-looking eye by producing a sharper, more defined eyelid," says Dr. Chang. "Even a very subtle improvement in the eyelid area can make a big difference in the way that the whole face looks."
And the last two years have been exhausting enough – no one wants their default look to be 'sleepy,' no matter how young you actually are.
To find a qualified plastic surgeon for any cosmetic or reconstructive procedure, consult a member of the American Society of Plastic Surgeons. All ASPS members are board certified by the American Board of Plastic Surgery, have completed an accredited plastic surgery training program, practice in accredited facilities and follow strict standards of safety and ethics. Find an ASPS member in your area.