'I'm going back – I need to see if I can help': ASPS member recounts Highland Park horror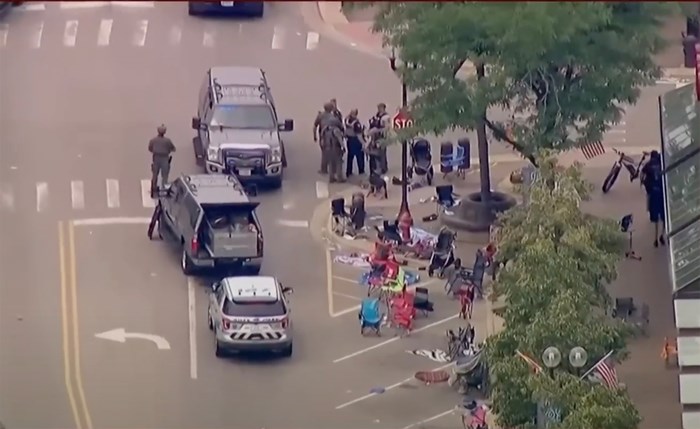 At first, ASPS member Loren Schechter, MD, thought kids were setting off fireworks. Then he noticed the tree he was standing under was shaking. Then he smelled the gun powder.
"That's when my wife and I realized it was gunfire," Dr. Schechter says.
Both Dr. Schechter and his wife, Rebecca, are natives of Highland Park, Ill., and attend the city's Independence Day parade every year. This year, however, what should have been a celebration became a scene of horror as a lone gunman opened fire on parade spectators, leaving seven dead at the time of this writing. Robert Crimo III was charged two days later, on July 6, with seven counts of murder.
The reason that tree was shaking was due to a barrage of bullets raining through the leaves and branches. Crimo was directly above Dr. Schechter – although at the time, he didn't realize the gunfire was coming from directly overhead.
"My family has sat in the same spot on the parade route forever," he says. "My brother-in-law has an old WWII Jeep that he drives in the parade, and my kids this year decided that they wanted to ride in it. They were in the Jeep with my sister, my brother-in-law and my nephew – about 100 yards east of us down the street. My wife, another nephew, mother-in-law and my parents were with me in our usual spot, but because the kids weren't going to be with us, my wife said, 'You know what? Let's just stand.' That was fortunate, because if we'd had our chairs, we would have been in the street and literally in the line of fire.
"When we realized what was happening, we were caught in a stampede," he continues. "My parents are in their 80s – my mother has rheumatoid arthritis and my father can barely walk – so we're trying to carry them along as best we could. People are trying to get into the local businesses for cover, but all the shops are closed because of the holiday. The shots were getting louder and I honestly thought the guy was coming down the street. I didn't want to turn around because I thought I'd be staring right at him. I was just in complete disbelief: 'This is it. This is how I'm going to die. Shot on the streets of my hometown.'"
Dr. Schechter and his wife were able to get their parents around a corner, shielded from the gunfire and panicked crowd. He called his sister in the Jeep, and told her to get everyone out of there as quickly as possible.
Then Dr. Schechter realized he had to turn back.
"The gunfire stopped, and I said, 'Alright, I'm going back – I need to see if I can help,'" he says. "It wasn't a conscious decision, it was just a natural reaction."
His father, a retired anesthesiologist, urged his son not to return to the scene, but Dr. Schechter told Rebecca to get their parents in the car and join the rest of the family in the safety of their home.
"The shooting stopped and the police were all over," he says. "I went back to where we'd been standing and the first thing I saw – maybe 10 feet from where we'd been – was a victim who had been instantly killed. A few feet away was a gentleman who had a gunshot to the abdomen, left lower quadrant. He didn't speak English – I speak a little Spanish, so I was just trying to relax him. The EMT was holding pressure on his abdomen and I said, 'Let's get an IV.'"
Dr. Schechter looked up and saw his friend, David Baum, MD, an OB/GYN who also stepped in to help. He saw other victims who had already succumbed to their wounds, so he moved on to help others who had been hit by gunfire and shrapnel bursts in different parts of the body. Obviously, he says, many of those who had sustained injuries were disoriented and confused about the scale of what had just transpired.
"It was just chaos," he says. "We placed tourniquets and got IVs where we could, but you have to remember the equipment that was onsite that day was to treat possible cases of heat stroke or heart attacks. It wasn't intended for a combat scene or a mass-casualty event. But, sadly, even if this had happened right outside an O.R., I don't think it would have made a difference because of the damage this gun did."
Besides attending to shooting victims, Dr. Schechter also helped elderly spectators who had been knocked down during the stampede and sustained various soft-tissue injuries. Adding to the overall confusion of the situation, Dr. Schechter says police were going door-to-door on the street in search of the shooter as rumors swirled that there might have been more than one gunman, that it might have been a coordinated attack and whether hostages had been taken in the moment.
"The news said the actual shooting lasted about 30 seconds," Dr. Schechter says. "It felt like minutes to me. The whole thing – the shooting and the scenes on the street in the aftermath – just seemed to take an eternity."
Dr. Schechter says it's difficult to fathom this kind of event happening in his backyard and it was hard for his sons, ages 6 and 8, to come to terms with what happened at the parade. Still, he says he'd like to think that his years of training as a surgeon might have provided some light on a dark day in the city's history.
"We did what we could with what we had," he says. "I think the other thing is – if it were me or anyone in my family – if all you can do is be there and hold someone's hand in the moment, even that is something.
"Any event like this is awful wherever it occurs and whenever it occurs," he adds. "Unfortunately, this happens on a daily basis. I'd just like to think there are helpers out there when it does happen."