Celebs are more transparent than ever about plastic surgery, but is it always helpful?
Before getting liposuction, Amy Schumer used to think it was "so crazy"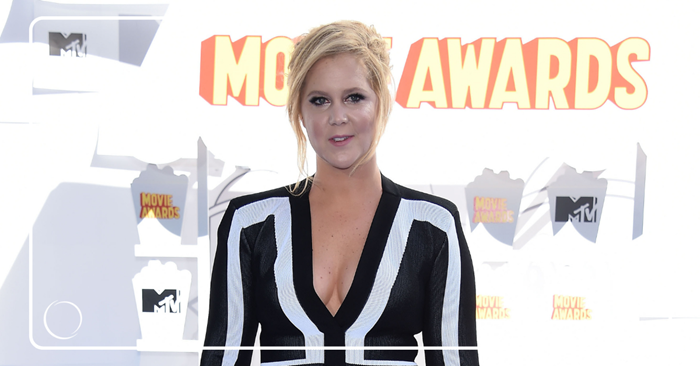 The celebrity plastic surgery have they or haven't they game is tired, and inherently implies some kind of plastic surgery shaming, which we all can agree needs to end. But celebrities who choose to own their aesthetic choices and share their experiences with the world, are shedding light on plastic surgery as a whole, for better or worse.
For example, in January, Amy Schumer revealed via an Instagram snap that after healing from her endometriosis surgery, she opted to have a liposuction procedure. While her painful and difficult journey with endometriosis and fertility has been well documented, she shared, emphatically, that she never thought she'd be a plastic surgery patient, but she's so glad she changed her mind, telling Chelsea Handler on her podcast, Dear Chelsea, "I got lipo and I'm feeling really good."
This is incredibly normal, according to Washington D.C.-based plastic surgeon and American Society of Plastic Surgeons member, Troy Pittman, MD, FACS. "It's all about raising awareness," he says. "Amy Schumer had a great experience, and she did something she never thought she was going to do, and that raises awareness just as much as Linda Evangelista sharing her horrible experience with body shaping devices, which also raises awareness."
Below, we dig into the plastic surgery journeys of celebrities who have reflected upon their different procedures, experiences and motivations. We've also tapped two members of the American Society of Plastic Surgeons for their take on whether celebrity testimonials helpful, harmful or somewhere in between.
Going from 'never ever' to 'now'
"When I would hear liposuction, I was just like, that's so crazy to me, and I would say I'm not ever going to do anything," Schumer told Handler. But after turning 40 and undergoing a C-section, Schumer had a change of heart. Even more, she says she wanted to be transparent about her choice.
"I just wanted to say that, because if anybody sees me in pictures or anything and they're like, she looks thinner: it's because I had surgery," she said. "It's too hard, and I just want to be real about it."
More recently, in a March interview with The Hollywood Reporter, Schumer said that she wasn't nervous about being body-shamed by the public for her total honesty about undergoing liposuction because she felt confident about her decision as well as the road that got her there.
"It's not about needing [for my body] to be slamming, because I've never been famous for being hot, but I'd reached a place where I was tired of looking at myself in the mirror," she said.
From Dr. Pittman's perspective, Schumer's "me-centered statements are good for people to hear just as much as going on a plastic surgery website and reading patient experiences is good for people," he says. "Because this is an individual experience based on something that's totally personal."
'Not ashamed' to show scars
Following years of physical and emotional distress, Modern Family star Ariel Winter chose to have breast reduction surgery at the age of 17 (the average age of patients for this procedure is 18) to reduce her bust from a 34F to a 34D. While this operation technically falls under plastic surgery, it is often considered medically necessary – even covered by some health insurance plans – and plastic surgeons routinely affirm that it has the highest patient satisfaction rating.
"It's something that I did to better my life and better my health, and I think that can benefit a lot of younger girls," she explained to the Los Angeles Times. "I have felt more happy with myself than I ever have."
Plastic surgery is a partnership
One key takeaway from Ariel Winter's experience is the way she views her surgical procedure as a collaboration with her surgeon to achieve a mutual goal and leaned on his medical expertise as she weighed her options.
"[My surgeon] said he didn't think we should go smaller than a C and I agreed because I have always been a curvier girl and I enjoy being a curvier girl. I don't want to be disproportionate again," she shared.
This surgeon-patient partnership and its underlying trust is one of the most important aspects of a successful plastic surgery experience – even when it's telling patients something they don't want to hear, says David Shafer, MD, FACS, a plastic surgeon and ASPS member with a practice in New York City.
He says that saying "no" is part of the job of a plastic surgeon. "I have an obligation to tell someone that what they want is not realistic," he says.
Celebrities are not experts
Whether they're simply sharing their experience as a mere mortal or playing the role of armchair expert, celebrities often find themselves at the center of conversations about plastic surgery. Take Courteney Cox, for example, who famously shared her choice to have her fillers dissolved, or Michelle Visage, who filmed a documentary devoted to her experience with breast implant illness.
"It's problematic when celebrities develop this pseudo expertise and declare things to be bad," says Dr. Pittman. "They are kind of seen as experts just because they're celebrities, but they're not giving any kind of scientific rationale behind the things they say."
Yeah – maybe Amy Schumer loved her lipo, but don't take her word just because she's a celeb. Other celebs have been public about regret, but living in the public eye brings its own set of pressures and perspectives. While listening to other patients' experiences – famous or not – can help inform our decisions, every procedure and decision to have one is personal and specific to you. There is no substitute for consulting a board-certified plastic surgeon to get a full understanding of what you can expect.
To find a qualified plastic surgeon for any cosmetic or reconstructive procedure, consult a member of the American Society of Plastic Surgeons. All ASPS members are board certified by the American Board of Plastic Surgery, have completed an accredited plastic surgery training program, practice in accredited facilities and follow strict standards of safety and ethics. Find an ASPS member in your area.