Inside a luxury aftercare facility with a plastic surgery patient who stayed at one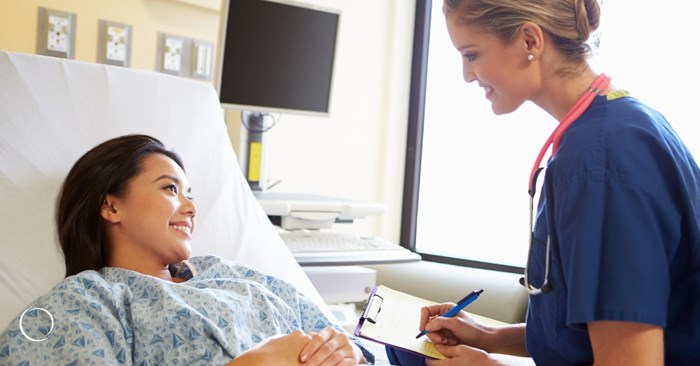 Every plastic surgery patient knows that the most intense part of your recovery starts when you wake up from anesthesia and continues for several days after surgery. From those first groggy moments, it's clear that you need help – and sometimes plenty of it.
Such was the case for Danielle Bryant, a nurse who drove six hours to Beverly Hills for a tummy tuck with Payam Jarrah-Nejad, MD, the ASPS Member Surgeon she had followed on Instagram for years. She considered the long drive worth it, given she had recently undergone massive weight loss following bariatric surgery.
Jarrah-Nejad requires his patients to stay in an aftercare facility for at least one night following surgery so he can visit them and they can be monitored for complications by a staff of medical professionals. So, when Bryant woke up from surgery, she was driven five minutes down the road to Aura AfterCare, an upscale recovery house bordering Beverly Hills.
"I feel like it was good because I was still coming out of general anesthesia that was still wearing off," said Bryant. "And they were there just checking everything they needed to check."
What to expect at an aftercare facility
Like other high-quality aftercare facilities, Aura AfterCare only cares for patients undergoing elective cosmetic procedures like facelifts and tummy tucks. One night at this facility cost Bryant approximately $1,500. She considers it money well spent as the staff of registered nurses (RNs), licensed vocational nurses (LVNs) and certified nurse assistants (CNAs) were trained to spot post-tummy tuck complications.
"As a nurse, it's nice to have someone else take care of you," said Bryant. "And it's good to have somebody with eyes on you the first night because you never know what could happen if any complications arise."
Aura AfterCare Director Cindy Molina has worked in the recovery facility business for 24 years and knows that postsurgical complications can and do happen. She advises friends who get plastic surgery not to go straight home afterward but to stay at a reputable, high-quality recovery house instead.
"Especially with the tummy tucks, especially with facelifts – you have to really be careful of hematomas," said Molina. "We're watching out for that. I've been in this business for a long time, and we've successfully caught a lot of hematomas and a few pulmonary embolisms, and that's definitely a 911 call."
Her facility offers postsurgical IV drips, machines that gently squeeze the legs to prevent blood clots and regular checks of vital signs.
An alternative to recovering at home
Recovery houses like Aura AfterCare offer plastic surgery patients an alternative to recovering at home, where for some patients, there are small children to care for, a busy spouse or a general lack of support or privacy following a major surgery.
Aura AfterCare takes over the cooking with onsite chefs who prepare a full menu of meals, snacks and fresh juices that are delivered any time of day and as late as 11:00 p.m. They also have one nurse and one CNA for every three patients, so patients get the care they need and staff members aren't overwhelmed.
Suites are decorated in a traditional style, with many boasting soaring ceilings and private balconies. Transportation staff is on hand to pick up patients from surgery in an ambulance-style vehicle and chauffeur them to and from postoperative appointments in luxury SUVs.
The nurses administer the patients' medications and monitor their pain and nausea, if any. Assistants help patients get in and out of bed – a challenge for tummy tuck patients with hip-to-hip incisions and who often have had abdominal wall repair, making it challenging to engage the abdominal muscles to sit up. They walk patients to the bathroom, wash and comb their hair, empty their surgical drains and constantly bring juices, Gatorade, soda and water to ensure they stay hydrated.
Patients pass the time at recovery houses sleeping, eating, taking medications, going to the bathroom and staying hydrated. Many will chat with family members and friends on the phone or watch TV in bed. They are also encouraged to get up and walk around regularly to prevent blood clots.
A worthwhile investment in self-care
Although Bryant stayed at Aura AfterCare only one night, she said it was well worth the stay.
"They were on it whenever I needed anything," said Bryant. "They were nice to my husband. They helped me to the restroom when I needed to go. And, you know, it was like, from start to finish, they took really good care of me."
According to ASPS Member Surgeon Jerry Chidester, MD, staying at a high-quality, reputable aftercare facility is helpful to many plastic surgery patients.
"What I tell people is this is an investment in yourself," said Chidester. "Women are selfless, and I think a lot of women I see struggle to do something where they invest in themselves. And so, if you're going to do this, I'd say give yourself the experience you deserve."
He recommends that, just as you'd research and vet your plastic surgeon, you should also meet and interview your potential recovery house ahead of time.
"Aside from vetting your plastic surgeon, I think having an overall good experience by finding a good recovery center that you trust is just as important," said Chidester.
To find a qualified plastic surgeon for any cosmetic or reconstructive procedure, consult a member of the American Society of Plastic Surgeons. All ASPS members are board certified by the American Board of Plastic Surgery, have completed an accredited plastic surgery training program, practice in accredited facilities and follow strict standards of safety and ethics. Find an ASPS member in your area.