The role of plastic surgery in sports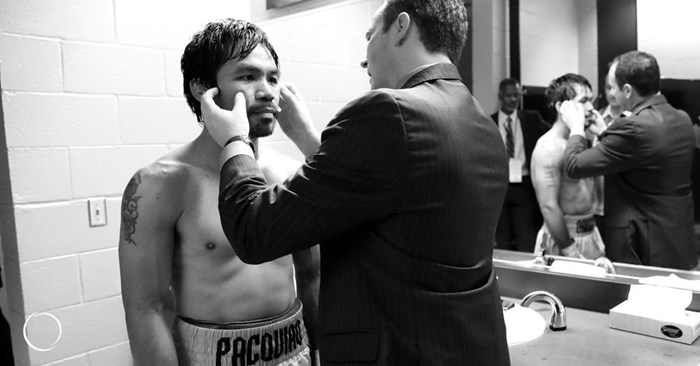 In the high-stakes world of professional sports, where victory and defeat often lie in the tiniest margins, plastic surgeons have emerged as unsung heroes behind the scenes. Their role is increasingly vital, blending art, science and athleticism to redefine what's possible on the playing field.
Serving as the official plastic surgeon for the Florida Panthers, Gregory Albert, MD, has been with the NHL team for nearly two decades and has seen his fair share of injuries. Although a hockey player's face guard provides significant protection, objects like pucks, sticks and even the blade of an opposing player's skate can still get through and cause severe facial injuries.
Given the number of injuries, Albert works with other doctors to triage wounds during games. If a player gets hurt, he evaluates them, closes any cuts and usually gets them back in the game within three to five minutes.
Stitching wounds quickly
"I feel like a hero all the time because I can get the player back on the ice within a matter of minutes," said Albert. "And the adrenaline for both me and the player is very high."
Usually, when players come off the ice with an injury, they can't wait to return to the game. In sports, every minute counts, so quickly getting back into the game is essential. And it's not just the athlete who's eager to continue playing. Many people are invested in the player's performance – and health – including the coach, manager, agent, family and, of course, the fans.
Sports injuries are common
Hockey injuries are inevitable. The cheek and the chin are vulnerable to damage. But the most common place on the face for injury is where the skin is thinnest – the upper eyelid.
"It just has to be grazed by a stick or something sharp on a glove or equipment, or more commonly, a puck will find its way past the shield and hit the eyebrow," said Albert.
Athletes want a plastic surgeon nearby
Having a plastic surgeon on board is beneficial because they have the knowledge to treat large soft tissue injuries and suture them in a way that minimizes swelling and scarring. The Florida Panthers are among the few teams in the league with a plastic surgeon at every game. Because of this, there are plenty of times where Albert also treats players from the opposing team.
"The guys really do look for me, and they do expect to get treated by a plastic surgeon," said Albert. "It is very rewarding in that aspect."
Maintaining physical attractiveness
Because Albert is an experienced plastic surgeon, he has an intimate knowledge of facial anatomy. This knowledge helps him give athletes aesthetically pleasing results, which Albert said can affect their self-esteem and confidence in the future. Some players have even come to him with old injuries and asked to have their noses restored or to have scar revisions so they can look their best.
"There's a career after playing," said Albert. "They go into broadcasting sometimes, or they go into the working world where they might not want to have a lot of scars."
Athletes are concerned with getting back into the game quickly but also preserving their overall looks. From the ice rink to the fighting ring, plastic surgeons are helping them do just that.
Taking a punch to the face
Professional boxers in Las Vegas count on plastic surgeon Jeffrey Roth, MD, FACS, to fix facial soft tissue injuries.
Inside the boxing ring, a fighter's face is constantly at risk of injury due to the sheer physicality of the sport. Punches, jabs and uppercuts can cause cuts, bruises and swelling around the eyes, nose and mouth. Boxers may also suffer from broken bones, such as a broken nose or cheekbone, from a particularly powerful blow. Additionally, headbutts from accidental clashes can lead to cuts and bruises, further exacerbating the risk of facial injury in the ring.
"It's very much a contact sport," said Roth. "It's the ultimate contact sport."
Boxers are subject to a mandatory post-physical after a match. If it shows they need a professional to check out a facial injury, Roth is the go-to person. He takes pride in stitching up a boxer in a way that minimizes the scar and makes sure the wound stays closed during the next fight. A long-time Las Vegas resident, Roth has done this work for more than 20 years – and as a boxing fan, he relishes his role.
"It's been an honor and privilege to go ahead and work with fighters like these," said Roth. "If I can be just a little bit of a part of their life and if I'm going to make their life a little bit better, then that's what I went into medicine for."
While plastic surgeons often get the reputation of only doing breast augmentations and Brazilian butt lifts, there's more than meets the eye in the field of plastic surgery. Roth and Albert are just a few of the doctors practicing outside the confines of their offices and surgery centers.
To find a qualified plastic surgeon for any cosmetic or reconstructive procedure, consult a member of the American Society of Plastic Surgeons. All ASPS members are board certified by the American Board of Plastic Surgery, have completed an accredited plastic surgery training program, practice in accredited facilities and follow strict standards of safety and ethics. Find an ASPS member in your area.