What cosmetic procedures are trending across the country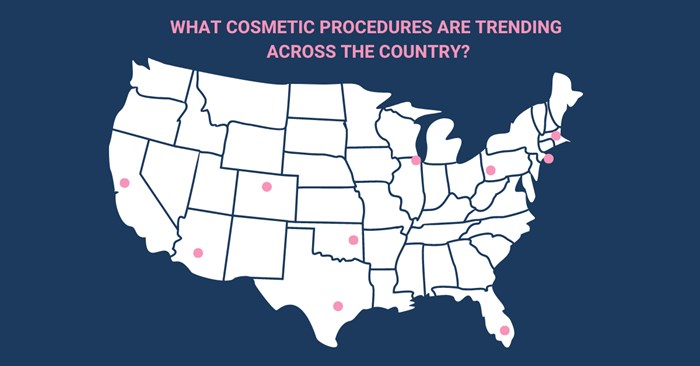 Following COVID-19's three-month (depending on geographical area) halt on elective surgeries, the public interest in plastic surgery and subsequently, booking procedures, came roaring back to life.
According to the American Society of Plastic Surgeons annual report from 2020, many of the historically popular procedures continued their reign, including liposuction and breast augmentation, while sleepier, but still popular, surgeries crept up the list.
In light of 2020 (aka The Year That Changed Everything), the American Society of Plastic Surgeons asked plastic surgeons across the country what trends they're seeing in their own practices.
What's trending in...
Denver
"Patients seem in a hurry to move forward with surgery," says Manish Shah, MD, adding that he's the busiest he's ever been.
"For some, it's because they want to look good for travel or a particular event. For others, it's because they're in between jobs and want to recover before they start their new employment."
His current number one procedure is rhinoplasty, especially ultrasonic rhinoplasty, which is popular among patients, thanks to its post-op reduction in bruising, swelling and pain in patients.
"Facelifts and body contouring procedures, like liposuction, are also very popular. I think Zoom meetings and COVID weight gain are to blame."
Tulsa
According to Archibald Miller, MD, the number one procedure in his office has been a facelift with SMAS repair to tighten loose skin around the jawline, jowls and neck for a smoother, more contoured appearance. This is followed closely by an abdominoplasty with diastasis repair and flank liposuction combo.
"Most people are trying to decrease costs by doing multiple procedures," he says. "Plus, they feel like it is more convenient to have everything done at once, which is typical of our society today."
Miller adds that he's noticed a "very rapid surge in demand" for aesthetic nonsurgical procedures, too. His patients are looking for "a rapid return to normal existence without surgical intervention and minimal financial expense."
San Francisco
"Without a doubt, the most common plastic surgery procedure this year is liposuction!" says San Francisco plastic surgeon, Karen Horton, MD, who adds that Botox is the most popular non-invasive treatment. "Liposuction is added to nearly every body contouring procedure, including all types of breast surgery – augmentations, lifts, reductions and also reconstruction – to neck lifts, abdominoplasty surgery and even to some labiaplasties."
But what's most interesting to Dr. Horton about the top requested procedures in her practice is the rising popularity of implant removal with a breast lift.
"Just like fashion, styles change for the breasts, and while large, less natural-looking implants may have been in fashion a while ago, a more desired look for the 2020s is smaller and perkier breasts," she explains.
Another trend, noted by Dr. Horton, is the range of new patients. "Incredibly, Zoom caused many people who never considered plastic surgery previously to start looking into their options," she says. "In particular, teachers, university professors and CEOs of companies who spend all day looking at themselves, often in unflattering light, are contacting our office to learn about their options."
Boston
In the office of Samuel Lin, MD, patients are most interested in procedures with "quicker recoveries and downtime," which he believes will continue into 2022.
"I'm indeed quite surprised that the pandemic and Zoom boom has caused many people to be interested in having plastic surgery," he says, adding that it's had a significant effect on his practice. "For me, rhinoplasty is a large part of my practice, and recently, more facelifts and neck lifts," he says. "Besides facial aesthetic procedures, noninvasive procedures continue to be popular, and we have newer devices, such as BodyTite and FaceTite, that are procedures with shorter recovery times."
Austin
For Austin-based Scott Haydon, MD, breast augmentation is still his most performed procedure, but his practice's formerly less popular procedures, like labiaplasty, chin augmentation, neck liposuction and rhinoplasty, have doubled or tripled in 2020.
"My patients come to me because they're looking to have more confidence and improve their self-esteem," he says. "Things like the Vectra 3D imaging allows us to provide a simulation of their anticipated results, which takes away that leap of faith they once had."
Nonsurgically, he says that BodyTite, FaceTite and Morpheus are "making a big impact." These radiofrequency modalities are great for fat reduction, but more importantly, says Dr. Haydon, for skin tightening. His patients want "amazing results without the surgery, scars or downtime, which is what BreastTite, BodyTite and FaceTite provide."
New York City
"The most commonly requested surgical procedures have been liposuction of the body and submental liposuction," says Umbareen Mahmood, MD, due to a torpedo of several contributing factors.
"COVID has been a time of stress for everyone. Gyms were closed, people were responsible for virtual schooling, in addition to their own full-time jobs, and for many, there was little time left to focus on maintaining a healthy lifestyle. I often hear patients lament about gaining the 'COVID 15' and how those extra pounds have been harder to shed."
Dr. Mahmood's other liposuction patients this year shared with her that they have always wanted the procedure to get rid of stubborn areas of fat, but never took the plunge. "Working from home was the perfect way to recover in privacy and without having to take days off of work," she says.
Also trending in her office are mommy makeovers, which is a combination of breast and body procedures, like a breast lift, liposuction, augmentation, abdominoplasty or labiaplasty. "Patients realize that while they are recovering from one procedure, it's advantageous to address other areas of concern at the same surgery."
Pittsburgh
Breast augmentation – both primary and revisionary surgery – has been the most performed surgical procedure this year for plastic surgeon, Lorelai J. Gunwaldt, MD, followed by liposuction, body contouring and facial procedures.
"I think the pandemic has made us realize that we should not delay our goals for ourselves. This has empowered many people to move forward," she says.
While her most popular procedures have always been popular with patients, one recent element that did take her by surprise was "how quickly the surge in procedures happened after the shutdown in 2020," she says. "I see this demand remaining strong in 2022."
Miami
You saw this one coming: In Josef Hadeed, MD,'s Miami office, liposuction and breast augmentations are his top two procedures. "We certainly do a lot of 360 liposuction combined with skin tightening J-plasma, which is something that a lot of patients really are looking for and asking for when they have the liposuction procedure done," he says. "I'd say that's probably my most commonly performed method of liposuction."
Another popular add-on that liposuction patients are requesting at Dr. Hadeed's practice is to have their fat transferred. "The buttocks is probably the most commonly asked for area, but some people want wider hips," he says. "And certainly, you could add it to the breast for either a primary breast augmentation or sometimes even an implant, if there's a little bit of a contour deficit that you need to add volume to."
Chicago
"Number one is kind of the low hanging fruit, Botox and fillers," says Chicago-based plastic surgeon, Sara Dickie, MD. "It's literally become maintenance for people as much as they will get a facial or keep up on their skincare. They are tried and true to keep people looking good, whether it's on Zoom or face-to-face. I've seen more patients this year than years past, and busier with injectables than I have been before."
In addition to her regulars, she's also seen more first-time patients this year seeking a cosmetic tweak. "I've seen a lot of new first-time patients who are in their fifties, which is refreshing," she says, adding that a year or two ago, "it seemed like a lot of first-timers" were a younger crowd.
And her number one surgical procedure? "I can't tell you how many people told me, I am done putting my neck cream on, I'm getting my neck done," she says. "It's been remarkable. People are just ready; I've never been in this environment where people are just ready to go."
Phoenix
"There is always a high demand for breast implants, with or without a lift," says Richard J. Brown, MD, of his most popular procedure, which is followed in popularity by VASER liposuction and tummy tucks.
"In my practice, patients are most concerned about their body image. Given COVID, a lot of people have been at home, not spending money to travel and so the long-desired procedures are more financially reachable, and they have time."
Over the past year, Brown has also noticed a rising trend of patients taking a more active role in their overall health and wellbeing. "I'm seeing a huge uptick in facial injectables and skincare," he says. "I also have a lot of people who desire to work in our wellness center with our macronutrient coach to lose weight and dial in their bodies."
And does he think this trend will carry into 2022? "Absolutely," he says with confidence. "We are only getting busier."
To find a qualified plastic surgeon for any cosmetic or reconstructive procedure, consult a member of the American Society of Plastic Surgeons. All ASPS members are board certified by the American Board of Plastic Surgery, have completed an accredited plastic surgery training program, practice in accredited facilities and follow strict standards of safety and ethics. Find an ASPS member in your area.