Getting ready for summer with laser hair removal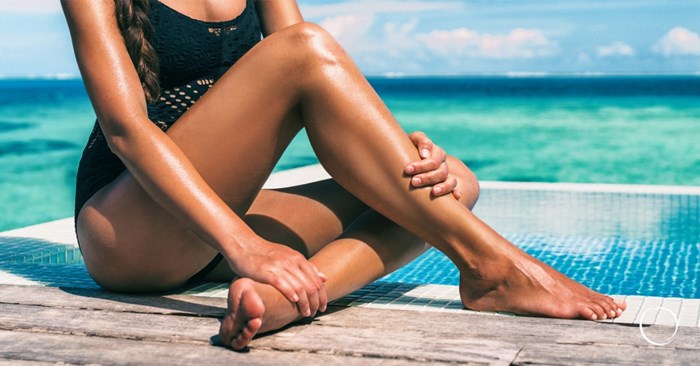 It doesn't matter if you're a man or woman, young or old, extra hairy or not – chances are, you've spent a good portion of your life tweezing, shaving or waxing unwanted hair. It's a frustrating cycle that never ends – but there is hope for a summer body permanently free of unwanted hair.
Laser hair removal is a technology that can let you finally enjoy smooth, hairless skin this summer without the constant struggle of plucking, shaving or waxing.
Victoria Edwards, a busy medical student, found that the usual hair removal methods that she previously used were no longer working for her.
"I'm always running around, and it's just so inconvenient to have to shave. I was waxing before, and that adds up financially and takes a lot of time," said Edwards. "I don't feel sexy or attractive if my legs are prickly or hairy. I just don't feel like my best self."
Getting laser hair removal
She decided to leap into laser hair removal and chose Cultura in Washington, D.C. The practice offers patients plastic surgery and dermatology services under one roof.
Edwards decided it was the right place for her partly because it specialized in treating a diverse patient population, and she wanted to ensure her skin was in good hands.
Dark skin needs special care
Kelly Bolden, MD, FACS, is the medical director at Cultura and said when it comes to laser hair removal, burns and hyperpigmentation are a particular concern for skin of color.
"It's imperative that if you're an ethnicity where you've got olive or brown skin, you really want to make sure that you're identifying someone who is very comfortable in treating skin of color with lasers," said Bolden.
Choose the right place
Bolden recommends that everyone, regardless of skin tone, do their research and make sure they're being treated at a facility that, like hers, has oversight by a board-certified plastic surgeon or dermatologist. This qualification can help ensure the procedure is performed safely, effectively and with the highest level of expertise and care.
How it works
Laser hair removal is a cosmetic procedure that removes unwanted hair from the face and body with concentrated beams of light. A beam targets the hair follicles with pulses of light absorbed by the pigment (melanin) in the hair. It then heats up and damages the follicle, preventing future hair growth. Dark hair is the easiest to treat, while gray and white hair is more complicated.
"The younger someone is, the better they tend to do because, of course, with laser hair removal, the more pigment, the better the laser can pick up and address it," said Bolden. "So, a lot of times, some of those younger patients will get very good results."
How many sessions is enough?
The number of sessions required for optimal results is usually between six to eight but will vary depending on the thickness and density of the hair, as well as the individual's skin type and hair color. Edwards, for example, has completed nine treatments and is pleased with the results.
"I'm not looking for perfection, but so far it seems pretty darn good," said Edwards. "I'm kind of shocked. I'm like, 'Oh wow, it did work.' I tell all my girlfriends, 'You have to do it.'"
Quitting too soon
Edwards received the recommended six to eight laser treatments and then some. But not everyone follows their treatment plan and sometimes they give up on the hair removal process too soon.
"It's not uncommon for us to get some of the laser hair removal failures," said Bolden. "And it wasn't that anybody was doing anything wrong, per se. They either just didn't do enough treatments, or maybe they needed a different laser because of their hair texture."
Just as getting enough laser treatments done is essential, so is working with a provider who has an assortment of lasers to offer as you progress through the recommended six to eight treatments.
A variety of lasers
"What a lot of people don't realize is that as you're treating the hair, the hair gets thinner and finer," said Bolden. "So, the first laser you use may not be the best for your fourth treatment. So, going to a place that has the different options for various lasers can sometimes be a little bit more effective as well."
Laser hair removal has become popular for people who want to enjoy smooth, hair-free skin. It's particularly appealing to those who, like Edwards, find traditional hair removal methods time-consuming and inconvenient and want a more permanent solution to their hair removal needs.
"It's silly and small, but I just feel a little more confident when I feel clean, trimmed and good to go," said Edwards. "I will literally never have to worry about shaving again in my life."
To find a qualified plastic surgeon for any cosmetic or reconstructive procedure, consult a member of the American Society of Plastic Surgeons. All ASPS members are board certified by the American Board of Plastic Surgery, have completed an accredited plastic surgery training program, practice in accredited facilities and follow strict standards of safety and ethics. Find an ASPS member in your area.