Program Peek: University of Miami Division of Plastic Surgery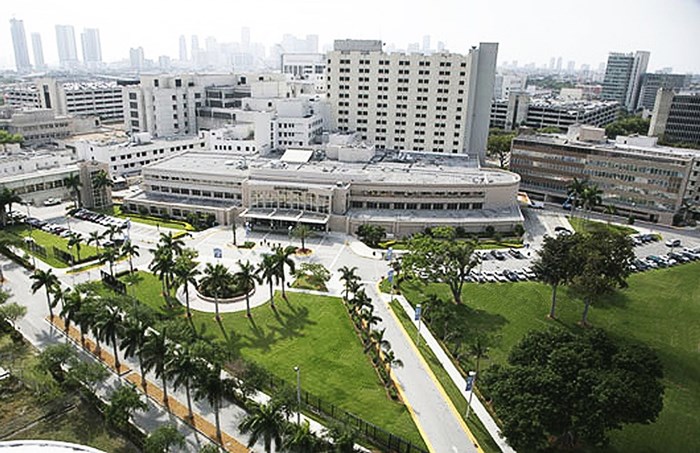 History
Founded in 1918, Jackson Memorial Hospital (JMH) today is the third-largest hospital in the United States, with more than 1,700 beds. The University of Miami (UM) Miller School of Medicine is the oldest medical school in Florida, having opened its doors in 1952.
The Division of Plastic Surgery at the University of Miami/Jackson Memorial Hospital was formed in 1963 under the leadership of Gilbert Snyder, MD.
The plastic surgery training program was founded in 1963 by Clifford Snyder, MD, Howard Gordon, MD, and D. Ralph Millard, MD. Since then, the program has continued to expand; today, it annually accepts two residents in the independent program and two residents in the integrated program.
Innovations and contributions to plastic surgery from UM/JMH include introduction of cartilage graft for augmentation of the nasal tip; cantilever bone graft; mandibular reconstruction with use of bone graft; revolutionary techniques for cleft lip/palate repair; the fork flap; and the Latham appliance.
UM/JMH is the only plastic surgery training program in Miami, which is considered the plastic surgery capital of the United States.
Leadership
Devinder Singh, MD: Division Chief of Plastic Surgery, Residency Program Director
Wrood Kassira, MD: Associate Residency Program Director
Sara Danker, MD: Assistant Residency Program Director
Zubin Panthaki, MD: Hand Fellowship Program Director National Leadership
Devinder Singh, MD: Vice Chair of the ASPS BIA-ALCL Committee, Past Chair of the ASPS Regulatory Affairs, Legislative and Advocacy Committee, Past Chair of the Maryland Board of Physicians
Kyle Xu, MD: ASPS Curriculum Development Subcommittee
Seth R. Thaller, MD, DMD: Editorial Board member of the Journal of Craniofacial Surgery, Senior Examiner of the American Board of Plastic Surgery, Past President of the American Society of Maxillofacial Surgeons
James Stuzin, MD: Co-editor of PRS, Chairman of the Baker Gordon Educational Symposium
S. Anthony Wolfe, MD: Past President of ASMS, Past President of The Rhinoplasty Society, founding member of the International Society of Craniofacial Surgeons and Past President, Senior American Board of Plastic Surgery, Editorial Board member of PRS and Annals of Plastic Surgery.
Clinical Experience
The Residency Program faculty includes 15 plastic surgeons, 12 of whom are based primarily at the three core hospitals. In addition, the program boasts more than 40 community plastic surgery faculty.
Clinical Sites
Jackson Memorial Hospital (JMH) – Considered our home base, it's a large community hospital that covers all of Miami-Dade County. This is one of the main sites for rotation throughout training (both on- and off-service rotations) with an incredible depth and diversity of complex reconstruction for oncology, trauma and reconstruction. Overall this site has the highest acuity patients from the local population – and often from overseas. This is also the site for the resident cosmetic cases; we have several programs in place for discounted cosmetic surgery and free breast implants.
Ryder Trauma Center (RTC) – Opened in 1992 following the devastation of Hurricane Andrew, RTC is one of the busiest trauma centers in the country and the only national Army Trauma Training Center. This is the main source of complex burn reconstruction, face trauma, hand trauma and replantation, and lower-extremity reconstruction.
Holtz Children's Hospital – This pediatric hospital is associated with JMH and is one of the nation's top children's hospitals. This is our source of referral for congenital anomalies and pediatric trauma.
University of Miami Hospital – This is the university's main private hospital, with rotations throughout training, offering general reconstruction and cosmetics recruited from attending clinics. This is also the site of our resident cosmetic clinic for minor aesthetic procedures and injectables.
Sylvester Cancer Institute – Affiliated with the University of Miami Health system, this is the only NCI-designated cancer institute in south Florida. Cases include breast and skin cancer reconstruction.
Lennar Foundation Medical Center – An outpatient surgical center associated with University of Miami and located 20 minutes from the main campus, we rotate here throughout training for outpatient procedures in general surgery, plastic surgery and hand surgery.
Miami VA – The third major hospital system on the main campus, the Miami VA serves three south Florida counties and a tertiary referral center for other VA Hospitals in Florida. Cases routinely seen here include abdominal wall reconstruction, outpatient hand surgery, skin cancer resection and Mohs reconstruction.
Jackson South Community Hospital – An affiliated hospital 40 minutes south of the JMH, this is the site of 50 percent of residents in their PGY-3 year.
Nicklaus Children's Hospital – The largest pediatric teaching hospital in southeastern United States, residents rotate on the plastic surgery service for several months with exclusive focus on pediatric plastic surgery, including brachial plexus reconstruction, congenital hand anomalies and cleft lip and palate.
Bascom Palmer – Consistently ranked as the nation&'s best eye hospital, residents rotate here for oculoplastics and dermatology.
Educational Curriculum
All educational activities are held virtually, in keeping with social-distancing protocols. The educational program includes:
Weekly Grand Rounds on current plastic surgery topics
Weekly didactics conferences led by residents and faculty covering topics based on the PSEN curriculum and cases
Semi-annual mock oral-style conference
Monthly quality assurance conference
Quarterly research meeting
Monthly Journal Club
Visiting professors (at least four per year)
Microsurgery curriculum led by faculty
Fellowship Training
2021: Microsurgery (University of Pennsylvania), craniofacial surgery (UCLA), private practice
2020: Hand (Integris health), private practice
2019: Craniofacial surgery (Vanderbilt), private practice
2018: Private practice
2017: Transgender surgery (University of Miami); private practice
Resident Benefits
Miami, the "Magic City:" We live where people vacation
Annual educational stipend of $2,000, with additional funds available for travel when presenting at conferences
Food stipends at JMH and University of Miami Hospital
Committee of Interns and Residents: resident union responsible for negotiating pay increases and benefits
No state income tax
Time during mission work not deducted from vacation
Resident clinic with discounted rates for cosmetic surgery
Resident cosmetic injectable clinic PGY-1-6
ACAPS Annual Boot Camp for incoming interns
Surgery lab: a month-long dedicated lab, with one-on-one teaching and dedicated fresh cadaveric arm and head
Quarterly microsurgery course
Complimentary registration to Baker Gordon Conference annually: the largest live surgery symposium in the United States, initially founded by Thomas Baker, MD
Biennial complementary registration to ASMS course
Dr. Wo is PGY-4 at University of Miami/Jackson