Faculty Focus: Q&A with Lauren Yarholar, MD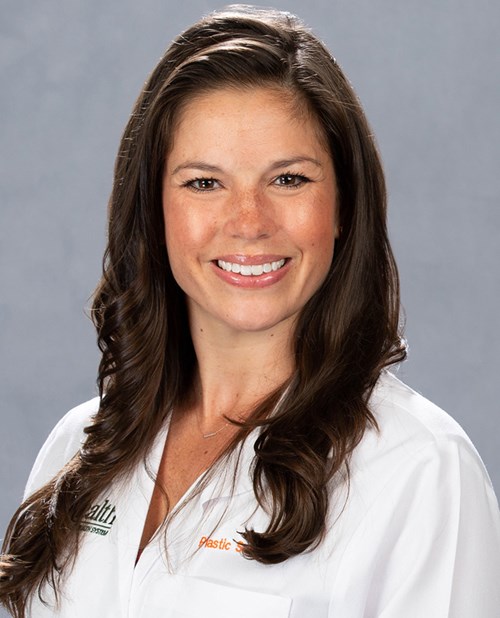 Plastic Surgery Resident strives to provide readers with career advice designed to aid them in their professional advancement after residency – by sharing insights that may help them create their own, desired path.
In this installment of Faculty Focus, we present ASPS member Lauren Yarholar, MD, assistant professor of surgery in the University of Miami Miller School of Medicine's Division of Plastic Surgery.
Dr. Yarholar focuses on craniofacial surgery as well as pediatric, reconstructive and aesthetic plastic surgery, and her research interests include clinical outcomes in secondary facial trauma and craniosynostosis repair. She joined the Miller School of Medicine after completing a craniofacial surgery Fellowship at New York University (NYU), and a plastic and reconstructive surgery residency at St. Louis University (SLU).
Dr. Yarholar's path began with chemical engineering but quickly turned to plastic surgery – particularly pediatric craniofacial surgery – when she saw the innovation and creativity that's part and parcel of the specialty, and perhaps more definitively when she witnessed the impact she could have on children and their families. She's learned much along her path, perhaps most importantly the realization that physicians need to look after themselves as deeply and completely as they do those in their charge, and to follow your passion no matter what obstacles might arise. Dr. Yarholar is also an advocate of strong mentors – having had several throughout her career – and she admits to being somewhat partial to individuals who react positively to one of the newest members of her family: Winston, her French bulldog puppy.
PSR: What drew you to plastic surgery?
Dr. Yarholar: I always knew I belonged in medicine, for as long as I can remember. However, I chose a non-traditional path at the University of Oklahoma by pursuing a degree in chemical engineering; I was drawn to it because it was the perfect combination of science and math. My engineering courses were hardly ever straightforward. Our exams involved intense mental gymnastics that merged a combination of concepts to get to the correct answer. In medical school, I saw plastic surgeons as the "engineers" in the world of surgery. Plastic surgeons are required to think creatively to solve unique problems. I'm drawn to plastic surgery because the solutions to surgical problems are never an exact recipe. There's room for creativity.
PSR: How did you prepare during residency to get into a competitive Fellowship?
Dr. Yarholar: I spent a stretch of six consecutive months on my pediatric plastic surgery rotation that made everything click for me. Once I had decided on a craniofacial career, I became obsessed with all things craniofacial. The residency program SLU allows for flexibility and career exploration. The pediatric plastic surgery rotation provides a well-rounded experience with cranial vault remodeling; cleft care instruction from two different surgeons; exposure to pediatric facial trauma; and challenging head-to-toe reconstructive cases. Further, I was able to attend the American Society of Maxillofacial Surgeons (ASMS) Basic and Advanced courses (the latter is held at SLU), and attend national pediatric conferences both as a presenter and attendee. I also embraced an excellent adult trauma craniofacial experience, which allowed me to lead with regularity pan-facial fracture repairs by my chief year. I also immersed myself in craniofacial research. I'm extremely grateful for the group of residents with whom I worked in residency, as well as for the growing program at SLU.
PSR: What impact did the Fellowship have on your career?
Dr. Yarholar: The NYU craniofacial Fellowship provided me the experience of clinical variety and autonomy, as well as continued development of my academic platform. This Fellowship is unique, in that each of my mentors varied in their training, and that variety became reflected in their teaching. As NYU is an international hub for patients with craniofacial issues, I was exposed to a wide range of interesting and challenging cases – including pediatric and adult patient populations. Exposure to clinical and research experiences are one thing, but this continued mentorship allowed me to be competitive in a tough job market.
PSR: How important is a mentor early in one's practice?
Dr. Yarholar: Mentorship does not stop in medical school or residency; we can all learn from those who've come before us. Bruce Kraemer, MD, my former chief, frequently quoted the well-known phrase: "We stand on the shoulders of giants" – and I love this idea. I was fortunate that SLU offered access to mentors from a variety of settings: private practice, hospital employee, pediatric, adult, new and experienced faculty. Each had a niche perspective and was able to provide practical tips on choosing a career. Leaving residency, I felt that I was knowledgeable in the spectrum of clinical settings and perspectives, thus allowing me to make an informed decision regarding the path I wanted to pursue.
I sought a strong mentor when looking for a position in academic medicine, which led me to the University of Miami. Division of Plastic Surgery Chief Devinder Singh, MD, is a leader with heart and passion, and a vision for the program. Four months into practice and I'm extremely grateful for my mentors from NYU and SLU, and for the new relationships I've developed here in Miami. I'm confident in my training and skills, but I feel like nothing in craniofacial surgery, or plastic surgery, is truly "textbook."
Everyone's anatomy is a little bit different and every case is unique. It has been comforting to be able to discuss cases with the mentors I've collected on my journey.
PSR: How has your involvement in societies and committees helped your career?
Dr. Yarholar: Networking is invaluable in both personal and professional growth. It's easy to get bogged down in daily duties, clinical load and an insular mindset within a residency. Keeping the larger picture in mind and staying active in professional societies can give a trainee – especially in the early years – excellent exposure, a different perspective and a chance to meet peers and mentors outside his or her home institution.
PSR: What's the one attribute a resident needs to be successful?
Dr. Yarholar: It's a tie: Grit and a good attitude. It's easy to get dragged down with the chaos of residency, and then you forget to be a good human. The E.D. resident who's waking you up is calling because they really don't know what to do and they need your help. For some of the patients you're treating, this is truly the worst time in their life. Your attitude goes a long way. Having grit means you have a drive to be better than you were yesterday. You acknowledge weaknesses and you never stop working on them.
PSR: How do you balance your professional and personal lives?
Dr. Yarholar: I won't claim to be an expert, as I'm still trying to figure this one out. Taking the time to reflect and enjoy extracurricular activities has allowed me to relax and appreciate my work even more. Whether it's triathlons, marathons, yoga or climbing, I'm enjoying my time outside the hospital. I'm excited about the outdoor activities Miami has to offer. I've been reintroduced to rollerblading and I'm hoping to pick up paddleboarding soon. One of the best additions to my life since moving to Miami has been the adoption of my French bulldog puppy, Winston. We interviewed phenomenal applicants for residency positions this year, but I was most impressed with the applicants' patience and tolerance for Winston's uninvited appearance during the virtual interviews.
PSR: What was your greatest non-medical challenge – and how did you handle it?
Dr. Yarholar: During my PGY-5 year, I had a family emergency that required my attention. During this time, I came to truly appreciate the family vibe of SLU's residency program. I was able to easily lean on the relationships I had built with not only my co-residents, but with attendings, too.
During Fellowship at NYU, I elected to join the medicine teams working in the COVID-19 ICUs. The experience made a lasting impact on me. Being on the front lines was humbling. It helped me gain appreciation for my medical colleagues and our healthcare system. Helping to fight against a virus that seemed to have no boundaries at the time reinforced the importance of innovative/evidence-based approaches to the new challenges we'll inevitably face as clinicians.
PSR: What do you enjoy most about being a plastic surgeon?
Dr. Yarholar: The human connection I make with the people around me – faculty, staff, residents, students and, of course, my patients. I'm happiest when I feel as though I've made an impact or a positive difference in someone else's life. I understand this is likely true for being a physician in general; however, as a plastic surgeon, specifically a pediatric craniofacial surgeon, you're allowed into a certain type of vulnerability in a child's life. You're making a connection with this child, but also with their family and all the people they'll meet in the future.
PSR: What challenges do you regularly encounter in your practice?
Dr. Yarholar: I find that despite a lot of training and education, I spend a significant amount of time teaching and advocating for my patients and our specialty. There are common misconceptions about what plastic surgeons do. Whether it's explaining to a patient that we don't do scarless surgery or advocating for a child's craniofacial reconstruction to an insurance company, we are constantly an ambassador for our specialty, particularly as attendings.
PSR: How does teaching play a role in your schedule?
Dr. Yarholar: I look at teaching as an activity of daily living. Not only do I try to teach every day, I also try to learn something every day. Everyone has something to teach, and I don't know everything.
PSR: What's your advice for residents?
Dr. Yarholar: Follow your passion and find a good mentor. Don't let logistics, specifics or semantics interfere with your passion. You have to go with your gut, as at the end of the day it's not your mentors, faculty or peers who will live your life. It's you.
PSR: Complete this sentence: "I knew I wanted to become a plastic surgeon when..."
Dr. Yarholar: I realized there was more to plastic surgery than what was advertised on TV. I'm lucky to have had early exposure to the wonderful spectrum of plastic surgery. Once I saw the variety and the innovation, I was hooked!