Program Peek: Cleveland Clinic Department of Plastic Surgery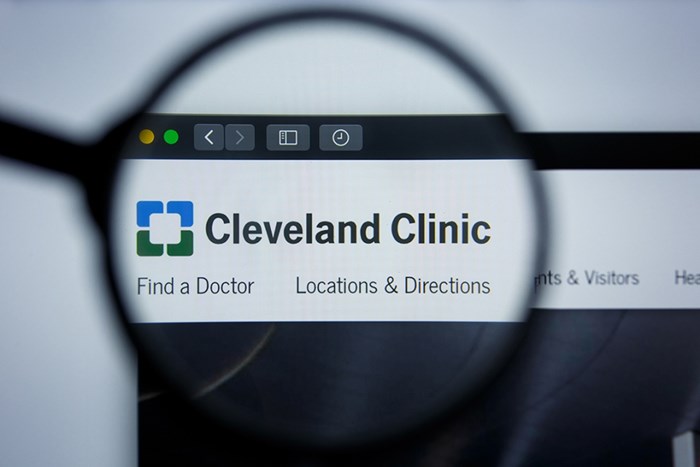 History
Cleveland Clinic was founded in 1921 by three surgeons – George W. Crile, MD, Frank E. Bunts, MD, and William E. Lower, MD – and internist John Philips, MD, with the purpose of creating an institution focused on comprehensive group medical practice.
The Cleveland Clinic Department of Plastic Surgery was first founded in 1979. In 2012, the Residency Program transitioned into a fully integrated six-year residency program. Since that time, the program has continued to expand and currently accepts four residents per year.
In 2009, Cleveland Clinic became the first hospital in the United States to perform a facial allograft transplantation. As of this writing, it also remains the only hospital in the country that has successfully performed three total face transplants. The infrastructure for upper-extremity allotransplantation also has been established.
Its worldwide reputation makes Cleveland Clinic a destination for international visiting dignitaries and physicians, and it has welcomed more than 50 visiting professors from around the globe.
Leadership
Frank Papay, MD – Dermatology and Plastic Surgery Institute Chairman
James Zins, MD – Department of Plastic Surgery Chairman
Steven Bernard, MD – Residency Program Director
Raymond Isakov, MD – Associate Program Director
Bahar Bassiri Gharb, MD, PhD – Plastic Surgery Research Director
National Leadership
Dr. Papay is currently an American Board of Plastic Surgery (ABPS) director and treasurer of the American Society of Maxillofacial Surgeons (ASMS). Previously, he has served as Ohio Valley Society of Plastic Surgeons president; ASPS Ethics Committee chair; Plastic Surgery Section of the American Academy of Pediatrics Plastic Surgery Section chair; and ASMS (Education) vice president.
Dr. Zins is also currently an ABPS director, serving as chair of the Bylaws Committee and Plastic Surgery within the Head and Neck Committee. He's an American Association of Plastic Surgeons (AAPS) past president, and ACGME Residency Review Committee associate chair. He remains on the editorial boards of multiple plastic surgery journals.
Brian Gastman, MD, is Plastic Surgery Research Council chair and Medical and Surgical Director of Melanoma & High-Risk Skin Cancer Program at Cleveland Clinic. He belongs to the Society of Immunotherapy of Cancer's Melanoma Task Force and numerous National Comprehensive Cancer Network (NCCN) panels, developing treatment guidelines for numerous cancers – including melanoma, squamous cell, basal cell, Merkel cell and DFSP.
Clinical Experience
The Residency Program faculty include 24 plastic surgeons, of which 15 are based primarily at Main Campus. The faculty-to-resident ratio continues to provide a high-volume surgical experience, in addition to their time working with staff in other departments such as Head & Neck Surgery, Orthopaedic Surgery, and Dermatology (Mohs Surgery). Clinical rotations occur across several sites, including:
Cleveland Clinic – Main Campus: "The Mothership," as it's known, spans more than 170 acres and houses 1,400 inpatient beds. It's currently ranked No. 2 on the U.S. News & World Report Best Hospitals Honor Roll, continuing a more than two-decades long tradition of being a top-5 hospital. Residents rotate through the Main Campus throughout their training, performing the full depth and breadth of plastic surgery – including pediatric craniofacial surgery at the adjoined Cleveland Clinic Children's Hospital. The resident offices in the Crile Building act as a home base for members of the program.
Hillcrest Hospital: One of Cleveland Clinic's 11 affiliate hospitals across northeast Ohio. Residents will rotate here on several occasions during their training, with a focus predominantly on breast reconstruction.
Beachwood Ambulatory Surgery Center: One of several ASCs in the Cleveland Clinic Health System, this provides experience focused on cosmetic surgery, treatment of skin cancer (high volume of melanoma cases), as well as general plastic surgery.
MetroHealth Medical Center: A Level I Trauma Center located on Cleveland's West Side, facilitating exposure to the full spectrum of reconstructive surgery, as well as elective procedures. PGY-2 residents also rotate through the Burn Service.
Louis Stokes Cleveland VA Medical Center: Residents have an opportunity for greater responsibility in managing patients both in the office and the O.R., with oversight from the VA faculty. General reconstruction and hand surgery make up the bulk of the operative experience.
Akron Children's Hospital: PGY-4-5 residents spend several months in the Pediatric Plastic & Reconstructive Surgery Center as part of a focused experience that addresses the full spectrum of pediatric craniofacial surgery – complementing the craniofacial training interspersed across all six years at the Cleveland Clinic Main Campus/Children's Hospital.
Cleveland Clinic – South Pointe Hospital/Private Practice: Residents spend time in a private practice setting at several intervals throughout their training. The experience covers all facets of cosmetic surgery.
Educational Curriculum
Due to COVID-19, all conferences/didactics are held virtually to maintain safe social distancing. Regular teaching conferences include:
Weekly didactic conference led by faculty covering topics based on the full PSEN curriculum
Weekly oral boards-style conference directed by residents and faculty
Monthly "Deep Dive" lectures focusing on advanced topics in the fields of aesthetic, hand, craniofacial and microsurgery
Monthly Journal Club
Monthly Morbidity & Mortality conference
Visiting professors (two to four per year)
Fresh cadaver labs two to three times per year, including highly-regarded flap dissection labs
Fellowship Training
2021: Hand (Mayo Clinic); microsurgery (Cleveland Clinic); private practice/military service
2020: Aesthetic surgery (Dallas Plastic Surgery Institute); hand (Alabama); private practice (New York)
2019: Aesthetic surgery (UTSW); aesthetic surgery (BI Deaconess)
2018: Aesthetic surgery (Dallas Plastic Surgery Institute); hand (Ohio State)
Resident Benefits
City living in Cleveland without the associated big-city challenges (easy to enjoy life on a resident's salary)
Full financial support toward the costs of meeting attendance for residents presenting at regional or national meetings. Funding also provided for PGY-5 and PGY-6 residents to attend the AAPS and ASPS meetings, respectively
ACAPS Annual Boot Camp for incoming interns
Educational stipend (annually) and surgical loupe stipend (interns)
Resident Cosmetic Clinic for trainees in the PGY-5-6 years
Microsurgery lab: A week-long microsurgery course during intern year with one-on-one teaching that facilitates early, hands-on experience, performing microvascular anastomoses in a rat model. The lab is available at any time for all residents wishing to hone their skills or perform research.
Access to the Cleveland Clinic Innovations Center, which guides providers through the process of idea development, patent acquisition and realization.
Year-round access to a state-of-the-art, fresh cadaver lab on campus and the opportunity to collaborate with Richard Drake, PhD, editor of Gray's Atlas of Anatomy. Residents can earn the title of Clinical Instructor of Anatomy through teaching in the anatomy lab.
Follow Cleveland Clinic Plastic & Reconstructive Surgery on Instagram @ccfplasticsurgery.
Dr. Leavitt is PGY-4 and Dr. Deleonibus is PGY-2 in the Cleveland Clinic Department of Plastic Surgery.