The Plastic Surgery Education Network (PSEN) is a centralized, interactive educational website created by surgeons for surgeons in all stages of their careers. The site holds an aggregation of the specialty's core knowledge and overall trends via a mix of educational resources that range from Case Reports to Lecture recordings to Surgical Spotlight videos.
Resident Education Center / Plastic Surgery Curriculum
Thanks to a joint program between ACAPS and ASPS, the PSEN Plastic Surgery Curriculum offers more than 85 self-assessment modules for practicing surgeons and residents alike. Each module provides journal article readings, presentations, videos and tests that cover all aspects of the specialty. Program directors are welcome to enroll their residents in PSEN and review transcripts to track progress.
Surgery Spotlight
An exclusive free monthly HD video program produced by PSEN, Surgery Spotlight is a "how-to" program that demonstrates plastic surgery procedures from markings to final stitches. All Surgery Spotlight videos are free for members to view, and some also include an optional CME test that can be purchased to earn credit for the activity. Programs have covered everything from aesthetic procedures like Rhinoplasty, Blepharoplasty and Breast Augmentation to reconstructive cases like SIEA and DIEP Flap Breast Reconstruction, Mandible Reconstruction and Facial Reinervation.
My Learning Plan
Located under the My PSEN button, the My Learning Plan feature offers a way for you to manage your continued education utilizing PSEN's resources. Keep track of videos and courses you want to review, set personal due dates, and more.
Community
A place to share experiences via discussion boards, live chat, comment on articles and access the member directory to connect with colleagues.
Practice Management
An online resource with financial management, marketing and webinar resources.
The PSEN is brought to you through a cooperative venture between the following societies:
American Society of Plastic Surgeons (ASPS)
American Association for Hand Surgery (AAHS)
American Council of Academic Plastic Surgeons (ACAPS)
American Society for Peripheral Nerve (ASPN)
American Society for Reconstructive Microsurgery (ASRM)
American Society of Maxillofacial Surgeons (ASMS)
Plastic Surgery Research Council (PSRC)
Get a PSEN Subscription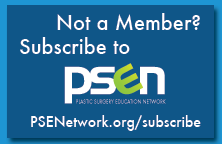 The PSEN is a free password-protected resource for members of the American Society of Plastic Surgeons, partner societies and residents of participating residency programs.
If you are not a member of a participating society, you may purchase an annual PSEN subscription to access surgical videos, lecture presentations, case reports, literature reviews, practice management resources and PSEN's community.
You can also purchase individual CME/MOC courses and Self-Assessment courses without a subscription.
Need Assistance?
For help with your username and password or other account information or to purchase a subscription, please e-mail onlineeducation@plasticsurgery.org or call ASPS Member Services M-F between 8:30 a.m. and 5 p.m. Central time at (800) 766-4955.