Enhance Your Practice Podcast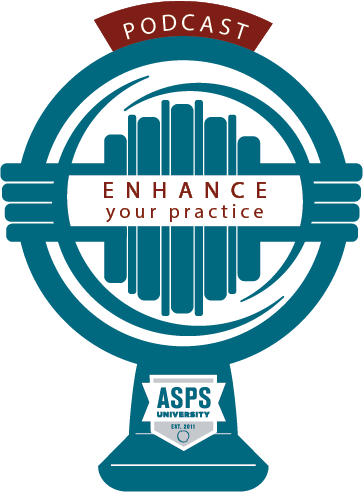 The ASPS Enhance Your Practice Podcast series serves as an educational appetizer for plastic surgeons and office professionals looking for practice management information on-the-go. It covers next steps early in a career, financial planning, staffing, med spas, starting a private practice and much more. The first season launches January 17 and new ones will begin every six weeks or so after that, Netflix-style. Podcast guest speakers are plastic surgeons, office professionals and industry experts. Note: These podcasts are not for Continuing Medical Education (CME) credits.
Current Season
You made the decision to open your own practice, but have you considered all the details? Hear from the experts on issues like office flow, cybersecurity, aesthetic design of your office and more.
Episode 20: Things You Should Know About Starting Your Own Practice... But Probably Don't
Guest Speaker: Dr. Smita Ramanadham
Episode 21: Designing Your Private Practice
Guest Speakers: Dr. Parag Butala and Dr. Diana Yoon-Schwartz
Episode 22: Cybersecurity in Your Private Practice
Guest Speaker: Dr. James Nachbar
Episode 23: Patient Flow
Guest Speakers: Dr. Andrew Rosenthal and Lindsay Pine of Modernizing Medicine
Episode 24: Your Telehealth Questions, Answered
Guest Speaker: Dr. David Feldman
Episode 25: Monitoring Your Practice
Guest Speaker: Dr. Joshua Korman
Episode 26: Group Practice: Being a Good Partner
Guest Speaker: Dr. Deb Johnson
Past Seasons
Episode 1: What Kind of Practices Are There and What Should I Be Doing?
Episode 2: Do I Become an Employee or My Own Boss? Picking the Right Group, Institution, or Private Practice To Join
Episode 3: Top 10 Things to Consider With an Employment Contract
Episode 4: How Can I Find a Mentor?
Episode 5: Why I Opened a Med Spa and Why You Should Consider Adding One to Your Practice
Episode 6: Opening Multiple Med Spas
Episode 7: Marketing Your Med Spa
Episode 8: Male Aesthetics in Your Practice
Episode 9: Raising a Successful Family
Episode 10: Finding Balance: Fatherhood and Plastic Surgery
Episode 11: Balancing Motherhood and Residency
Episode 12: Ergonomics
Episode 13: Relationships In and Out of the Office
Episode 14: Practical Tips During the COVID-19 Crisis
Episode 15: Physician Wellness During the COVID-19 Crisis
Special Edition: Crisis Management: Balancing Plastic Surgery and Being a Working Mom
Episode 16: How Do I deal With My Debt?
Episode 17: Protecting Your Assets
Episode 18: Choosing the Right Financial Planner
Episode 19: Ensuring You're Insured