Enhance Your Practice Podcast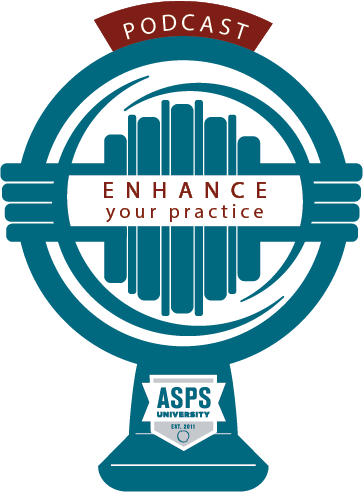 The ASPS Enhance Your Practice Podcast series serves as an educational appetizer for plastic surgeons and office professionals looking for practice management information on-the-go. It covers next steps early in a career, financial planning, staffing, med spas, starting a private practice and much more. New seasons will launch every eight weeks or so, Netflix-style, with multiple episodes released at once. Podcast guest speakers are plastic surgeons, office professionals and industry experts. Note: These podcasts are not for Continuing Medical Education (CME) credits.
Current Season
During this season our guests share their experiences as underrepresented minorities, including challenges related to sexual orientation, gender and race. We also delve into the need for increased diversity and recognition in the field of plastic surgery as well as ways all plastic surgeons can be proponents for equality and inclusion.
Episode 27: How to Be an Ally – Personally and Professionally
Guest Speakers: Dr. Puru Nagarkar and Dr. Jennifer Coleman
Episode 28: Gender Identity – Caring for Transgender and Gender Diverse Persons
Guest Speakers: Dr. William Kuzon and Dr. Katy Gast
Episode 29: LGBTQ Issues in Plastic Surgery
Guest Speakers: Dr. Joseph Losee and Dr. Jessica Lee
Episode 30: Empowerment – Gender Diversity
Dr. Shuting (Susan) Zhong, Dr. Wendy Chen, Dr. Katerina Gallus and Dr. Ashley Amalfi
Episode 31: Dealing with Discrimination
Guest Speakers: Dr. Kavitha Ranganathan and Dr. Erika Sears
Episode 32: Why Diversity Matters
Guest Speakers: Dr. Steven Williams, Dr. Paris Butler and Dr. Kia Washington
Episode 33: Diversity and Inclusion in Corporate Culture: Conversation with Allergan
Guest Speakers: Dr. Kamakshi Zeidler and Carrie Strom, Senior Vice President of AbbVie and President of Global Allergan Aesthetics
Past Seasons
Episode 1: What Kind of Practices Are There and What Should I Be Doing?
Episode 2: Do I Become an Employee or My Own Boss? Picking the Right Group, Institution, or Private Practice To Join
Episode 3: Top 10 Things to Consider With an Employment Contract
Episode 4: How Can I Find a Mentor?
Episode 5: Why I Opened a Med Spa and Why You Should Consider Adding One to Your Practice
Episode 6: Opening Multiple Med Spas
Episode 7: Marketing Your Med Spa
Episode 8: Male Aesthetics in Your Practice
Episode 9: Raising a Successful Family
Episode 10: Finding Balance: Fatherhood and Plastic Surgery
Episode 11: Balancing Motherhood and Residency
Episode 12: Ergonomics
Episode 13: Relationships In and Out of the Office
Episode 14: Practical Tips During the COVID-19 Crisis
Episode 15: Physician Wellness During the COVID-19 Crisis
Special Edition: Crisis Management: Balancing Plastic Surgery and Being a Working Mom
Episode 16: How Do I deal With My Debt?
Episode 17: Protecting Your Assets
Episode 18: Choosing the Right Financial Planner
Episode 19: Ensuring You're Insured
Episode 20: Things You Should Know About Starting Your Own Practice... But Probably Don't
Episode 21: Designing Your Private Practice
Episode 22: Cybersecurity in Your Private Practice
Episode 23: Patient Flow
Episode 24: Your Telehealth Questions, Answered
Episode 25: Monitoring Your Practice
Episode 26: Group Practice: Being a Good Partner