Enhance Your Practice Podcast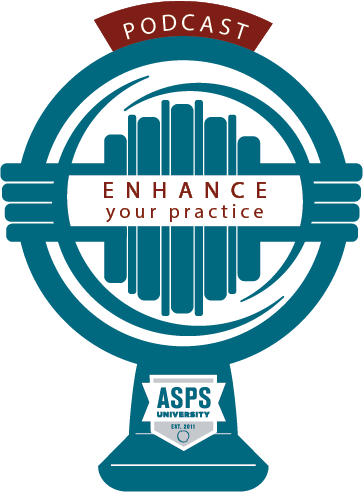 The ASPS Enhance Your Practice Podcast series serves as an educational appetizer for plastic surgeons and office professionals looking for practice management information on-the-go. It covers next steps early in a career, financial planning, staffing, med spas, starting a private practice and much more. The first season launches January 17 and new ones will begin every six weeks or so after that, Netflix-style. Podcast guest speakers are plastic surgeons, office professionals and industry experts. Note: These podcasts are not for Continuing Medical Education (CME) credits.
Current Season
Work/Life Balance
Burnout is a tremendous challenge facing surgeons today, especially those new to the field. Hear from your colleagues on dealing with work/life balance, building resilience and relationships. Women and surgeons of color face unique challenges in this field. Listen to their stories of breaking into a field that didn't always feel welcoming. Special edition episodes have been added discussing how to maintain wellness during the COVID-19 crisis.
Episode 9: Raising a Successful Family
Guest Speakers: Dr. Heather Furnas and Dr. Paul Cederna
Episode 10: Finding Balance: Fatherhood and Plastic Surgery
Special Guest Host: Dr. Kavitha Ranganathan
Guest Speakers: Dr. Christian Vercler and Dr. Joseph Lopez
Episode 11: Balancing Motherhood and Residency
Guest Speakers: Dr. Lily Mundy and Dr. Kavitha Ranganathan
Episode 12: Ergonomics
Guest Speakers: Dr. Scott Hollenbeck and Dr. Douglas Steinbrech
Episode 13: Relationships In and Out of the Office
Guest Speakers: Dr. Michael Bentz
Episode 14: Practical Tips During the COVID-19 Crisis
Guest Speakers: Dr. Vu T Nguyen and Dr. Francesco Egro
Episode 15: Physician Wellness During the COVID-19 Crisis
Guest Speakers: Dr. Richard Korentager and Dr. Jeffrey Janis
Past Seasons
Season One: Next Steps
Episode 1: What Kind of Practices Are There and What Should I Be Doing?
Episode 2: Do I Become an Employee or My Own Boss? Picking the Right Group, Institution, or Private Practice To Join
Episode 3: Top 10 Things to Consider With an Employment Contract
Episode 4: How Can I Find a Mentor?
Season Two: Med Spas
Episode 5: Why I Opened a Med Spa and Why You Should Consider Adding One to Your Practice
Episode 6: Opening Multiple Med Spas
Episode 7: Marketing Your Med Spa
Episode 8: Male Aesthetics in Your Practice