24 Hours in Madison, Wisconsin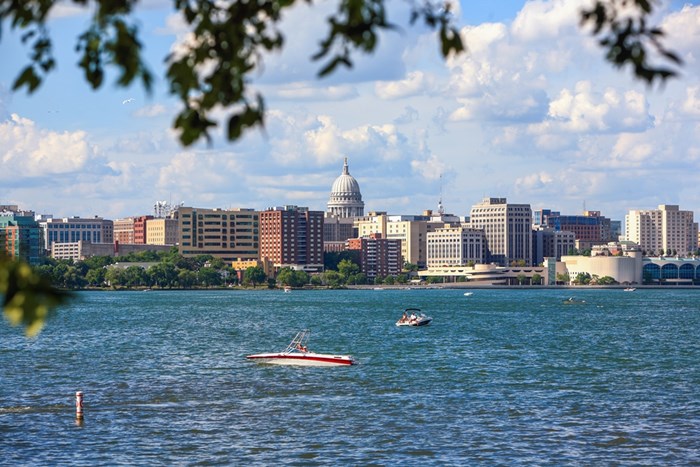 Welcome to Madison! Located in the southcentral portion of the state, Madison is the crown jewel of Wisconsin, as well as its capital and a vibrant college town that blends big-city culture with small-town charm. Surrounded by four lakes and miles of bike trails that wind through the city, Madison offers something for everyone. Visitors could spend weeks discovering the city's bounty, but we've spared our readers that task by assembling this guide to help them navigate "Madtown" like a pro.
Lakes and Parks
Geography lesson: Madison is located on an isthmus – a narrow strip of land surrounded by water on each side. Mendota, the larger lake, is located to the north; Monona, the smaller lake, is located to the south. Both provide year-round fun and activity. In the summer, Lake Wingra is a popular place to enjoy water activities – you can rent a canoe, kayak, rowboat, paddleboat or stand-up paddle board from Brittingham and Wingra Boats. If you'd rather be in the lake than on it, more than a dozen parks and beaches will help you beat the heat. In the winter, join the local ice fishermen and rent a pair of snowshoes from Outdoor UW and follow the glow stick-lit path out to a campfire at a nearby park along Lake Mendota – Picnic Point – where hot chocolate and s'mores await.
Capitol or 'The Square'
Sitting above the city, in the heart of downtown Madison, is the gorgeous State Capitol building – the largest after Washington, D.C. Daily tours are offered where visitors can learn about Wisconsin's history. The observation deck atop the capitol dome offers views of the city and surrounding lakes in the summer.
From April through November, the Saturday Farmer's Market surrounding the capitol is a sight to see (and taste). Grab a loaf of Stella's cheesy bread, make your way through America's largest "producer-only" farmer's market and enjoy all that it has to offer!
Brunch Spots
Madisonions love their brunch. Even in the dead of winter, locals queue outside during the Sunday brunch hour at hotspots that include Madison Sourdough, Short Stack and Marigold Kitchen, and which feature local, rotating seasonal options and year-round staples. At Madison Sourdough, you can sate your appetite with the Eggs Diablo, freshly baked breads, pastries and cakes. Marigold Kitchen boasts a national top avocado toast contender – thinly sliced pickled onions and house-made chili oil with the perfect avocado-to-toast ratio - best ordered in twos.
Curds
Most people know that Wisconsin equals cheese; however, the upscale, fancy cousin of cheese – the batter-fried cheese curd – really sets us apart. Bite-sized balls of curd goodness are dipped in batter and fried to yield a warm, melted center covered in a golden crisp. Capitol Square supports what the locals call a "curd crawl:" Begin at the Tipsy Cow, move north to Graze, then hit The Old Fashioned (and pair with the classic Wisconsin Bourbon Old Fashioned!), then end at Heritage Tavern with exotic bacon-wrapped, tempura-battered curds with an array of dipping sauces.
Dining Options
Madison's East Side is home to unique "hipster casual" dining options. Begin at Mintmark with its shared, rotating, small plates ranging from roasted and deep-fried cauliflower to Southern biscuits and honey butter. Pair with creative cocktails from a drink menu that's at least four times larger than the entrée menu. Head across the street to indulge in homemade Italian food at Bar Corallini. Start with the local charcuterie board, follow that with handmade bolognaise and end with tiramisu and/or affogato. For a late-night snack, head back westward to Natspil, an unassuming venue just off the square. Dim-sum, a distinctive pizza selection and hand-crafted cocktails will be sure to delight.
An underground haunt known to regulars as home of "steak sammies" – the Tornado Room – is a high-class steak and seafood establishment with an old-timey speakeasy feel that turns into an absolute steal of a late-night menu at around 10 pm. If you can make it 'til then, get downstairs and feast on a $10 steak sandwich or scallops, curds (obviously) and a dirty martini.
Drinks
Wisconsinites love their beer, and Madison has no shortage. Sample the many spots around town, making sure to grab the popular IPA known as Fantasy Factory at local favorite Karben4, where you can also bring your four-pawed friends. Just a short trip outside the city, make sure to visit New Glarus Brewery and grab a Spotted Cow while enjoying the scenic countryside. If you've outgrown the craft beer scene, stop by Funk Factory Geuzeria and sip on a variety of rotating sours. Of course, you can always enjoy some of the best craft cocktails in the city at cozy neighborhood lounges Robin Room and Gibs, while making time to grab a glass (or bottle) of wine at rooftop bar Eno Vino, which also boasts panoramic views of the city.
Sports
Being a college town, Madison is proud to be home to the Badgers. Watch the city come alive on game day and follow the rest of the city to Camp Randall, where you can catch the UW football team and "Jump Around" with thousands of your closest friends. Make sure to also check-out our perennially great UW hockey teams at the Kohl Center or our local minor-league baseball team, the Mallards.
Music
Madison boasts an amazing list of venues for live music. The newly opened Sylvee hosts the hottest emerging acts and cultural A-listers for you and 2,500 of your closest friends. For a more intimate setting, check-out the historic Barrymore Theater on the East Side. If you prefer the outdoors for enjoying the local talent, stop by Memorial Union Terrace for views of Lake Mendota or double-back to the Capitol and catch a "Concert on the Square."
Still not sure what to do? The best part of Madison is that the Midwest spirit is alive and well. Everyone is incredibly friendly and would love to show you everything our amazing city has to offer. Make sure to come visit soon!