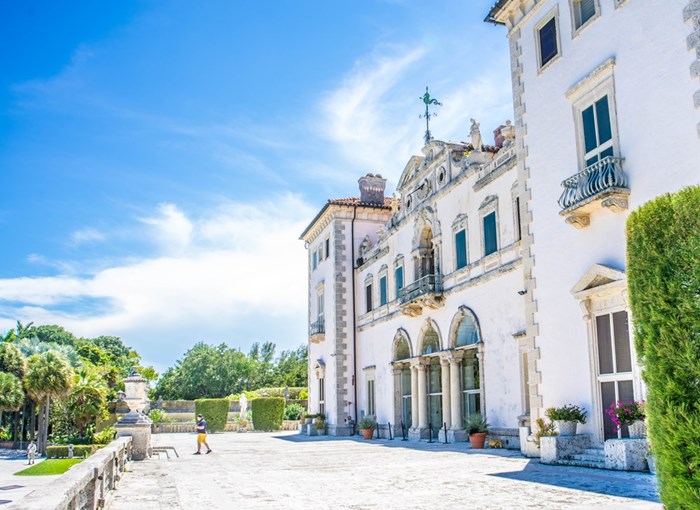 Welcome to the "Magic City," otherwise known as Miami, where the sun is inviting all year round. Located on the southeastern coast of Florida, Miami is a one-of-a-kind culturally and artistically diverse epicurean center which draws an international crowd. While it's also known as the epicenter of plastic surgery in the United States, Miami has plenty more to offer – including a variety of contrasting neighborhoods and outdoor activities from stand-up paddleboarding in the Atlantic Ocean to alligator spotting on an airboat ride through the Everglades. When you visit, don't forget to pack your swimwear, as most days are sunny and never dip below 70 degrees. Take a trip with us to sunny Miami, where even the songs written about it don't do it justice.
Wake up
Start your day by visiting a local Cuban coffee shop – the shops pepper nearly every block and bodega in the city. Here you'll pick up some pastelitos (Cuban pastries), croquetas de jamón, and a piping hot Cuban espresso (colada), which is so strong it's meant to be shared. Then rent a bike and take a ride over the Rickenbacker causeway to Bill Baggs State Park on Key Biscayne, along beautiful beaches where you'll catch glimpses of marine life such as manatees, puffer fish and manta rays. On the way back, pause to soak-in the beautiful views of Biscayne Bay with the Miami skyline backdrop. You'll make it into Brickell, the major downtown area of Miami – but save that for later and head to South Beach for lunch.
South Beach
From Biscayne Bay, head about one mile north and ride across the pedestrian-friendly Venetian causeway and disembark on South Beach. With its renowned white sandy beaches, resorts, food, bustling night life and vibrant energy, South Beach will vitalize (or revitalize) you. The vintage art deco architecture is preserved in time-capsule like perfection; hotels such as the Clevelander, Congress, Leslie and the famous Versace Mansion all lay along historic Ocean Drive. Walk the beaches, take in the sights and do some shopping while luxuriating in the 80-degree sun before heading to Sweet Liberty – one of the best cocktail bars in the nation – for a late lunch and refreshing beverage. If your timing is right, you may be visiting during Art Basel, the world-renowned art fair and one of the largest public shows in the world, and roam leisurely through various galleries and installations.
Exploring
Grab an Uber back to Brickell on mainland Miami and hop on the Metromover, a free shuttle service provided by Miami-Dade Transit. Then move throughout the city and explore at your leisure, but end up on Calle Ocho (8th street) in the heart of Little Havana, the Cuban cultural capital of America. This neighborhood provides Cubanos and Miamians (and visitors) alike a place to escape the typical American grind. With street performers, domino players, cultural exhibits, richly painted murals, food and music, you'll get a taste of the Cuban influences that nourish the city. When someone pours you a shot of colada from theirs – not an unheard occurrence – you might discover a new spring in your step. From here, the options are endless, and you can't go wrong, either. (Explore Coconut Grove, a quaint family-friendly neighborhood on the bay known for its lush greenery or Vizcaya Museum & Gardens.)
If you find yourself contemplating where next to go, hop back onto the Metromover and head north to explore Wynwood, the arts and culture district. Wynwood is a newly emerged neighborhood in Miami known for its street art, graffiti, dining and nightlife. Wynwood Walls is a continuously rotating graffiti-art installation that draws tourists from throughout the world, but you can find street art at every turn in this neighborhood. When ready for another snack, stop by Coyo Taco for some tacos, elote (seasoned and spiced Mexican corn on the cob) and a frozen margarita.
Nightfall
You may feel weary after the sun has set on a busy day of exploring the beaches, art, food and culture of Miami, but you'll begin to feel a "third wind" through the energy that's beginning to permeate the atmosphere. This side of Miami is different than what you've experienced earlier, but you'll notice that the "YOLO" message is a common thread no matter what time of day. You may struggle to decide on a restaurant because Miami offers a plethora of award-winning dining experiences with a wide variety of cuisines. We recommend Byblos on South Beach – a Mediterranean restaurant that epitomizes Miami through delicious international food, pleasing aesthetics and dance club feel with a live DJ. But if you're in the mood for a quieter experience and drool-inducing Florida stone crab, you might opt for Joe's Stone Crab.
Miami's night life, with its bars, nightclubs and ultraclubs, is known worldwide. If you like to dance, this is the scene for you – you may choose to start your night by returning to Wynwood and hopping from hipster cocktail bars to a '70s dive bar, Gramps, where disco music plays and pizza is served. Or stay on South Beach and check out Basement, where even Floridians can ice skate and dance at the same time. If you're hungry for more, Space is a nightclub open 24 hours a day, where you can dance to deep house music until the sun rises and sets again. If you prefer a quieter night, you can catch an evening performance of the Miami City Ballet at the Adrienne Arsht Center for Performing Arts.
Frankly, 24 hours isn't nearly enough time to experience all that Miami has to offer. Next time you're in town, we recommend that you visit the Everglades, take a boat out on the ocean and check out the Perez Art Museum. We feel lucky to live in a unique city with rich culture, diversity and a climate that rarely keeps us indoors after work. We welcome you to visit us and experience it for yourself! But be warned: You may be tempted to never return home.
Dr. Weber is PGY-2 at Jackson Memorial Hospital, Miami.