Faculty Focus: Q&A with James Zins, MD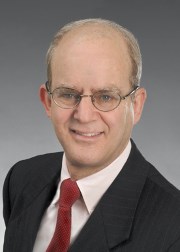 In this installment of Faculty Focus, we present ASPS member James E. Zins, MD, chairman of the Department of Plastic Surgery at Cleveland Clinic. After receiving his medical degree from the University of Pennsylvania, Dr. Zins completed his internship, residency in general and plastic surgery and a Fellowship in craniofacial surgery, at the Hospital of the University of Pennsylvania. He then completed a maxillofacial Fellowship at Great Ormond Street Hospital, London, as well as an honorary research Fellowship at University College Hospital, London.
Dr. Zins specializes in comprehensive facial aesthetic surgery – particularly facelift – and frequently lectures nationally and internationally. He has served as president of the American Association of Plastic Surgeons and currently is an American Board of Plastic Surgery director and Oral Board senior examiner. Dr. Zins also has served as associate chair of the Residency Review Committee of the ACGME, and as past president of the Northeast Ohio Society of Plastic and Reconstructive Surgeons and the Ohio Valley Society of Plastic Surgeons. He's a founding member of the American Society of Craniofacial Surgeons, an American College of Surgeons Fellow and an American Association of Plastic Surgeons board member. Dr. Zins is a Professor of Surgery at the Cleveland Clinic Lerner College of Medicine and serves as an Oral Board senior examiner for ABPS. He also serves on the editorial boards of plastic surgery journals that include Annals of Plastic Surgery, Aesthetic Plastic Surgery and the Aesthetic Surgery Journal.
Dr. Zins is closely involved in resident education; our resident clinics and injection workshops; didactics; and champions clinical and basic science research at our bi-monthly research meetings. He maintains a busy operative schedule, and his cases and clinics are popular among residents and visiting students. Perhaps most importantly, his office door is always open, and he's always willing to lend an ear or meticulously review a manuscript – even if it's over the weekend.
PSR: What drew you to plastic surgery?
Dr. Zins: When I was a senior in medical school, I was fortunate to work with Project HOPE – on the good ship SS HOPE – in Maceio, Brazil. At that time, I worked with a wonderful plastic surgeon from Chico, Calif., and that initially stimulated my interest in plastic surgery because we did a number of pediatric plastic surgery cases, including cleft lip and cleft palate repairs. Then I became an intern in general surgery at the University of Pennsylvania, and my first rotation was, surprisingly, plastic surgery. There I met my mentor for life, Linton Whitaker, MD, and I became enthralled with craniofacial surgery. From that point, I knew I was going to be a plastic surgeon.
PSR: How did you prepare during residency to get into a competitive Fellowship?
Dr. Zins: I was a resident some time ago – and in those days, Fellowships were not necessarily as sought after as they are now. I did my first Fellowship, which was embedded in my surgical training, with Dr. Whitaker as a PGY-4 general surgery resident. This Fellowship was a combination of basic science research and clinical pediatric craniofacial surgery – and it was definitely a unique experience. After I finished plastic surgery training, I did a second Fellowship in oral and maxillofacial surgery at the Great Ormond Street & University College Hospitals in London.
PSR: What impact did the Fellowship have on the advancement of your career?
Dr. Zins: You can't be too well-trained. I think Fellowships are extremely important and they're becoming more important as time goes on. Because plastic surgery is such a diverse field, it's important to develop your own niche. My niche, in the early days, was craniofacial surgery. My blood pressure went down and my heart rate was a little lower when I did those cases early in my career, and I felt extremely comfortable because of my advanced Fellowship training. It may depend a bit on personality, but I like to "know a lot about a little." Fellowship certainly puts you in a good position from a competitive standpoint when you bring something special to the table. So from a career-standpoint, whether it's personal or for your institution, you're going to be a more valuable asset if you are subspecialty trained. Not only to an academic career, but also to a private practice career, because you will be much more sought after with Fellowship training that has given you something that many people will not have. Also, it's a long road in plastic surgery – six years, minimum – and that final year in Fellowship, while many may be anxious to get out into the world and "feed their family," will hold you in great stead over a hopefully 30-year career.
PSR: How important is a mentor in one's early practice?
Dr. Zins: Everybody needs a coach. Serena Williams didn't become the tennis player she is by "seeing one, doing one and teaching one;" she had a coach from when she was very young. If you look at any of the outstanding athletes or performers today, they've all had coaches from an early age. Mentorship is critical in the early formative years, and also once you leave formal plastic surgery training. You're not going to stop learning, and you need to be able to bounce things off some more mature heads when you start practicing. In other words, you should have a coach forever.
PSR: How has your involvement in societies and committees helped your career?
Dr. Zins: First of all, it's very fulfilling. You meet extraordinary people, you rub shoulders with very bright people, you get exposed to new ideas and you help advance your career, because you get to know people outside of wherever you practice. It's also important because we're very lucky to be able to do something that we love. There are very few people who actually can go to work every day and do something they really enjoy. We're blessed, and because of that, we should be willing to give back. Certainly all of the work you do for the professional societies is gratis, but again, you're giving back as far as your patients, residents, Fellows and colleagues are concerned. This is critical.
PSR: What's the most important attribute for a successful resident?
Dr. Zins: Being a team player, being able to work hard and giving 150 percent. If you're able to do that, you'll be eminently successful. Then, you can always look at yourself in the mirror, win or lose, and say you gave it your best.
PSR: How do you balance your professional and personal lives?
Dr. Zins: It's very healthy to achieve balance as best as you're able. Fortunately, in my case, plastic surgery is my sport and my hobby, as well as my profession. I would encourage everyone to make time for themselves, make time to enjoy life and not overwork. That being said, people these days have a better handle on this than my generation.
PSR: What was your biggest non-medical challenge of residency – and how did you handle that?
Dr. Zins: When I started training, we worked every other night during our general surgery training and it was incredibly time-consuming. Another difficulty relates to these early years in training. We had a very stiff pyramid and went from 20-something interns at Penn to six chief residents. It was tough for me to see some of my friends fall by the wayside.
PSR: What do you enjoy the most about being a plastic surgeon?
Dr. Zins: Hanging out with the residents and the Fellows, and being able to discuss things with them, teach them and have them teach me. It's what keeps you vital and young, and also allows you to give back. It's very much a two-way street. It's a lot of give-and-take in many aspects, inside and outside the O.R. In the O.R., it allows you to be more efficient – and to be more efficient in patient care. You can also be much more extensive. It's particularly rewarding to me to work with the residents on clinical research and manuscripts, and to bring out the best in them with regard to their writing and speaking skills.
PSR: What are some of the challenges you encounter in your practice on a regular basis?
Dr. Zins: Things are becoming increasingly difficult from a time-constraint standpoint. We're being asked to do more and more with less and less; there's less time to think, and when there's less time to think, you lose some of your innovation. My big fear is that we're becoming so busy that we run the risk of losing our innovative talents. This is a general problem, and certainly COVID-19 has made this more of an acute problem. To be your best, you need to have rest and be able to think clearly without feeling overwhelmed. You need to take a break, take a deep breath and have some time off to recharge your engines when needed.
PSR: What role does teaching play in your schedule?
Dr. Zins: It takes time. However, as I mentioned earlier, it's immensely rewarding. It's also important to highlight the payback from the residents in how they help you. They relieve you from a lot of work in patient care. They save you time during the day as far as operating and seeing patients, and they save you time at night. When they're working hard taking care of the patients, you're home and not in the hospital. This should not be overlooked. We very often think that we're working hard, but if you look at the residents, they're putting in a lot more hours than we are.
PSR: As a seasoned plastic surgeon, what's your advice for plastic surgery residents?
Dr. Zins: Specialize as early as you can. Find that niche or area of particular interest early, and work hard to develop it. That sounds difficult, particularly when you go out in practice and you think, "I have to do everything." You can do everything; however, at least make it known what area you have a special interest in. Learn more about that small area than anybody else, and if you do that, you'll be more successful, your department will be more successful and your institution will be more successful.
PSR: Complete this sentence: "I knew I wanted to become a plastic surgeon when..."
Dr. Zins: When I went to Maceió, Brazil as a fourth-year medical student and was introduced to pediatric plastic surgery by caring for cleft patients.
Dr. Coombs is PGY-4 in the Cleveland Clinic Department of Plastic Surgery.