Washington University Plastic and Reconstructive Surgery Residency: 100 years and counting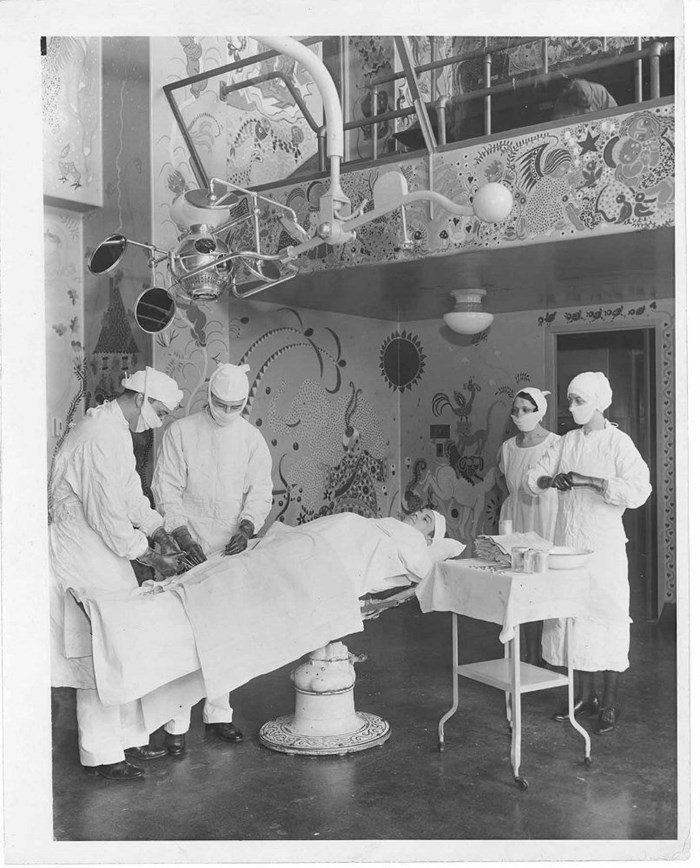 As 2021 begins and we reflect on 2020 and its many challenges, we relish the opportunity to focus on a positive highlight: the 100th birthday of the Plastic and Reconstructive Surgery Residency (PRS) Training Program at Washington University (Wash U) in St. Louis.
Vilray Blair, MD, was selected by the U.S. Surgeon General to head the Section of Oral and Plastic Surgery in the U. S. Army and chief consultant in maxillofacial surgery with the American Expeditionary Forces during World War I. When he returned to St. Louis from the war, Dr. Blair devoted his practice exclusively to the reconstruction of head and neck. His war experience coupled with the publication of his book, Surgery and Diseases of the Mouth and Jaws, made him the authority on facial reconstruction. Starting in 1920, surgeons from the U.S. and abroad traveled to Wash U to train with Dr. Blair.
The rich training environment blossomed from the union of Wash U and Barnes Hospital on Oct. 28, 1911 – a collaboration forged from the need for Wash U to rectify a suboptimal review by the 1909 Flexner Report and the desire by Robert H. Barnes, a wealthy St. Louis businessman, to build a state-of-the-art medical center to help heal the losses of his two children due to an unknown illness. The partnership fostered rapid systemic improvements, which led Flexner to rate Barnes Hospital as one of the nation's best by 1915.
This ripe environment, Dr. Blair's brilliance and dedication to teaching and fostering the development of the specialty, and Evarts Graham, MD, a supportive Wash U chairman of Surgery, all contributed to not only the founding of the plastic surgery residency training program at the university, but also to the development of our specialty as a whole.
The Division of Plastic and Reconstructive Surgery at Washington University has been led by only six chiefs: Dr. Blair (1925-55); James Barrett Brown, MD (1955-68); John (Jack) E. Hoopes, MD (1968-70); Paul M. Weeks, MD (1970-96); Susan E. Mackinnon, MD (1996-2020); and Justin M. Sacks, MD, MBA (2020-present). The program at Wash U has produced numerous advances and milestones in plastic surgery through the decades. Perhaps more important than any single clinical advancement, however, has been the focus on training exceptional plastic surgeons and academic leaders.
Drs. Blair and Brown taught by example, were generous with their time and ideas, and wanted other surgeons to be able to reproduce their work. Dr. Blair wrote the first definitive text on the treatment of oral and maxillofacial diseases in 1912, which became the standard operating manual in World War I. Drs. Blair and Brown in 1929 published the first reproducible technique for cleft lip repair and described the technique for harvesting large split-thickness skin grafts, surpassing size capabilities of pinch grafts at the time. Surgeons traveled from all over the world to observe them in the O.R., which Dr. Blair had decorated with murals by Gisella Loeffel to entertain patients. Dr. Brown wanted trainees to look good in front of Dr. Blair, and he frequently whispered suggestions to assistants to answer Dr. Blair's questions.
After proving the need for a distinct specialty during World War I, Dr. Blair recognized the variability in educational quality of the one- or two-year apprenticeship model for training programs. Dr. Blair championed the idea the American Board of Plastic Surgery (ABPS). The ABPS was founded in 1937, initially as a subsidiary of the American Board of Surgery but became an independent board in 1941. For Dr. Blair's contributions to the integrity of our specialty, Jerome Webster summarized:
"(Dr.) Blair's place is assured as having done more than anyone in this country to advance the art and practice of Plastic Surgery, to have it recognized as a distinct specialty, and to formulate means of educating on-coming generations of Plastic Surgeons in the principles and technic of reconstructive surgery that mean so much for the function, appearance and happiness of innumerable individuals. Those who have taken or will take the examinations of the Board may be thankful to Blair for his insistence that high standards be maintained in this specialty. You and I and those to come should be grateful for what Blair accomplished and for what he thought, taught and fought for during his lifetime."
The U.S. government first recognized plastic surgery as a specialty when Dr. Brown was appointed as the European Senior Consultant in Plastic and Maxillofacial Surgery and Burns in 1942 during World War II. The need to reconstruct soldiers' injuries during and after the war spurred rapid training of plastic surgeons across the country, led by Dr. Brown.
The tradition of formalizing educational excellence and innovation continued with Dr. Weeks, who championed the concept of a coordinated plastic surgery residency training model. His training model included specific rotations during the three prerequisite years of general surgery that would maximally prepare residents for the following years of focused plastic surgery. With colleagues, Dr. Weeks established the plastic surgery in-training examination. Dedication to education has continued under Dr. Mackinnon. Her surgical educational videos have facilitated surgical training globally, particularly for nerve reconstruction. She's also recognized for her "white board" summaries of patients and procedures, done by trainees, prior to the start of each case. Additionally, she incorporated full-time faculty focused on aesthetic surgery into the academic model to enhance the resident educational experience.
Although less than one year into his tenure at Wash U, Dr. Sacks has gained a national reputation for mentoring students and residents in surgical career development. The program is moving forward under the guiding tenets of clinical excellence, educational rigor, research discovery and biomedical innovation. The legacy of exceptional plastic surgery training at Wash U is steadfast.
The Plastic Surgery Residency Program at Wash U has been known for a century for its breadth and depth of cases. It continues to flourish in a progressive, innovative and generous environment, and with a rich collaboration between Washington University School of Medicine and now Barnes-Jewish Hospital within the BJC Health Care System. Trainees benefit from a high-volume, quaternary referral and Level 1 trauma center in a variety of arenas. The division continues to expand, with growing faculty (currently 16 and 19 by the summer of 2021), locations, programs and trainees (currently 19 residents and three Fellows). The division leads in innovation, building on the legacy of landmark contributions. The programs of lymphatic surgery, gender affirmation surgery and limb preservation are actively growing. The division has a long history of excellence in basic, clinical, and translation research, including long-term NIH funding. The research platforms continue to expand in parallel with the clinical program. The educational program continues to evolve with innovations in curriculum.
At the turn of the century, AAPS members were surveyed regarding the most influential plastic surgeon of the 20th century. While no single winner emerged, we're extremely proud that five of the Top 10 surgeons have some tie to the Division of Plastic and Reconstructive Surgery at Wash U: Drs. Blair, Brown, Murray, Millard and Jurkiewicz.
We continue to forge ahead in the footsteps of those before us – and we're well on our way. We cannot wait to see what the remainder of the 21st century brings!
Dr. Brandt is the executive director of the American Board of Plastic Surgery; Dr. Snyder-Warwick is director of the Facial Nerve Institute and the Plastic and Reconstructive Surgery Residency Associate Program at Washington University, St. Louis.