USF Residents get 'fired up' to combat burnout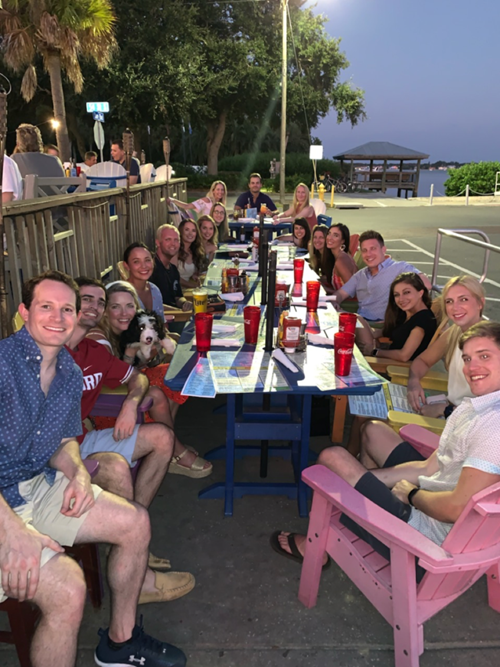 Physician wellness has become an increasingly hot topic in recent years, with the World Health Organization now formally recognizing burnout as a syndrome that can evolve from unsuccessfully managed workplace stress. Burnout can be accompanied by several signs, with three associated symptoms being decreased energy; decreased productivity; and increased negative feelings related to occupation.1 But help may be on the way; the classification of burnout as a syndrome is believed by some to help destigmatize and legitimize the diagnosis and the symptoms.2
The average burnout rate among physicians is estimated at 42 percent – and in plastic surgery, studies have shown that roughly 32 percent of plastic surgeons and 37 percent of plastic surgery residents have experienced burnout at some point in their career.3 These are alarming statistics – but we had a plan.
Advance via retreat
Last year, as we prepared to become chief residents at the University of South Florida Morsani College of Medicine Department of Plastic Surgery, we met with, our program director, Michael Harrington, MD, to discuss goals for our upcoming year of leadership. The main areas we desired to focus on during the year were education, communication and resident wellness. We wanted to create a culture of positivity that would welcome intellectual pursuit and encourage hard work.
In order to help facilitate this cultural change, we worked with our attending physicians to create an event that highlighted collegiality and caring. We believed that in order to create a paradigm shift in how burnout is perceived and combatted, we had to include buy-in from all members of the team – residents, attendings, the program director and the nursing staff.
The event that we crafted was a 24-hour retreat – and the response was incredible. Dr. Harrington immediately supported our efforts and personally volunteered to take call for 24 hours at the busiest Level I trauma center in our region, in order for all residents to take off for 24 hours. Additionally, attendings at all four of our other institutions covered call and rounding responsibilities. We were ready.
What we did
Our 24 hours of freedom began promptly at 6 a.m., when we turned off our pagers and allowed ourselves to hit the snooze button. Residents met at 7:30 a.m. for breakfast on the beach in St. Petersburg, Fla., a sister city of Tampa, where our residency program is centered.
The agenda for the day had several "team-building" activities planned. We kicked those off with an icebreaker where each resident had a word they couldn't see affixed to their backs – and that word was to be matched with another word placed on another resident's back. Each "wearer" had to pose questions to other residents regarding the key word, until each found their match. For example: "salt" had to find "pepper." As hokey as this sounds, it got everyone participating, laughing and inadvertently working on communication.
Our next activity began with a large "circle of trust" drawn in the sand. Each resident, one by one, would stand inside the circle, and one resident would then call-out positive things about the resident in the circle – and why they appreciated having him or her as a USF plastic surgery resident. The yelling resident would then get to throw water balloons, and the cycle would repeat for each member.
What actually developed was a little surprising: We heard praise coming from different people, different levels of residents – it was as though everyone out on the sand felt equal with one another, without the traditional hierarchy of the hospital.
Perhaps more impressive, we witnessed residents open up about their insecurities in front of the group and explain how someone else had helped them in a time of need. We learned about deeply personal issues that some residents experienced – issues that many of us were unaware someone was struggling with, let alone someone in our program. We learned each other's fears. Most importantly, we heard how each resident had helped someone else to succeed, and we lifted each other up.
The rest of the day was spent hanging out on the beach, playing putt-putt, having lunch together, swimming and playing volleyball. In the evening, we met for a group dinner – 20 residents eating outside and watching a beautiful Florida sunset. As the sky darkened, our chiefs surprised us by handing out glow-in-the-dark necklaces and bracelets.
Soon afterward, we began what became an epic karaoke contest. We come from all different walks of life; some of us are introverted; and some of us shine in the spotlight. But for one night, we all grabbed the microphone and sang like everyone should be watching (if not listening).
How we did it
Coordinating 24 hours without resident coverage at a large program such as ours requires immense planning – and buy-in from our program director was a must. Dr. Harrington had announced the idea to the attendings and ensured there was appropriate attending coverage at all institutions. Reminder emails were sent out a few times prior to the date. We recommend that programs discuss "what happens" in emergency situations so that contingency plans can go into effect. That eventuality occurred a few hours after all the residents left the hospital, when a free flap went down. We were very fortunate to have had a senior faculty member come in without hesitation to help the on-call attending.
We also recommend ensuring the nursing staff is aware of the retreat, as traditionally, the attending is not initially called for questions and we wanted to ensure a seamless transition of care – and we didn't want the staff afraid or hesitant to reach out to the attendings for simple orders. We also recommend that the resident team ensure that notes are clear, and orders are placed appropriately, prior to signing-out to the attendings.
Finally, it's important to ensure resident safety. Most residents stayed overnight in St. Petersburg, and all residents were required to use Uber or a designated driver. Again, this would not have been possible without the complete support of Dr. Harrington, our program director. As ridiculous as it may seem to read an article about 20 millennials skipping work for a day, the residents who participated in the first-ever USF Plastic Surgery Resident Retreat gained an immeasurable amount of confidence in themselves and comfort with their peers. We were able to bond in a way that's simply not possible in the hospital; we were able to all relax; and we saw each other as fellow humans – not just work colleagues.
Residents also saw how much the attendings cared about resident wellness by allowing this day of freedom. Doing this early in the year set the stage for the collegiality we expected for the days – and years – to follow.
Tackling burnout
We believe that tackling burnout starts at the top. Physician wellness isn't fixed by defining it. It's changed by living it. Although the retreat lasted just one day, its effects in our program have been profound. Among other lessons, it proved to residents that we do care about and support each other – and that our program deeply values us.
The feedback we've received has been phenomenal, from social media to residents from multiple specialties and other programs across the country that excitedly shared in our success. Hospital staff from nurses to scrub techs came to ask about our special day. Medical students applying to residency told us how much they would love to be a part of a program with such a strong support system.
We're proud to be in a program that promotes a culture of positivity – and we look forward to hearing what the rising chiefs have planned, once they take over the reins. We hope our experience will inspire other programs to consider a yearly resident retreat and, more importantly, consider daily efforts to decrease burnout. We certainly hope this becomes a special USF tradition.
On behalf of all the USF residents we offer a sincere "Thank you" to Dr. Harrington for his approval, and to all the attendings who supported this special day for us. Here's to being less "burned out" and more "fired up" about residency.
Dr. Billington, Dr. Robertson and Dr. Barnes are each PGY-6 at the University of South Florida Morsani College of Medicine's Department of Plastic Surgery.
Reference
1. Burn-out an "Occupational Phenomenon": International Classification of Diseases. World Health Organization, 28 May 2019. https://www.who.int/mental_health/evidence/burn-out/en/.
2. Fraga J. Why the WHO's Decision to Redefine Burnout Is Important. Healthline. Reviewed June 5, 2019.
3. Ribeiro RVEM, Martuscelli OJDM, Vieira ACM, Vieira CFM. Prevalence of Burnout Among Plastic Surgeons and Residents in Plastic Surgery: A Systematic Literature Review and Meta-analysis. Plastic and Reconstructive Surgery Global Open. 2018;6(8):e1854.