'You. Renewed.' campaign earns national recognition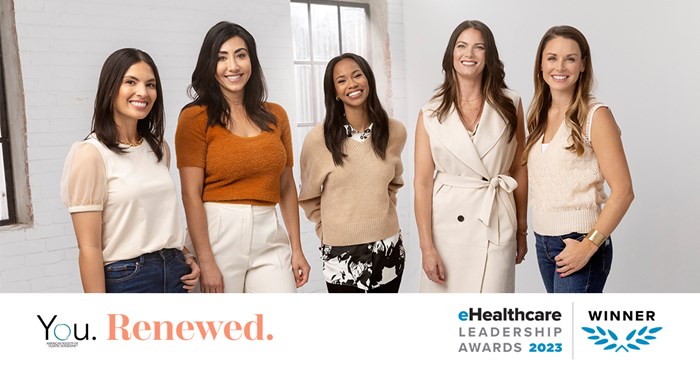 ASPS took home two Gold Awards during the 24th Annual eHealthcare Leadership Awards at the Healthcare Internet Conference (HCIC) for its work on "You. Renewed." The Society's national public education campaign debuted earlier this year to highlight the importance of selecting a board-certified, ASPS Member Surgeon for plastic surgery procedures. ASPS earned Gold in two categories: Best Digital Marketing Campaign and Best Integrated Marketing Campaign for a Healthcare or Professional Association.
The awards acknowledge the Society's efforts to promote patient safety as well as positive messages specific to accessing plastic surgery. It highlights the factors that set ASPS Member Surgeons and the plastic surgery specialty apart. The campaign outperformed expectations, delivering roughly 22.3 million impressions and generating 385,000 clicks across all digital platforms.
The awards were bestowed Nov. 5 during HCIC ceremonies in Los Angeles.
"It's an honor to be recognized for the 'You. Renewed.' campaign, which supports patients in making informed choices and seeking expert care in plastic surgery," says Michele Shermak, MD, Timonium, Md., chair of the ASPS Public Education Committee. "This leads to better outcomes and helping patients access the standard of care they deserve. Efforts like this and others that are part of the Plastic Surgery Education Campaign help dispel misinformation, providing the facts patients need to make informed decisions about their bodies and health.
"The campaign's approach to social media provided a thoughtful approach to elective plastic surgery and elevated ASPS's message to a new level," Dr. Shermak adds. "The impressive results show our potential patients were clearly drawn to this relatable campaign, which allowed them to understand how to take a thoughtful, informed approach toward plastic surgery. I am very excited a fresh new chapter has begun with our social media strategy."
The eHealthcare Leadership Awards receives about 1,000 entries annually and recognizes the best websites and digital communications of healthcare organizations, online health companies, pharmaceutical/medical equipment firms, agencies/suppliers and business improvement initiatives in more than 28 categories. The awards recognize the work that has gone into creating outstanding health websites and digital initiatives.