Remembering John McCraw, MD, 1940-2023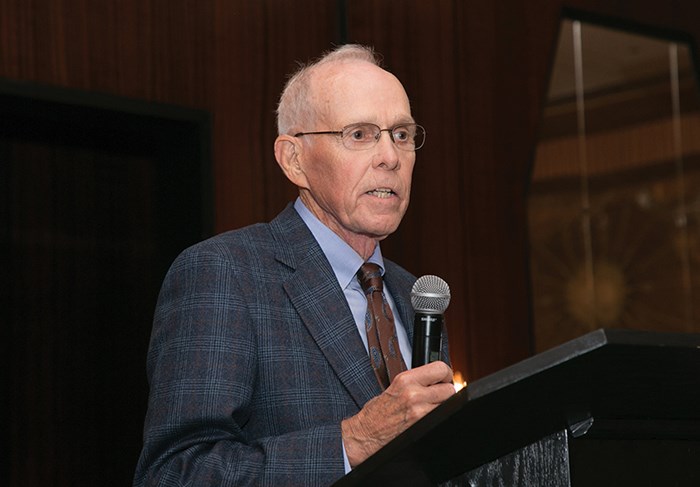 John McCraw, MD, a giant of plastic surgery, passed away on Oct. 3 after a long illness. He was 83. He was internationally recognized for his innovation of the "island myocutaneous flap," which revolutionized the reconstruction of cancer defects of the face, neck, breast, chest, abdomen and pelvis – as well as traumatic defects in the extremities. This breakthrough was recognized as one of the 12 major surgical achievements of the 20th century by the American College of Surgery.
"There's not a single plastic surgeon who trained in the last few decades who doesn't know who Dr. McCraw is," says ASPS past President Jeffrey Janis, MD, who presented Dr. McCraw with the ASPS Special Achievement Award in 2018 during Plastic Surgery The Meeting. "He was a pioneer in plastic surgery and we're all quite lucky to have had the opportunity to learn from him and know him. He was a true master of his craft and, even more than that, he was an exceptional human being."
Dr. McCraw grew up in Bolivar, Mo. He was an Eagle Scout, the quarterback of his high school football team, an avid golfer and water-skier. He attended college and medical school at the University of Missouri, where he learned surgical research techniques and experimental surgery from Hugh Stephenson, MD. He then became the first orthopedic research resident under Leonard Goldner, MD, at Duke University.
"Dr. Stephenson and his lab director, John Schuder, MD, built the first transthoracic pacemaker and their own heart-lung machine, and performed the first open-heart operation in Missouri," Dr. McCraw told PSN in 2019. "They taught me experimental surgery during three summers in the lab. Without that, I never would have been accepted for the Duke orthopedic research position with Dr. Goldner, who first had the idea of what he called the 'island composite.' He wanted to correct the Volkmann's Ischemic Contracture deformity with the intact forearm of a matched cadaver forearm."
Dr. McCraw trained in orthopedic surgery at Duke before deciding on a career in plastic surgery at the University of Florida and Emory University. He spent two years dissecting-injecting almost every muscle in the body and identifying the muscle perforator system of "superficial," "deep," "dominant" and "segmental" vessels – and then used this perforator circulation between muscle, fascia and skin to prove the viability of island myocutaneous flaps in dogs.
After the time spent at Duke dissecting-injecting muscles and identifying the perforator system, Dr. McCraw went to the University of Florida, where he assisted Leonard Furlow, MD, in the first dorsalis pedis flap.
Following medical training, Dr. McCraw served at Wilford Hall USAF Medical Center in San Antonio as chief of surgery during the Vietnam War, and he was also a consultant to the surgeon general of the Air Force for 10 years.
At the Emory Laboratory, under Luis Vasconez, MD, and M.J. Jurkiewicz, MD, and the Wilford Hall USAF Laboratory, Dr. McCraw completed the project with 80 local and 48 free flaps in dogs. By 1978, several myocutaneous flap papers were published in PRS and presented before ASPS, AAPS and SESPRS meetings, as well as The PSF's "Arterialized Flap" symposium. Between this symposium and the published papers in PRS, Dr. McCraw would often cite ASPS and The PSF as the "mother and father" of myocutaneous flaps, translating the concept from an idea to reality.
"It was the The PSF that took the big risk in sponsoring the 1977 Arterialized Flap meeting in Norfolk," Dr. McCraw told PSN. "This brought together the largest faculty of flap experts ever assembled, and a first-time-ever cadaver dissection and microsurgery workshop. Every year, for the next 20 years, the presentations and dissections established the state of the art, and the participants went home with completely new information."
Although The PSF didn't sponsor more workshops, Eastern Virginia Medical School – where Dr. McCraw served as a professor of plastic surgery – continued the program for another 25 years. He would proudly note that the Norfolk Flap Dissection Workshop trained about 33 percent of the U.S. plastic surgeons and almost half of the residents during that 25-year period. These flaps are used in virtually every major teaching hospital in the world to this day.
Dr. McCraw also served as a professor of plastic surgery at the University of Mississippi, retiring as Professor Emeritus. In addition to receiving the Special Achievement Award from ASPS in 2018, Dr. McCraw also received honors from the British Association of Plastic Surgery and AAPS, for which he served as president.
Over the course of his career, Dr. McCraw co-chaired national meetings on flaps, breast cancer, mastopexy, breast reduction and reconstruction, as well as bariatric, laser, pelvic, vaginal, genital and extremity reconstruction. He taught more than 200 sessions on wound healing; made more than 700 presentations to medical and surgical societies; was a visiting professor in more than 100 institutions; contributed more than 200 journal articles, chapters and medical videotapes; co-authored and published with P.G. Arnold, MD, two editions of McCraw and Arnold's Atlas of Muscle and Musculocutaneous Flaps, the first all-color surgical atlases and designed more than 100 original surgical procedures.
Dr. McCraw is survived by his wife of 62 years, Cynthia; their children, Sarah McCraw (Peter Crow), Carrie Higgins (Karl), John Andrew (Amy); and grandchildren Jack, Beatrice, Alice, Marshall, Spencer, Owen and Ryan. He's also survived by sisters Virginia Moran and Marcia Hartley, many nieces and nephews, and several friends.
"His humanity was so strong," Dr. Janis says. "He was very approachable, very personable and glad to share his experiences with anyone who was interested. He will truly be missed."