Venous Thromboembolism (VTE) Awareness Campaign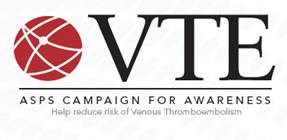 Venous Thromboembolism is a preventable disease that affects millions of people worldwide. Certain risk factors – including obesity, age and surgery type – increase a patient's risk for developing a deep vein thrombosis or pulmonary embolism.
This campaign is designed to promote VTE awareness and provide ASPS Members with resources to prevent VTE and improve patient safety.
VTE Resources
Historic VTE Articles in Plastic Surgery News (PSN)