Breast Reconstruction
A Patient's Guide to Understanding Her Treatment Options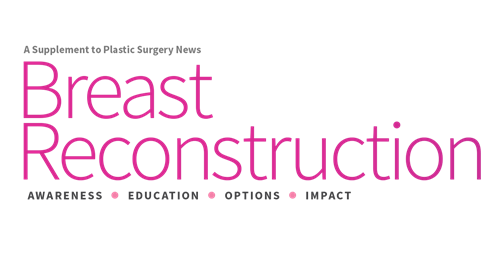 Recent studies show more than 3 million women have a history of breast cancer in the United States. Every woman should know her options and have adequate information to make an educated decision about her breast cancer treatment. The third edition of Breast Reconstruction provides exclusive coverage on all topics related to breast reconstruction to help patients understand their treatment options. This publication – a special supplement to Plastic Surgery News – sheds light on common misconceptions of breast cancer and provides stories of hope, courage and innovation from the patients' and physicians' perspective. This issue also details initiatives by the American Society of Plastic Surgeons and The Plastic Surgery Foundation to increase awareness of breast reconstruction options and the importance of consulting a plastic surgeon certified by the American Board of Plastic Surgery when considering this procedure.
Includes stories on:
Power of sisterhood: Survivors help women rebuild their lives after cancer
Understanding your options after preventative mastectomy
Cancer survivor and plastic surgeon bring awareness to underserved communities
Pros and cons of breast reconstruction
Women bare their surgical scars in art exhibition
Navigating sexuality after treatment
Yoga moves to restore vitality
View Issue
Includes stories on:
Fashion designer helps women discover their beauty in cancer fight
On the other side: When a plastic surgeon becomes a cancer patient
Breast reconstruction myths dispelled
Why breast cancer patients deserve a board-certified plastic surgeon
Open letter: Plastic surgeons pen why they perform breast reconstruction
Celebrate Breast Reconstruction Awareness Day
Physician answers common questions about breast reconstruction
View Issue
Includes stories on:
Milestones on the timeline of breast reconstruction
Politics and culture: Outside forces influence access to care
Using outcomes data to drive positive change
A physician's perspective on the state of reconstruction
Breast reconstruction, from the perspective of patients
Advances: Mastectomy, lumpectomy to nipple-sparing
View Issue