Plastic surgery duo's teamwork pays it forward for generations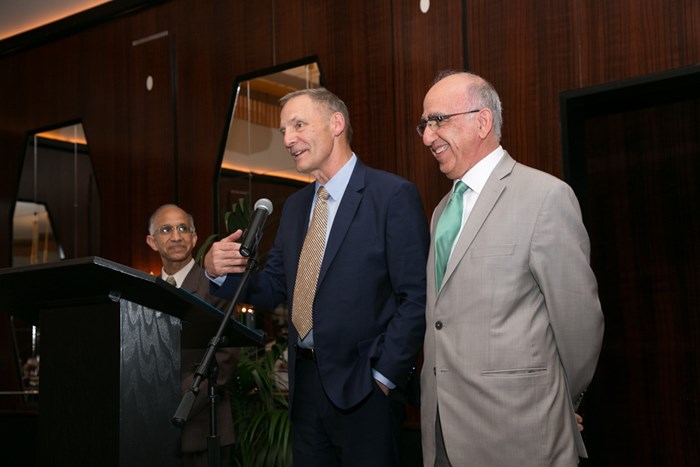 In July 1979, Jim Sanger, MD, started as a junior resident at the Medical College of Wisconsin, where he quickly made friends with a senior resident by the name of Hani Matloub, MD. The two would complete their training within a year of each other, afterward becoming faculty at MCW together.
Almost 40 years and countless landmark co-authored papers later, Drs. Sanger and Matloub are still a vital part of MCW, and they remain committed to the research and teaching for which they've become widely recognized throughout plastic surgery and medicine.
In October, Drs. Sanger and Matloub were named co-winners of The PSF Career Achievement award, launched in 2015 to recognize outstanding achievements with impacts that have stretched beyond the field of plastic surgery. The PSF immediate-past President Arun Gosain, MD, presented them with the award.
"I came to the conclusion that it was their synergy that allowed them to excel as mentors in research, and that to recognize one without recognizing the other would dilute the value of the award," Dr. Gosain says.
The pair's synergy worked as a driving force behind several key breakthroughs in the specialty. Among them: the lateral arm flap; the combined-flap transfer for head and neck reconstruction; and, although they were beaten to publication on their own research after presenting it in a meeting, the usage of dental implants and other joint prostheses with bone flaps for jaw reconstruction.
These findings also came at a time when research processes were far more tedious and hands-on, before MRIs and CT scanners, and rooted largely in trial-and-error.
"All of the studies required dissecting and cadavers, injecting either a dye that stained skin or a material that had paint that would show up on X-ray," Dr. Sanger recalls. "So it was a lot more time-consuming, just following blood vessels. You had to keep after it."
In fact, Dr. Matloub refers to their lateral arm-flap discovery as an "accident." Partnering with another of Dr. Matloub's friends from a microsurgery unit in Yugoslavia, the doctors did several injection studies on different flaps to examine blood supply, nerve supply and skin.
"By accident, we injected the area of the lateral arm," Dr. Matloub says. "We took that, and we thought, well, this is a good area that we might be able to take this flap. That's how it started."
"We would just inject certain blood vessels and see if it looked like it would be promising to take that piece of skin and move it," Dr. Sanger adds. "The initial emphasis was on the medial side of the arm. But then this appeared to be a very good option, and it actually turned out to be a better option for transferring skin."
Dr. Gosain notes the harmony between the two doctors, dubbing them plastic surgery's answer to John Lennon and Paul McCartney.
"These two men have come to realize one another's strengths and weaknesses, and complement one another in a manner rarely seen over such an extended period during academic careers," he says. "Dr. Matloub was the innovator, more interested in developing a concept than in the administrative details that went along with it, whereas Dr. Sanger was detail-oriented and structured. Between the two of them, innovation could be conceived and executed to completion."
Sharing recognition
The two surgeons' net impact stretches far beyond their own research. They've accelerated development in the specialty through their efforts in educating younger physicians. Dr. Gosain would know – he worked under them many years ago.
"All of us are clinical surgeons before we are researchers, and the most direct way to the heart of a resident or Fellow is to endear them in clinical activities," he says.
Dr. Sanger says that involving residents in their clinical or lab research is a principle. One key incentive that they've implemented to encourage residents is giving them first-author status on published papers.
"The goal is that when they leave, they'll be problem-solvers," he says. "If you look at the publications that we authored, we're not the first author or the second author. One of us is usually the guy at the end as the corresponding author. We really didn't care so much about the order of things. We wanted those who really did the hard work to get the recognition. So a lot of our residents are successful in writing papers, which is something we're very proud of."
Drs. Sanger and Matloub have also launched thriving hand and microsurgery fellowships at MCW, programs that require a certain mentality that gets repeated a lot: collaboration over competition.
"For our hand fellowship, usually we take two hand Fellows – one of them will be spending, for example, six months in plastic surgery while the other is in orthopedic surgery, and then we rotate them back," Dr. Matloub explains. "Then we develop combined conferences for the hand Fellows, and orthopedic and plastic surgeons attend and talk about it."
Perhaps most importantly, Drs. Sanger and Matloub established a standard practice of having extra eyes in the room on important procedures. This is a key concept that the two doctors refer to as "microsurgery by committee." When multiple members of the department are present for major reconstructive procedures, observations have more sources from which to sprout.
"That's where a lot of the new ideas would come from, because one person was concentrating raising the flap and doing the surgery, and the others were helping," Dr. Sanger notes. "Then, all of a sudden, someone realizes, 'Well, you can do this better if you do that.' And it's because there were two or three people talking about, 'How can we make this better?'"
One of these sets of eyes was none other than Dr. Gosain, who remembers witnessing first-hand the progress that emerges from the simple step of increasing interaction.
"Hani and Jim would typically work as a team for major microvascular cases, and they set an example of the rewards of teamwork for hundreds of trainees, both in terms of camaraderie among colleagues and improved patient outcomes," he recalls.
Pride in others' work
Despite the pair's combined achievements, it's typical for each of them to deflect credit when it comes to their success.
"For every good idea I've had, he's had 10," Dr. Sanger says of his partner, adding that the key to finishing the job often lies in having someone there to finish what you start. "No one likes to write scientific papers because it's kind of tedious, but I have that background, so I was OK with that. I think it allowed us to actually get things done. We would finish it, whereas a lot of times you start something, and you're onto the next thing, and you never complete it."
Which, he concedes, is even true in their case.
"We still have probably 50 papers that we haven't finished – and probably never will," Dr. Sanger adds with a laugh.
"We were not competing with each other, we were collaborating with each other," Dr. Matloub adds. "We wanted to join what we are doing. We wanted to do what's best for the patient and what's best for the problem."
Dr. Gosain says that modesty aside, he felt a responsibility to proactively recognize the accomplishments of two mentors who he knew were unlikely to pursue recognition themselves.
"Were it not for the success of those who trained under them, the humility of these men might have left them as unsung heroes," he says.
In turn, when speaking about the award, Dr. Sanger and Dr. Matloub each shine the light back onto Dr. Gosain and all the others who came up under them, and who they feel hold just as much claim to it.
"It was just recognition that we had done this the right way, that we included the residents, that we were collaborators rather than competitors," Dr. Sanger says.
"We were very happy about the achievement of Dr. Gosain," Dr. Matloub adds. "We are very proud of what he had achieved in his research that led up to his career. This was something that made us happy."