Plastic surgery nurse volunteers her services in COVID-19 epicenter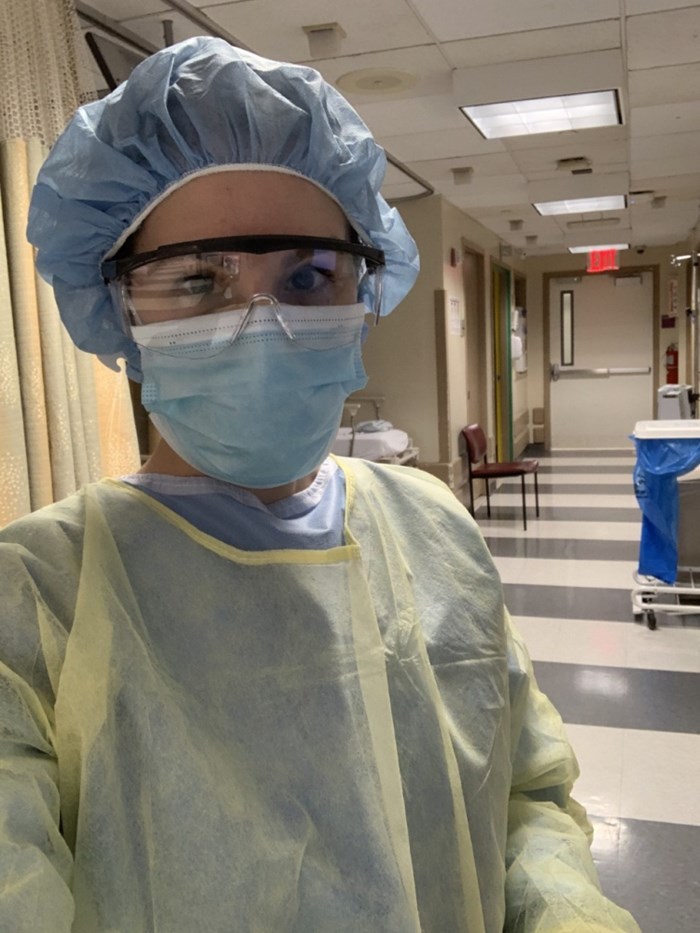 Jenna Angelo, RN, never envisioned working in the E.R. when she began her career as a plastic and breast surgery nurse in New York five years ago. Then the coronavirus pandemic hit. Angelo, who works alongside ASPS member Oren Lerman, MD, at the Lenox Hill Hospital - Breast Center in New York, was redeployed to treat COVID-19 patients at Long Island Jewish Forest Hills hospital in Queens for an indefinite time period without any prior E.R. experience. Although she volunteered to help hospitals in some capacity, Angelo concedes she was anxious when her name was called during the peak of New York's coronavirus outbreak.
"It's been a roller coaster of emotions personally and professionally," says Angelo, who began her 12-hour shifts at the hospital in March. "It's definitely been challenging to work with patients diagnosed with COVID-19. In plastic surgery, we work with patients who have breast cancer and are looking to have reconstruction, but the timeline of their journey from treating their disease and going through the process of recovery is a world of difference, in comparison to what we're doing with COVID-19 patients.
"We all have families to get home to – and I was worried about what I was bringing home every day," she adds. "But that same worry and anxiety incited a desire to help. It's why I went into this profession. I went from feeling anxious and nervous to feeling motivated to be on the front lines because my resources were needed."
New York became the epicenter of the outbreak, with more than 343,705 confirmed cases throughout the state at press time – including more than 191,320 in New York City, and more than 27,284 coronavirus-related deaths. Hospitals faced PPE and bed shortages due to the sudden influx of cases, and Angelo says the 30-bed E.R. was overrun with more than 100 COVID-19 patients around-the-clock, with 14 patients per nurse. Staff reused their masks to stretch supplies during the peak. Some patients, particularly those from nursing homes, expired in the E.R. Although there's a continued demand for healthcare professionals, Angelo says her hospital recently experienced a decrease in COVID-19 patients, as well as a decline in nurse-to-patient ratios. The hospital also replenished inventory and now provides staff with new protective equipment every day, she adds.
"We still triage patients all day long, but now we're treating and discharging them or assigning them to a different floor," she says. "We're now seeing 30 to 40 patients in the E.R. and five patients per nurse, on a good day. More recently, we've been able to treat our patients in a much more comprehensive manner than the first month of seeing COVID-19 patients. Now we understand the supportive interventions we can employ to help our patients, whether it's lying them on their side or turning them to help them with their breathing, and there are new treatments being prescribed. We have a better grasp on how to approach treating these patients."
Angelo also notes an increase in patients trying to fight the virus on their own at home. In her role as an E.R. nurse, she continually educates patients on managing their symptoms and stresses the importance of self-quarantining to stop the spread and flatten the curve.
"We see a spectrum of patients, and more of them get workup in the E.R., stay overnight and then get discharged," she says. "We now provide pulse oximeters whenever we discharge a patient from the E.R., which is a resource we didn't have to offer a few weeks ago. I find this has been really comforting for them to know we can evaluate them medically, release them and provide proper education to help them recover and manage the virus at home."
Act of courage
Angelo says the staff 's camaraderie and all-hands-on-deck approach helped her transition from helping plastic surgery patients to COVID-19 patients.
"Being in healthcare, you have to work with a team, and the strength of a team determines success not only for yourself, but also the success of your patients and the care you deliver," she says. "A level of frustration is shared by every person in healthcare, but there's also a sense of pride. Everyone has to come to work and do their job well during this pandemic. I wasn't well-prepared for this, but having the support of the surgeons I work with at the plastic surgery practice – as well as my colleagues in the E.R. – made all the difference, even though I had to learn as I went along. I've been able to stay strong and gain so many more skills as a result of this. It's a big learning moment for me."
Dr. Lerman says he's inspired by Angelo's willingness to serve on the front lines.
"This pandemic is really one of the biggest challenges of our lives in general as a community, and it's specifically one of the biggest challenges of our careers as healthcare providers," he tells PSN. "When a nurse on your team who's an expert in treating breast cancer and breast reconstruction patients runs into the fire and goes completely out of her area of comfort into one of the scariest and most challenging things we've faced, it made me think we should recognize the healthcare providers who stepped up during this time.
"A lot of what we do as plastic surgeons, reconstructive surgeons and microsurgeons has been completely sidelined," Dr. Lerman adds. "I try to do as much as I can, but when your area of expertise is reconstructive surgery, it's hard to find a place to help COVID-19 patients. So, watching our nurse go into the fire was one of the most courageous things I've seen in a long time."
Helping hand
One of the biggest hardships for patients hospitalized with COVID-19 and their families is the visitor restrictions. Patients are isolated and unable to visit with their loved ones – even during their final moments. Angelo recalls holding the hands of her patients and standing at their bedside while they communicated with their family via FaceTime before undergoing intubation. She says she's grateful that she can comfort them during this vulnerable and scary time in their lives.
"Most times these patients can't even speak because they're so short of breath and they are anxious and alone, but I give my hand to them," she says. "I've been beside a grandmother who was able to see her grandchild on FaceTime and her grandchild was sharing words with her before we intubated her. I know the patient is going to end up being in the ICU and will have a long and uncertain journey ahead but having that moment – whether it's 30 seconds with me holding their hand and telling them I'm right there or being able to FaceTime with their family – makes all the difference and lets them know they have so much to live for outside of the E.R."
Finding a connection and building a rapport with patients has been grounding for Angelo and her patients, even in moments of high stress.
"They know that I'm there, and it's been comforting to do something small for them like hold their hand," she says. "Our smallest attempts to connect with a patient can help beyond medical intervention, even if they're intubated and you have a wife on the phone talking to her husband and helping him try to get through this. It's incredible that we're still able to provide that kind of care to our patients."
Angelo says the experience provided her with a new perspective on patient care – and a renewed sense of passion and pride.
"I learn a new lesson every day, and even though I'm in the trenches in the E.R., COVID-19 has reminded me you can't really understand a patient's situation and the extent of what they are going through until you're personally in it," she says. "There are so many elements to a person's healthcare journey, and we're a small part of that journey. I've been really proud of my interpersonal communication with my patients in the breast care and plastic surgery world, and I've been able to enhance it even more in the E.R. and make those personal connections with patients. Thinking about the people I've been able to help and meet has really carried me through and uplifted my spirits – even on the worst days. I'm grateful for that."