Treating internal and external wounds inflicted at Guantanamo Bay
Patient of Courage: Theresa Foley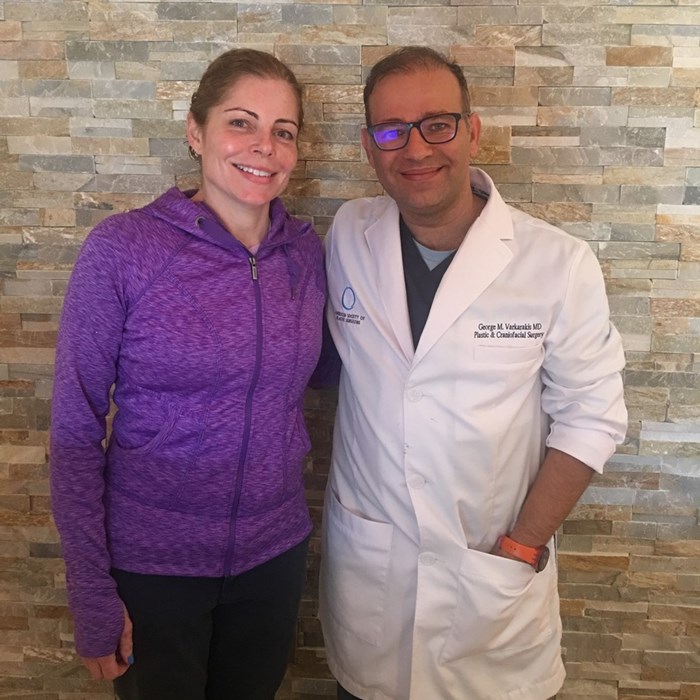 Although ASPS honors its Patients of Courage: Triumph Over Adversity award winners each year at Plastic Surgery The Meeting, there are more patients of courage than are recognized on stage. PSN wants to share their stories.
Former FBI Special Agent Theresa Foley underwent numerous reconstructive surgeries after contracting leptospirosis in 2003 during a tour of duty in Guantanamo Bay, Cuba. Her surgeon, ASPS member George Varkarakis, MD, Miami, treated Foley's infections, including cysts on her skin and face, and helped her to heal from her internal and physical scars.
Foley and Dr. Varkarakis share their thoughts on her journey and recovery process below.
Q&A with Theresa Foley
PSN: How did the events that took place in Cuba in 2003 affect your life?
Theresa Foley: My life completely changed physically and emotionally from the events of 2003. I went from having a successful career that I had worked hard for, to being desperately ill with a serious infection I contracted while on assignment out of the country with the FBI.
I went from being physically active to undergoing multiple surgeries, including two major spinal reconstructions. I went from being a woman who could run miles every day to a woman in wheelchair, walker, crutches, cane and a leg brace – which I still need today. I went from being independent to being dependent upon many others for my care. The life I had worked hard for was gone forever. It was devastating.
PSN: Can you help us understand the reconstructive process you underwent?
Theresa Foley: My first surgery dealt with the infection that occurred in 2004, which involved a cranial stem fluid leak. I underwent nine surgeries after that to repair the damage to my leg, along with several spinal fusions. This involved multiple hospitalizations at times, due to infection. After my surgeries, my external appearance had changed due to weight loss, constant pain and infectious cysts in the skin. This external healing process began with multiple procedures over a length of time. This began in 2014.
PSN: Can you describe how Dr. Varkarakis played a role in your recovery process?
Theresa Foley: My relationship with Dr. Varkarakis far exceeds that of a patient/physician relationship. He played an important role in my recovery – physically by healing the damage sustained, and emotionally by making me feel whole again. I feel extremely fortunate and blessed that such a talented and dedicated surgeon took an interest in me and supported me in this process.
PSN: How has reconstructive surgery helped you rebuild your life?
Theresa Foley: It has slowly allowed me to feel I can return to living. I will never be whole, and I'm told I will always have pain, but Dr. Varkarakis's assistance to help me heal on the outside has allowed me to find some peace on the inside.
PSN: How can your story influence and impact the lives of those around you?
Theresa Foley: I would tell anyone going through difficult times due to illness and injury to never give up and never let adversity stop you from doing what you can to heal. I wanted to give up many times, but I would reach deep down inside and find the will to try – one surgery at a time, one day at a time and one step at a time. You will be surprised at how far you can go. Never give up the fight.
PSN: What does Dr. Varkarakis mean to you?
Theresa Foley: Dr. Varkarakis has taken his compassion and commitment to his patients and combined it with his talent to make me feel at peace with my appearance. Surgeons fix and heal you internally, as well as externally. They make you feel whole and assist you in returning to live life once again.
In Dr. Varkarakis's words
PSN: What about Ms. Foley's story do you find particularly inspiring?
Dr. Varkarakis: Ms. Foley is a former FBI agent with a history of leptospirosis from rat bites in Guantanamo. I was involved in her medical care later regarding her facial scars and to recommend options for facial rejuvenation. Theresa's story has very sensitive information, which has been published in the news. Her actions show courage to keep her integrity and inner-respect without fear and hesitation in an adverse environment.
PSN: How can her story help other patients seeking reconstructive surgery after a traumatic experience?
Dr. Varkarakis: Post-traumatic stress disorder causes patients to have fears and negative feelings like anxiety and depression, which interfere with their lives. Traumatic stressful events are part of life and can happen to any of us. It's about rebuilding your confidence and restarting to take care of yourself. Theresa was psychologically challenged after her stressful events. With our procedures, she got her confidence back. She felt better both internally and externally, which sped-up the healing process of her psychological wounds.
PSN: What stood out to you about this case?
Dr. Varkarakis: Theresa's case is unique without a doubt. She survived a very serious infection caused by injustice, and her recovery was long and difficult. Theresa's integrity and pride along with the courage and strength of her mind is an example to all of us on how to face adverse events. Her smile, positive attitude and high tolerance to pain (which I would associate with her professional training) was particularly memorable.
PSN: What concerns did you have about performing reconstructive surgery?
Dr. Varkarakis: In Theresa's case, her mid-cheek area was characterized by a tear-trough deformity and a prominent lid-cheek junction. Her mid-cheek soft tissue was deflated and "descended." Managing unrealistic patient expectations with complicated cases are a concern. Technically, the correction of the tear-trough deformity with fillers is an area that only expert injectors should perform.
PSN: Did you encounter any unexpected challenges or complications during the procedure?
Dr. Varkarakis: All procedures were successful without any complications. Bruising during the injection at the tear trough is always expected, but ice and arnica patches sped-up the recovery. Microneedling procedures are benign procedures with reliable results and happy patients.
PSN: How did you address her concerns?
Dr. Varkarakis: Theresa's midface aging, tear-trough deformity and scarring were the primary concerns in her case. The quality of the skin was improved with the administration of Vit C and a series of microneedling treatments. By adding hyaluronic acid appropriately, we were able to correct her tear trough, improve her midface volume and enhance her lateral cheek definition by recreating the zygomatic arch.
PSN: How did you build trust with Theresa?
Dr. Varkarakis: Listening to the patient, explaining the plan of action in detail, being compassionate and providing genuine care are principles that all physicians should follow to gain trust from their patients. Theresa felt very comfortable and trusted our plan and technique.
PSN: How has reconstructive surgery improved Theresa's quality of life?
Dr. Varkarakis: Quality of life is an important outcome in plastic surgery. Theresa had a significant increase to her self-esteem and her feelings of self-worth after our work.
Psychologists have described the correlation between how good we feel about our appearance and our overall level of personal happiness. In assisting Theresa to look and feel younger, we have improved her quality of life.
PSN: How did your work help to heal Theresa internally?
Dr. Varkarakis: By enhancing Theresa's beauty, we observed a decrease in the frequency of her negative body-image emotions with letting go of her negative memories of the past. She was satisfied with her overall image and got inspired to take care of herself mentally and spiritually.
PSN: If you could use one word to describe Theresa, what word would you choose?
Dr. Varkarakis: Toughness.